We evaluated all the best lightweight strollers on the market and chose 20 to purchase and perform extensive side-by-side testing. The Joolz Aer, Zoe Tour+, and Bugaboo Butterfly performed best overall in maneuverability, folding, ease of use, kid comfort, and quality measurements.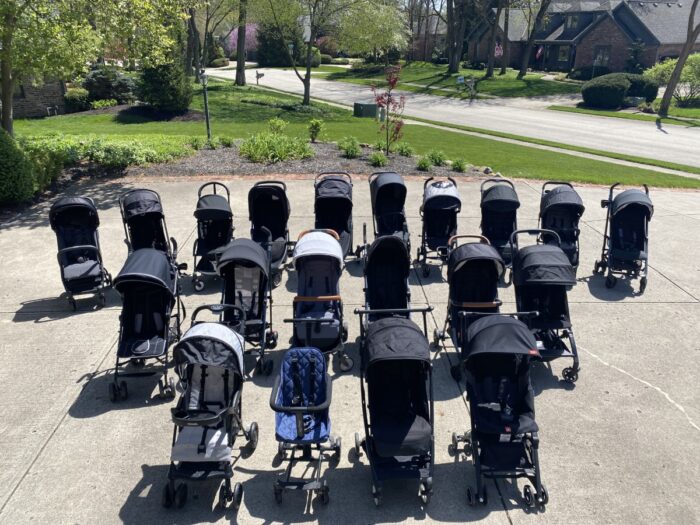 Editor's Choice

Recommended

Recommended

Budget Choice

Joolz Aer
Zoe Tour+ Luxe
Bugaboo Butterfly
Besrey
UPPAbaby MINU V2
Baby Jogger City Mini GT2
Inglesina Quid
Baby Jogger City Tour 2
Britax B-Lively
Babyzen YoYo²
Summer 3Dlite+
Summer Infant 3Dlite
Cybex Libelle
UPPAbaby G-Luxe
Chicco Liteway
Kolcraft Cloud Plus
UPPAbaby G-LITE
gb Pockit+ All-Terrain
Graco NimbleLite
Dream On Me
albeebaby
Amazon

Amazon
Zoe

albeebaby
Amazon

Amazon

Amazon
buybuyBaby

Amazon
buybuyBaby

Amazon

Amazon
buybuyBaby

Amazon

Amazon
buybuyBaby

Amazon

Amazon
Walmart

Amazon

Amazon
BedBath&Beyond
Walmart

Amazon
buybuyBaby

Amazon
buybuyBaby
Walmart

Amazon

Amazon
buybuyBaby

Amazon

Amazon

Test Lab Score
Bottom Line
Very lightweight, maneuverable, easy-fold, classy
Affordable, easy fold, easy steering, with kid and parent friendly features
Compact fold, high-quality, maneuverable, extra storage space
High-end, easy fold, easy steer
A quality, easy folding, maneuverable stroller, with a bumpy ride and unstable seat back
A smooth pushing and riding high quality stroller that is a bit heavy and bulky
Quality, compact, maneuverable, two-hand fold
A low cost, maneuverable, lightweight stroller with folding and storage challenges
Low cost, high-quality, easy folding stroller that is a bit heavy and bulky
High-priced, compact fold, smooth steering, difficult to fold
Affordable, excellent maneuverability, decent quality with 4 second fold
Lightweight, affordable with good maneuverability and convenient features
Very lightweight, small fold, smooth riding and otherwise unexceptional
A quality stroller with a smooth ride, difficult to fold
Sturdy, cost effective, comparatively heavy with limited storage
Entry level, ultralight, with below average folding and maneuverability
Ultra lightweight, good for bigger children, difficult to fold and maneuver
Good for travel, lightweight, compact fold, with little else to commend it
Economic, two-hand-fold, average everyday stroller
Affordable, maneuverable, difficult folding, lacking features
Advantages
Steering, folding, weight, folded-size, quality
Maneuverable, quick fold, lightweight, compact, comfrtable
Compact, easy fold, high-quality, nice storage space
High-quality, maneuverable, comfortable, parent-friendly
Easy fold, responsive steering, big storage basket, quality materials, leg rest
Fast fold, high quality, smooth ride, good for bigger children
Lightweight, small fold size, maneuverable, high-quality
Compact fold, easy to steer, lightweight, cost effective
Fast fold, high-quality, parent friendly, smooth ride
Compact fold, quality parts,comfortable, easy steering
Highly maneuverable, lightweight
Ultra lightweight, nimble steering, low-cost
Small folded size, lightweight, smooth ride
Smooth ride, comfortable, quality materials,
Economic, folds and steers well, nice seat recline
Super lightweight, low cost, parent and kid cup holders and trays
Ultra lightweight, Good for bigger kids,
Compact folded size, lightweight
Low price, kid and parent cup holders, big canopy
Multi-use, lower-cost, easy steering
Disdvantages
Recline mechanism, limited storage
Not good offroad, not for bigger kids
Pricey, a bit heavy
Not for bigger kids
Bumpy ride, unstable seat back, heavy
Heavy, bulky wihen folded, storage difficult to access
Two-hand fold, uncomfortable seat
Folding challenges, small storage space, not the most comfortable
Heavy, bulky when folded, not the most maneuverable
High-priced, difficult folding
Bulky when folded, small basket, slower folding
Limited storage, large folded size
Complex fold, limited storage
Difficult to fold, heavy, large when folded
Heavy, large folded size, bumpy ride, low maximum weight
Part and material quality, folding mechanism, maneuverability, seat comfort
Difficult to fold, large when folded
Difficult to fold, flimsy frame, limited storage
Two-hand fold, lower-quality, noisy
Tiny canopy, difficult to collapse, uncomfortable, no storage
Recommended Lightweight Strollers
---
Joolz Aer
---
Editor's Choice
Fast folding, highly maneuverable, lightweight stroller worth the price
| | |
| --- | --- |
| Weight, Size | |
| Folding | |
| Maneuverability | |
| Kid Comfort | |
| Ease of Use | |
| Quality | |
---
The Joolz Aer currently has the highest combined score for lightweight strollers. It is 13.4 lbs and folds to 1.8 cubic ft. There are lighter and smaller-fold strollers, but the Joolz has one of the best weight/size combo scores. It is also fast folding, 2 seconds, fast unfolding, 3 seconds, and one-hand folding. While it is slightly larger than the typical size requirements for an airline overhead bin, many airlines will accept it as a carry-on.
The Joolz can be pushed and steered with a light touch. It is very responsive and maneuverable on typical, flat surfaces like sidewalks and paved streets. It does not do well on cobblestones or surfaces with big cracks or gravel. We found it average in the tendency to veer, below average in our curb jumping test, and above average in wheel vibration.
The Joolz had mixed results in parent-friendly features. We like the peekaboo window and love the brake operation and effectiveness. The storage basket is small, which is typical of this category of strollers. There is a small item pocket. On the plus side, it includes a travel bag and rain cover. The handle though non-adjustable is stylish and comfortable. Drawbacks include having to unzip the back to recline the seat, average buckle operation, and average harness adjustment performance.
The Joolz was 2nd out of 20 in our ride smoothness test that measured vibration and bumpiness. The seat is plush and comfortable. The seat when fully reclined is adequate for naps but nowhere near flat. Unfortunately, it doesn't include kid or parent cup holders! The canopy extends out to the knees but the sun wasn't blocked well, shining on the sides of our toddlers.
We love the feel of the fabric and frame of this stroller. The folding mechanism and wheels are reliable. We found some pinch points where fingers could get caught, but fewer than in most strollers in the group. It was slightly more likely to tip over than some strollers, probably because of its low weight and wheelbase.
Our full review of the Joolz Aer.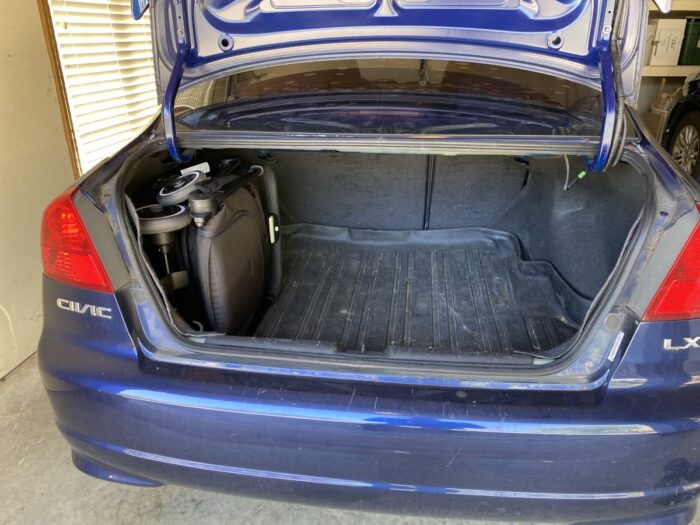 ---
Zoe Tour+ Luxe
---
| | |
| --- | --- |
| Weight, Size | |
| Folding | |
| Maneuverability | |
| Kid Comfort | |
| Ease of Use | |
| Quality | |
---
The Zoe Tour+ Luxe had high scores in every area of our testing. It is exceptionally light at 12.5 lbs. Unfortunately, its folded size is 2.6 cubic feet which is not small enough to be an airline carry-on, but is otherwise great as a travel stroller.
Like the Aer, the Zoe Tour+ steers nimbly for us and maneuvers nicely even in tighter places like grocery stores. It doesn't do well off-road, or on bumpy surfaces. It also tends to veer more than average and requires quite a bit of downward force on the handle to jump curbs. Overall it performed average in our combined maneuverability tests, but does great in typical everyday use.
Our Zoe Tour+ Luxe came with a parent cup holder, parent organizer, belly bar, extra storage bags, and a kid cup holder and snack holder. There were far more extras included than with any other stroller we purchased. And this is far from the highest-priced lightweight stroller. Despite its low weight, the Zoe had one of the largest storage baskets at .75 cubic feet and a small item pocket near the handle. The "tan leatherette" handle feels comfortable and looks luxurious. We like the seat recline mechanism, the buckle operation, and the harness strap adjustment. We also love the peekaboo window but don't like the separate brake pedals and the way the brakes feel or operate.
The Zoe is a one-hand fold stroller and it folded in 2 seconds on average and opened in 3 seconds. The fold mechanism is a simple pull on the strap in the center of the seat. Its folded size is smaller than many strollers but the most compact strollers beat it as shown in the photo below: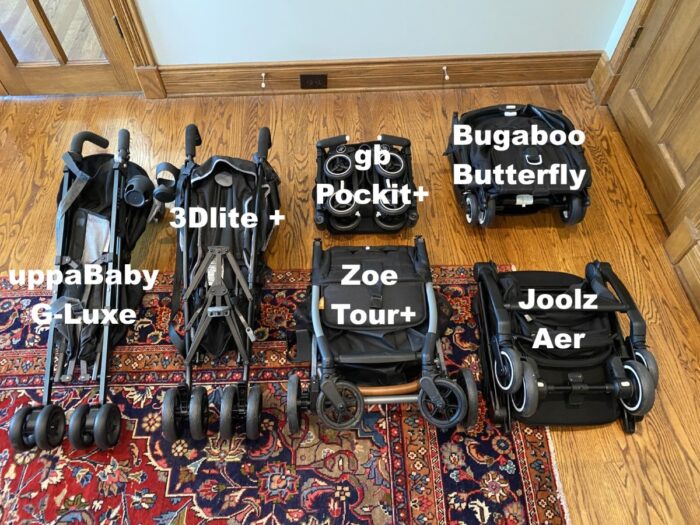 In the kid comfort category, the Zoe had a smoother-than-average ride. It has excellent sun coverage with a large canopy that extends beyond the knees. It has an extendable leg rest that comes in handy for nap time. The upright seat angle is just right while the fully reclined position is 30 degrees and more would be better. The harness straps are a little rough near the neck area, and the seat is generally comfortable. This stroller is not sized for big kids with the max weight set at 45 lbs.
Zoe has the Twin+ and Tandem+ double strollers that share many characteristics of the Tour+.
This stroller tied for first place as the quietest stroller we tested with an average decibel level of 44. It performed well in our pinch-point testing and less well in our sideways tip-over test. The overall part and material quality of the Zoe is excellent.
Our full review of the Zoe Tour+ Luxe
---
Bugaboo Butterfly
---
| | |
| --- | --- |
| Weight, Size | |
| Folding | |
| Maneuverability | |
| Kid Comfort | |
| Ease of Use | |
| Quality | |
---
The Bugaboo Butterfly Stroller also receives our buy recommendation because of its solid, balanced performance in every testing category. It folds down very small to 2.0 cubic feet and may be accepted in some aircraft overhead compartments. It is several pounds heavier than our other recommended strollers at 16.1 lbs.
The Butterfly ranked 7 out of 20 in our maneuverability and steering tests. It is very responsive on flat surfaces but its wheels get stuck when there are too many cracks or obstacles. It has less tendency to veer than the Zoe Tour+ or Joolz Aer. And like those strollers, it is not the best curb jumper. It has a very low level of wheel vibration compared to other strollers we tested.
The storage basket is big at .75 cubic feet, and there are no other storage pockets or compartments. It has a very large mesh, peekaboo window that provides extra ventilation to the baby. There is a single brake pedal that is kind to bare and sandalled feet but doesn't always engage the first time we press it. The harness buckle works well but requires 4 individual clips to be inserted. The harness straps are smooth and easy to adjust. We also like the seat recline mechanism which can be opened and closed with one hand. Sadly there is no parent cup holder!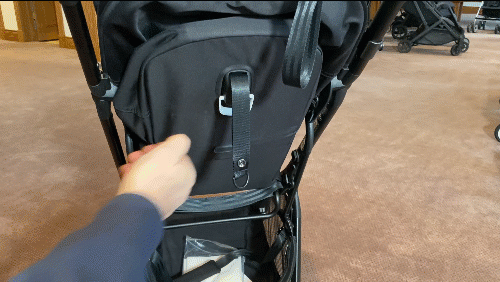 The Butterfly collapses and opens with one-hand. The fold can be performed in only a couple of seconds. It folds compactly and has a padded carry strap for transport when folded.
It has a soft, padded seat and an extendable leg rest. The upright seat angle is too far back for our liking and the recline is not far enough back. The Bugaboo was average in our ride-smoothness test. It does not come with a kid's cup holder.
This stroller was tied with the Zoe for the quietest ride with an average decibel level of 44. The quality of this stroller is obvious when you feel the fabric and use it on a frequent basis. The wheels have rubber treads and spring suspension.
Our full review of the Bugaboo Butterfly Stroller
---
Summer Infant 3Dlite
---
---
The Summer Infant 3Dlite Convenience Stroller was not the best performer in any single test category but is a good everyday umbrella stroller for a low price. It is very lightweight at only 13 lbs but takes up quite a bit of room folded at 4.4 cubic feet.
Like our other recommended strollers, the 3Dlite is excellent to steer on flat surfaces. And like the others, it doesn't do well on bumpy surfaces. It takes very little force to jump curbs, but it isn't good at sticking to a straight line when pushing.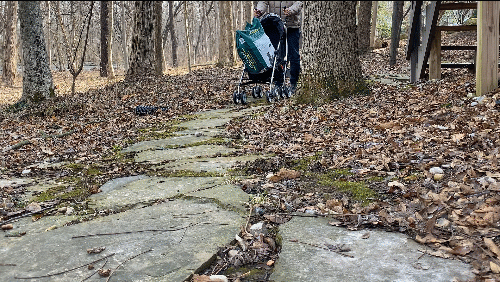 The storage basket of this stroller is one of the smallest at .47 cubic feet. It does have a handy fabric pocket between the handles. It also has a parent cup holder. Unfortunately, the cup holder opening is small and it spins and spills drinks if you bump into it. The harness buckle unsnaps easily but the harnesses themselves are cumbersome to adjust. There are two brake pedals instead of one, and they don't operate consistently. The seat recline mechanism works like a charm but requires two hands to recline and one hand to raise.
The 3Dlite has an umbrella-configured frame that folds in the middle. It is slower to fold and unfold at 4 seconds and 6 seconds respectively. The collapse is not difficult but requires several steps. Once folded, the stroller will stand on its own, albeit precariously.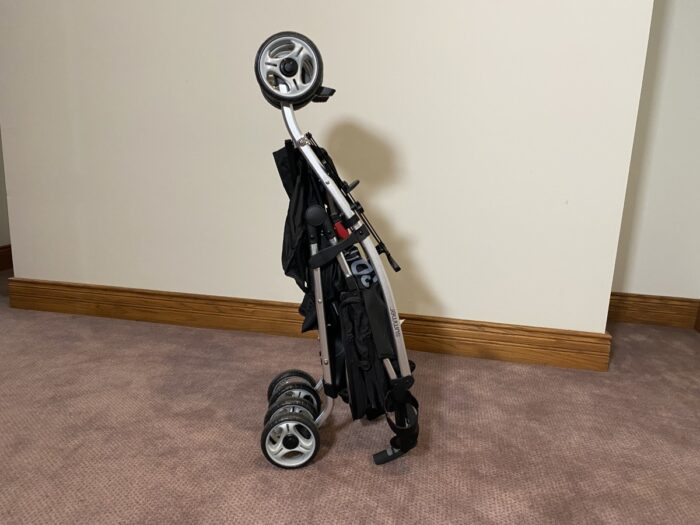 The ride smoothness of this stroller is average compared to other lightweight strollers. The seat is not the most comfortable but our kids haven't complained. It reclines back to 25 degrees, which isn't too bad but doesn't sit up as straight as we would like in its upright position. The canopy has very little coverage. There is no kid's cup holder and no extendable leg rest.
There is also a double umbrella stroller version of the 3Dlite.
The 3Dlite was louder than most other strollers we tested. It feels a bit flimsy although we haven't had any parts break. The wheels are light and shaky. Some of the components seem thin or fragile. Although that sounds like a negative picture, we found this stroller to be very functional for the price.
Our full review of the Summer Infant 3Dlite Stroller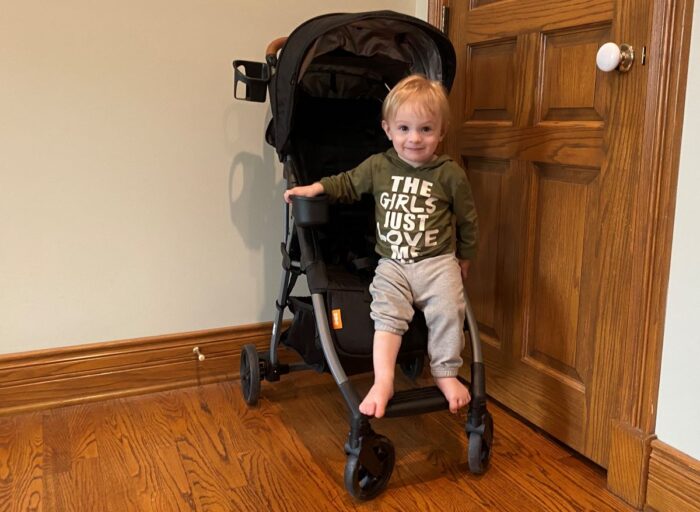 Jump to Quick Summaries of All the Other Strollers we Tested
Why You Should Trust Us
The stroller writing and testing team for this review includes Jeff Hunt, dad and grandad of eight, Becky Hunt CPA, mom and grandmom, and several parents and babies who put these strollers through their paces.
We have researched and published 111 stroller recommendation articles over the past six years. And we have assessed many more which we chose not to write about.
We purchased all of the strollers referenced in this article and the opinions and recommendations we offer are completely our own.
We examined stroller safety issues, looked at recall notices, studied certification standards, and performed our own tip-over and pinch-point testing.
How We Tested
We expanded our previous research on lightweight and umbrella strollers, examining customer feedback and expert advice. With a comprehensive set of evaluation criteria, we identified 65 of the most popular lightweight umbrella strollers that were 20 lbs or less. We then chose the 20 top contenders to purchase and test. We excluded many based on quality and ease of use concerns. We also removed products from the same manufacturers that exhibited similar features.
The deciding factors were quite evident. How comfortable and functional is the stroller for the children? How practical and user-friendly is it for the parents? How efficiently does it maneuver, and how challenging is it to push? Is it cumbersome to fold and store in a car? And importantly, how well does it endure the test of time?
Keeping these crucial questions in mind, we designed 100 unique tests and measurements to objectively evaluate performance in the categories mentioned above.
Product Ratings, Tests and Specs
Value and Pricing
The higher-price range for lightweight strollers is $400 to $500 and includes the: Joolz Aer, Bugaboo Butterfly, UPPAbaby Minu V2, and Babyzen YoYo. The Zoe Tour+, Inglesina Quid, Cybex Libelle, gb Pockit+, and Baby Jogger Citi Mini GT2 come in at $225 to $300.
In the $100 to $225 range we purchased the: Britax B-Lively, UPPAbaby G-Luxe and G-Lite, Summer Infant 3Dlite+, and Chicco Liteway.
Many are available for $100 or less, and some are of decent quality. The low end includes: Graco Nimblelite, Dream on Me Coast Rider, Kolcraft Cloud Plus, and Summer Infant 3Dlite.
Testing Categories
Weight and Folded Size
The combination of lightweight and a small folded size make a stroller far less burdensome to push and maneuver as well as get in and out of a car and store during those winter months. Here is how the strollers compare:
Travel – Folded Dimensions
If you are looking for a travel stroller to be used on airplanes, trains, or buses, the folded dimensions may be a deciding factor. Many US domestic airlines use a 22 x 14 x 9 inch standard for carry-on eligible bags and strollers for placement in an overhead bin. A few international and domestic airlines accept slightly larger sizes.
All of the strollers fit in the trunk of a small car and are accepted at Disney World.
Parent Ease of Use
Maybe we're selfish but ease-of-use for parents is high on our list for a stroller. We compare storage, braking, accessories, harness adjustment and buckling, seat reclining and more.
Two of our favorites, the Bugaboo Butterfly and Zoe Tour+ have decent-sized storage baskets. The basket on the Jooz Aer, unfortunately, is small but accessible.
Almost all the baskets are rated for 10 or 11 lbs. The UPPAbaby Minu is 20 lbs, the Butterfly is 18 lbs, and City Tour 2 is 15 lbs.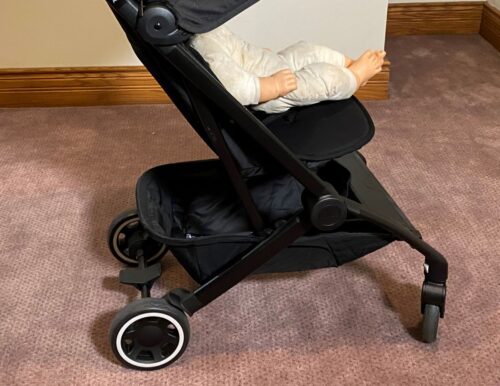 Storage Basket Volume:
All of our recommended strollers except for the Butterfly, and half the strollers we tested, have a small-item pocket located under the handle. This is useful for phones and keys. The Luxe version of the Zoe Tour+ came with a convenient parent organizer that hangs from the handle. For other strollers, you can get a generic organizer that will work with almost any stroller. Stroller Organizer.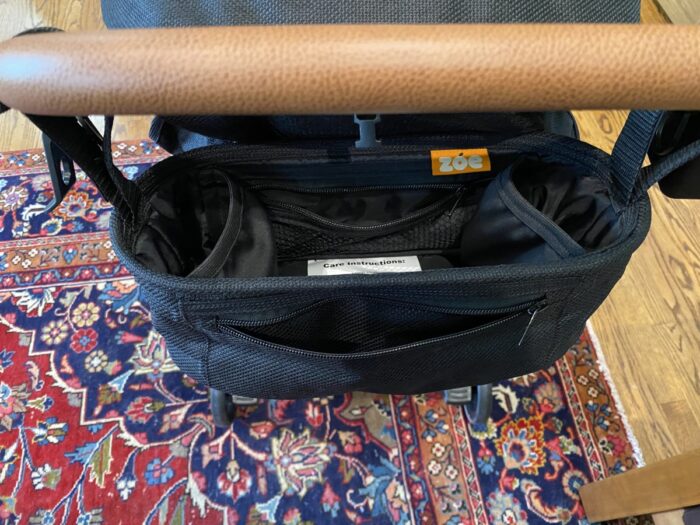 Most every high-end stroller we tested has a peekaboo window to let you see your little one through the canopy. Notably, the gb Pockit+ and Cybex Libelle do not, but they also have very small canopies.
On the affordable end of the range, the Chicco Liteway, Kolcraft Cloud Plus, and Graco Nimblelite feature peekaboo windows.
For taller and shorter parents, handle height can be important. The Baby Jogger City Mini GT2 is the only stroller in the group with an adjustable handle. The rest are non-adjustable and with few exceptions are about 39 inches high.
Personally, parent cup holders are so important to me that I'm going to insert a table below to show you which strollers have them, and the naughty ones that don't!
All of the strollers have reclining seats. We found the best reclining mechanisms on the Bugaboo Butterfly, Baby Jogger GT2, UPPAbaby G-Luxe, Chicco Liteway, and 3Dlite+. The Joolz Aer mechanism is a long zipper all the way around the seat back, which works but could be so much better. The Babyzen YoYo is another that operates fine but requires two hands for both reclining and raising.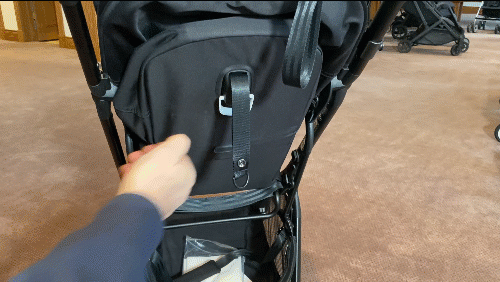 How well the rear brakes work and whether they hurt to use when wearing sandals is important. Strollers that scored well in both those categories are the Joolz, Minu, Cybex, Quid, B-Lively and G-Luxe. Strollers with brakes that had two separate brake pedals, were uncomfortable, or didn't operate well included the 3Dlite, 3Dlite+, Kolcraft, and G-Lite. The Zoe's braking system was better than those, but not great.
Although we measured and scored user manuals, assembly time, and difficulty, most strollers in this category could be unboxed and working in under 10 minutes. The Babyzen YoYo² was frustrating and the only one that took longer than 10 minutes.
Another important usability feature is how quickly and easily the harness buckle works. We like buckles that only have two harness clips to insert and have a button that doesn't require superhuman strength to push. Most were adequate, but the Joolz Aer has four separate clips, the B-Lively button is very stiff, and the Kolcraft button is low-quality.
The City Tour 2, Babyzen, Besrey, and Joolz Aer came with nice travel bags!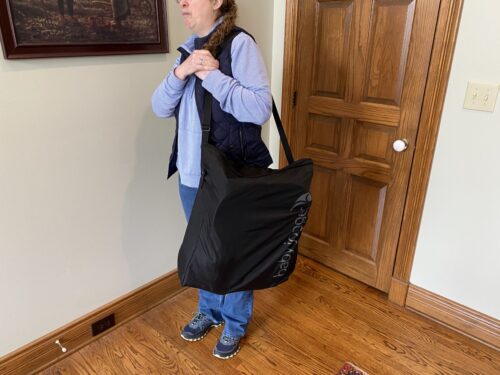 Infant car seat adapters came included with the Britax B-Lively, Babyzen YoYo², Baby Jogger City Mini GT2, Graco NimbleLite, and gb Pockit+. These strollers are each compatible with a limited variety of infant car seats.
Here are the overall scores for Ease of Use:
Maneuverability
The most maneuverable strollers were the Summer Infant 3Dlite+, Joolz Aer, Baby Jogger City Tour 2, and City Mini GT2, based on their overall steering, terrain, curb jumping, vibration, and veer scores. Overall Maneuverability Scores:
However, when we simply test steering and maneuvering on typical, flat surfaces, there are many nimble and responsive steering strollers. Steering Ratings:
Few lightweight strollers do well off-road or even on bumpy, cracked sidewalks. We found the best strollers on challenging terrain to be the Baby Jogger City Mini GT2 with its large front wheel (no surprise), the Britax B-Lively for the same reason, and oddly enough the Baby Jogger City Tour 2 which I can't fully explain.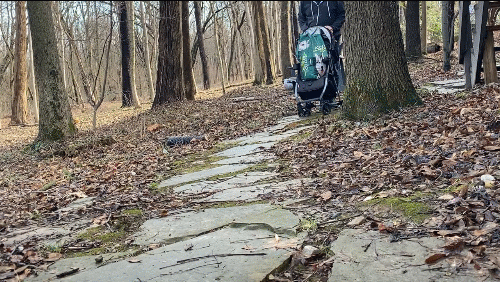 Ironically the gb Pockit+ All Terrain stroller did very poorly. The Liteway, Nimblelite, and Libelle also struggled. And although the Zoe Tour+ did slightly better than those mentioned, it was the lowest off-road performer of the higher-end strollers.
The 3Dlite, G-Lite, and gb Pockit+ took very little force to jump over curbs. In contrast, the Zoe, Joolz, Inglesina, Graco, and Britax required the most force comparatively.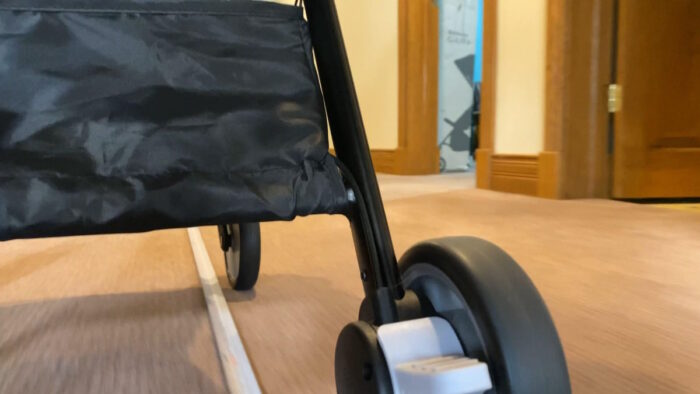 We found big differences in the tendency for strollers to veer off of a straight line to one side or another. In the table below higher numbers mean LESS Tendency to Veer:
Incidentally, none of these strollers are designed to be jogging strollers, including those from the brand Baby Jogger.
Folding
We love strollers that are consistently fast and easy to fold and unfold. And we love them even more if you can do it with one hand. My attempt to fold all 20 strollers in less than 2 minutes while holding a baby in the video below:
Our recommended strollers, the Joolz Aer, Bugaboo Butterfly, and Zoe Tour+ are all one-hand fold strollers, that collapse in two seconds, and unfold in about 3 seconds. Our budget choice, the Summer Infant 3Dlite is also a one-hand fold but it has extra steps in the folding process and takes 4 seconds to fold and 6 to unfold.
Watch how easily the Joolz folds and opens:
We found the Babyzen YoYo² very slow and difficult to fold. It takes us 6 seconds to fold it and 4 to open it. There was a steep learning curve, and although it is easier once learned, it is still far less efficient in comparison to most other strollers in the group.
The gb Pockit+ is another one that took us quite a bit of practice to learn to fold correctly. If you fly frequently, you may want the Pockit+ for its incredibly small folded size, but be aware that it takes time, coordination, and patience in adjusting and aligning the wheels to get it to fold.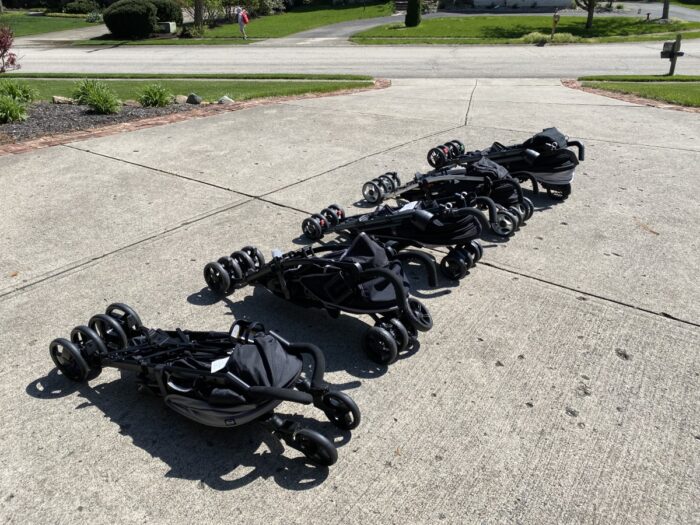 Umbrella fold strollers include the Liteway, NimbleLite, G-Luxe, G-Lite, and 3Dlite. As you can see in our picture above they have a very similar fold shape and size. They fit in a trunk but take up quite a bit of space.
One advantage of these umbrella strollers is that we could rest them on their wheels and pull them when folded. Only a few of the bi-fold and tri-fold strollers were pullable when folded. These include the: UPPAbaby Minu V2, Joolz Aer, Besrey, and Zoe Tour 2, though not quite as easily for the Zoe.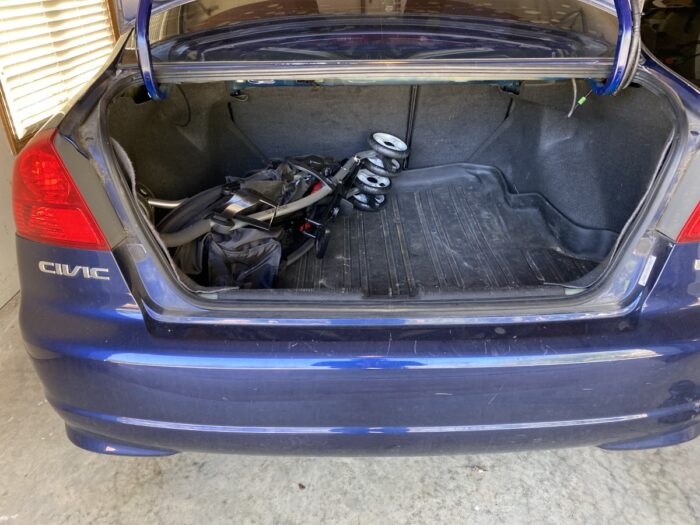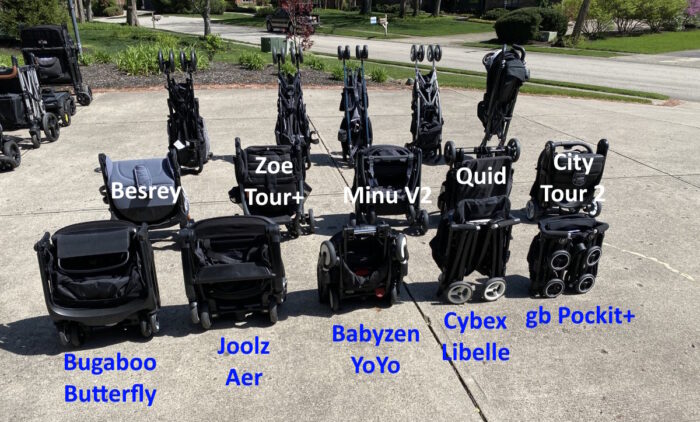 We were able to get almost every stroller to stand up, at least long enough to take a picture. Umbrella strollers stand very precariously. Most in the image above were steady on their feet.
In the shot below, the larger Britax B-Lively and Baby Jogger City Mini GT2 were napping and we didn't want to get them up.
Many of the strollers have carry straps, shoulder straps, travel bags, or carry handles to carry them folded.
Overall ratings for Folding:
Kid Comfort
We compared several features that make all the difference for how long your little one will be happy in a stroller.
First ride smoothness. We used an accelerometer device to measure the amount of bumpiness kids experience in the seat.
We tested this on a moderately smooth course with a few intentional bumpy spots. Smaller numbers indicate a smoother ride. Here are the results for Smoothness of Ride:
I was surprised about the performance of the UPPAbaby MINU V2, but I redid the test several times and the numbers didn't change much.
Which lightweight strollers fit bigger kids comfortably?
The maximum weight for the strollers we studied ranged from the Chicco Liteway's 40 lbs to the Baby Jogger City Mini GT2's 65 lbs. Height limits ranged from 37.8 to 44 inches.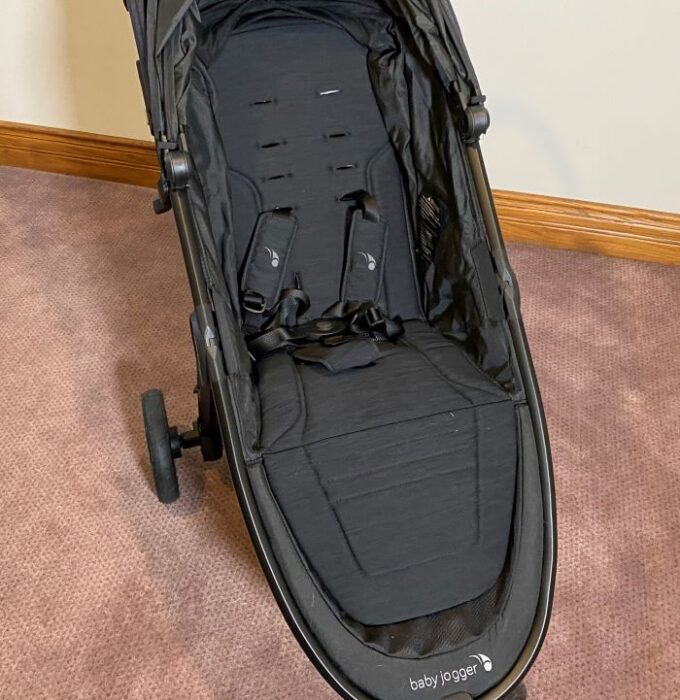 We found that bigger kids don't fit well in some strollers even though they are within the weight and height guidelines. We measured seat depth, seat width, seat to footrest, seat height, seat to ground, and footrest size. We used that information as well as manufacturer guidance to give a Sized for Big Kids Rating: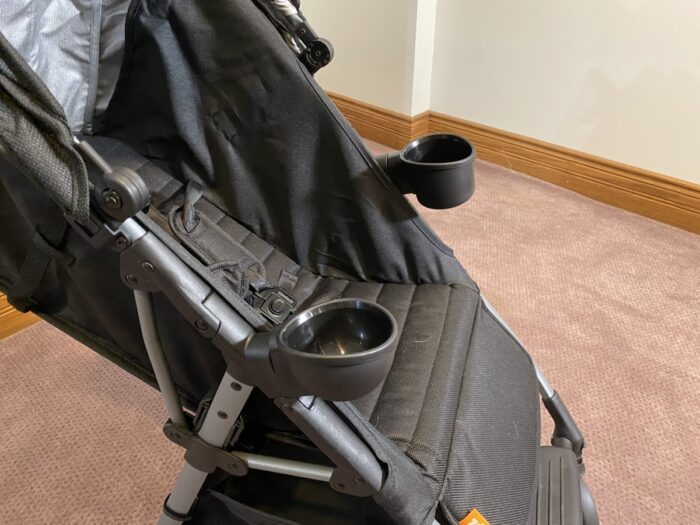 Only 3 of the 20 strollers came with a kid cup holder: Zoe Tour+, Kolcraft Cloud Plus, and Graco NimbleLite. The Kolcraft has a snack tray.
We compared seat padding, harness shoulder, hip and crotch padding, the position of harnesses, and seat angles to rate each stroller on seat comfort. Some of the seats lean too far back even in their most upright positions. This makes it harder for children to see and engage with the world directly in front of them. In our opinion seats should have a 60 to 75 degree angle in the upright position. Upright Seat Angle:
As you can see, most strollers have a greater recline than we would prefer when upright.
On the other end of the spectrum, for nap time the farther the seat reclines down, the better. Maximum Seat Recline:
Strollers that have an extendable leg rest make napping even more comfortable. These include the G-Luxe, City Tour 2, Liteway, Quid, Libelle, City Mni GT2, Besrey, MINU V2, Butterfly, and Tour+ Luxe. Notably missing from that list is the Joolz Aer.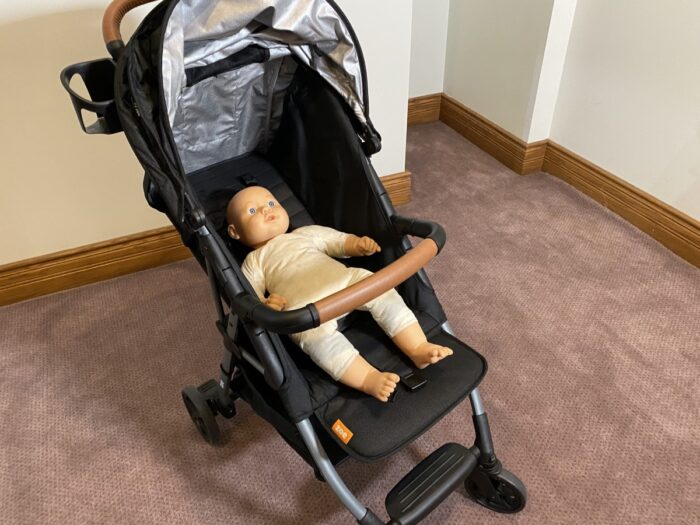 An important comfort factor for kids is sun protection. Some canopies extend past the knees and or down to the waist.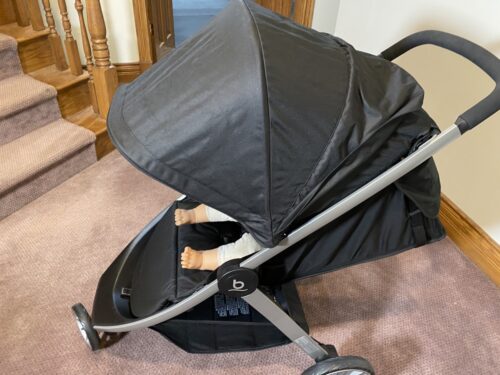 Strollers with very limited sun protection include the Cybex Libelle, gb Pockit+, 3Dlite, and Cloud Plus.
Overall Kid Comfort Scores:
Quality and Safety
Most people use their lightweight buggy frequently because they are easier to handle than full-size strollers. They need to be able to handle the abuse received by an everyday stroller even though they are intentionally made from lighter-weight materials.
One indication of quality to us is how quiet a stroller is. Stroller noise may or may not bug you until it wakes up a sleeping baby, but it is an indicator of how well-made things are. We measured the average decibel levels of each stroller over a consistent path. Average Decibel Level:
Maybe we were lucky, but every stroller arrived with all its parts and nothing was broken out of the box.
A couple of strollers developed gouges in their EVA foam wheels early on.
We evaluated fabric looks, feel, and quality. The Besrey, for example, looks like a high-quality stroller but the canopy fabric developed a tear from rubbing when it is folded.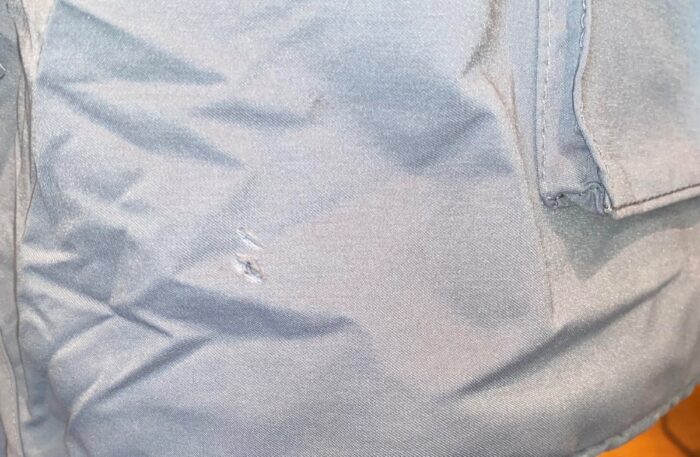 We looked at the zippers, velcro, harness clips, snaps, levers, and latches to help make an assessment of quality. We like the magnets used in several strollers to keep peekaboo windows and storage flaps closed. Strollers using magnets include the MINU V2, City Mini GT2, Besrey, and Zoe Tour+.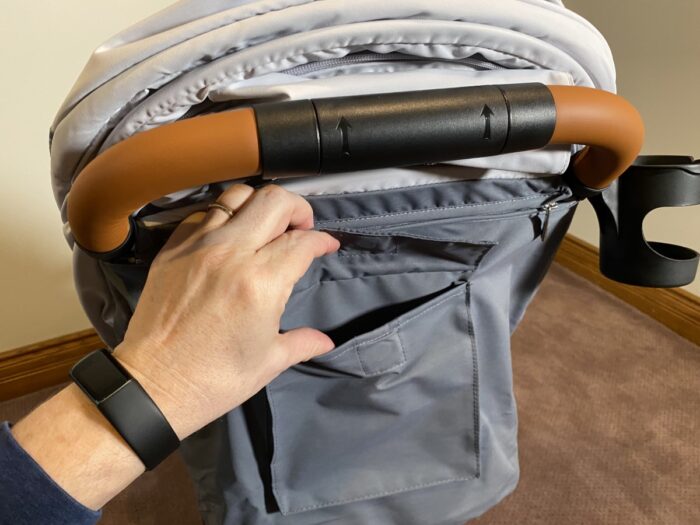 It is disconcerting when strollers feel shaky or flex and bend. Unfortunately, most of umbrella strollers feel that way because of the way they fold between the handles. The gb Pockit+ and Cybex Libelle also have frames that bend when you turn. We gave points to strollers with frames that don't feel like they are going to break at any moment.
The overall scores for quality below include all of the above tests and also include the results of our pinch-point and tip-over testing. Quality Scores:
Safety
As far as we are aware, all of the strollers we purchased have met certification standards like ASTM F833-21, EN 1888, or equivalent. Some of them have JPMA certification. Stroller safety standards have tightened over time in response to injury incidents.
We did not attempt an exhaustive safety evaluation but we assessed pinch-points and tip-overs.
We used a pencil, which is similar in diameter to a child's finger to try to find places where it could easily be pinched. Every stroller has pinch-points somewhere but some strollers seem to have more pinching potential than others. Note: Always keep children away when collapsing and opening strollers.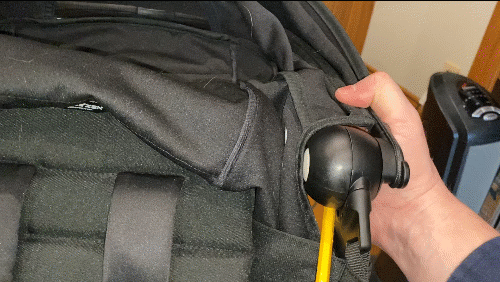 It is never recommended to hang heavy objects on the handles of strollers because of the likelihood that they will tip over. To see which strollers were more likely to tip over backward we hung a 12 lb bag on the handles of each one. Only 5 of 20 strollers did NOT tip over backward: Britax B-Lively, Inglesina Quid, Baby Jogger City Mini GT2, Besrey, and Zoe Tour+ Luxe. The Inglesina and Zoe did not tip despite being very lightweight.
We also compared the amount of force required to tip a stroller sideways. The Joolz Aer, Babyzen YoYo², UPPAbaby G-Lite, Dream on Me, and Bugaboo Butterfly, required less tipping force in our test.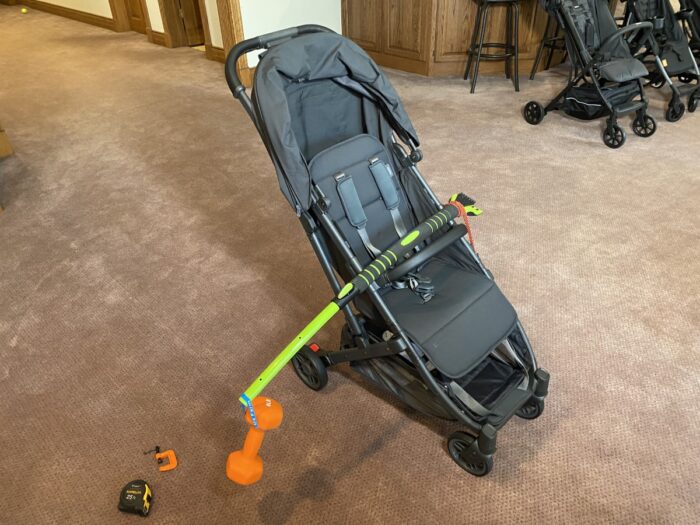 16 Other Strollers and Those We Didn't Test
The remaining 16 strollers competing for Best Lightweight Stroller, that didn't receive our Editor's Choice or Recommend designation might still be best for your situation.
Umbrella Strollers
Strollers that have separate handles and fold into a long, rectangular shape.
Compact and Travel Strollers
While our recommended strollers certainly make great travel strollers, the two below have the smallest fold size of any we tested, and probably any on the market.
Everyday Use Strollers
Strollers We Didn't Test
There are a few popular strollers missing from this article. Some did not meet our criteria and we may purchase and test some of these in the future.