We researched 25 stroller wagons and chose 7 to purchase and test extensively. The Radio Flyer Discovery performed surprisingly well given that it is one-fourth the cost of some wagons we tested and half the price of most of its 2-seater peers.
It is lightweight, easy to lift and stow, and performed adequately in our maneuverability and terrain tests. Overall we have no hesitation in recommending it as a budget choice, and you might even choose it over others because it is so much easier to manage.
Here is our review of all the best stroller wagons this year.
---
Radio Flyer Discovery
---
| | |
| --- | --- |
| Parent Comfort and Usability | |
| Kid Comfort and Usability | |
| Steering, Maneuverability | |
| Folding, Transport | |
| Part and Material Quality | |
---
How it Compares
Here is how the Discovery stacks up against the most popular 2-seat stroller wagons.
Budget Choice

Editor's Choice

Recommended

Radio Flyer Discovery
Veer Cruiser
Evenflo Pivot Xplore
Baby Trend Expedition
Keenz 7S
Jeep Wrangler
Walmart

Amazon
BedBath&Beyond
buybuyBaby
Walmart

Amazon
BedBath&Beyond

Amazon

Amazon

Amazon

Test Lab Score
76
83
81
76
73
69
Parent Comfort and Usability
Kid Comfort and Usability
Steering, Maneuverability
Folding, Transport
Part and Material Quality
Specifications
This Product
Seats
2
2
2
2
2
2
Weight
30.5 lbs
32.5 lbs
34.7 lbs
42.0 lbs
32.0 lbs
46.2 lbs
Capacity in Pounds
120 lbs
110 lbs
110 lbs
110 lbs
110 lbs
110 lbs
Minimum Age
1
6 months
6 months
6 months
1
6 months
Goes through standard sized door
Yes
Yes
Yes
Yes
Yes
No
Grass Rating
7
10
10
8
8
7
Time to Assemble
25 sec
13 sec
21 sec
18 sec
21 sec
16 sec
Dirt, Crumb Removal Rating
9
9
7
8
9
9
Storage Volume Rating
3
1
7
8
10
10
Car Seat Adapter Included
No
No
No
Yes
No
Yes
Additional Accessories Included
Canopy
Snack Tray
Canopy, Snack Tray
Canopy w/ Mosquito Netting, Nap Mat, Snack Tray
Canopy, Cooler Bag
Canopy, Cooler Bag
Folding Time
36 sec
20 sec
20 sec
28 sec
54 sec
31 sec
Folded Size
6.9 cu ft
7.9 cu ft
9.0 cu ft
13.1 cu ft
8.9 cu ft
10.2 cu ft
Fits in Sedan Trunk
Yes
Yes
Yes
No
No
No
Seats Recline
One of two
No
No
No
No
No
Kid Cupholders
No
Yes
Yes
Yes
No
No
Where it Fits Among Other Choices
Stroller wagons can be pushed or pulled, and typically have 3 or 5-point seat harnesses and other comfort-related accessories like reclining seats and cupholders. Kid wagons are typically pull-only and have fewer extras.
The Discovery Stroll 'N Wagon is among the lowest cost stroller wagons available however it has some features like a single reclining seat which some competitors don't have. It is designed with a zip-down side to form a bench that no other wagon has.
Other Radio Flyer Options
Radio Flyer is the original kid wagon company and offers these products that qualify as stroller wagons:
Custom Stroll 'N Wagon
Convertible Stroll 'N Wagon
Odyssey Stroll 'N Wagon
Beach 'N Boardwalk Wagon
These stroller wagons are very similar structurally and share a lot of common features.
The Custom allows you to pick and choose from accessories like a canopy, storage bag, shoulder pads and pull handle. You can also choose between two different colors.
The Convertible has a raised canopy and no reclined seats. The Odyssey is a higher-end model with more storage, kid cupholders and upgraded fabric among other things.
The Beach 'N Boardwalk is much like the Convertible except that it comes standard with wider tires for better performance on the beach.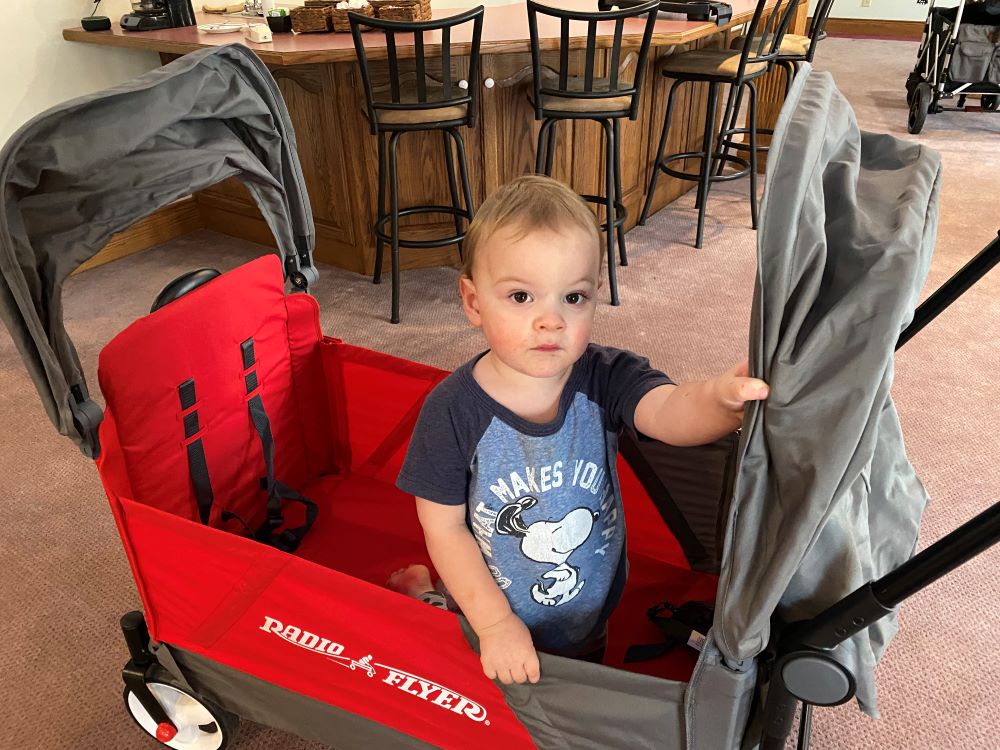 Most Common Complaints
We reviewed all the critical reviews of the Discovery and classified them into the following categories. After having extensively tested the Discovery we provide our own experience in response to each criticism.
| Criticism | Our Experience |
| --- | --- |
| Missing pieces on arrival | No missing pieces |
| Damage on arrival | No damage; one spot of rust |
| Side ripped easily | We had no rips and haven't detected any weak seams |
| Zipper detached | Didn't happen to us; no evidence of weakness in the stitching |
| Wheel broke | No wheel problems |
| Folding mechanism broke | Folding mechanism seems sound |
| Difficult to steer | It was difficult to steer when heavily weighted in the front, when doing a sharp turn from a hard stop, when weighted and on grass; On normal hard surfaces it performed adequately though not as well as the best wagons |
| Wheels not stable | We attempted to replicate this problem by pushing it fast and didn't detect any instability |
Testing and Research
We ran the Discovery through 65 different tests and measurements over a 3 month period and evaluated it side-by-side with the other top stroller wagons on the market.
We folded, lifted, pushed and pulled it with kids and filled with heavy weights down paths, over hills, bumps and sidewalks. Here is what we discovered in the five most important buying decision categories.
Parent Comfort and Usability
Parents have as much at stake as the kids when it comes to a stroller wagon. The Discovery scored
| | |
| --- | --- |
| Jeep Wrangler | |
| Keenz 7S | |
| Baby Trend Expedition | |
| Radio Flyer Discovery | |
| Veer Cruiser | |
| Evenflo Pivot Xplore | |
In this category we considered a variety of factors including time-to-assemble, manual usability, customer service response time, ease of cleaning, storage, the feel and operation of the handles, brake usability and effectiveness and car seat adapters.
The manual was better than many other wagons, but assembly took 25 minutes requiring the use of some simple tools.
The Discovery has no provision for a car seat adapter. The minimum age requirement is 1 year so this is not the right stroller wagon for an infant.
Storage Volume Ranking
One drawback of the Discovery Stroll 'N Wagon is that it doesn't come with any significant storage. There is a pouch with an elastic mouth that holds the canopy. If you choose not to take the canopy with you, you could use that pouch for storage. There are two cloth cupholders sewn onto the back under the push handle.
The Discovery does have quite a bit of room inside the wagon. If you only have one kid in the wagon you will be fine on storage space, but with two kids there is not much additional room.
It is not recommended to hang diaper bags on stroller handles in general, but with a large wagon like this one, the risk of tipping it backward is minimal.
| | |
| --- | --- |
| Keenz 7S | |
| Jeep Wrangler | |
| Baby Trend Expedition | |
| Evenflo Pivot Xplore | |
| Radio Flyer Discovery | |
| Veer Cruiser | |
Cleaning
The fabric on this Radio Flyer is easy to spot clean. There aren't many crevices where crumbs and dirt can hide so it scored well in crumb removal:
| | |
| --- | --- |
| Radio Flyer Discovery | |
| Veer Cruiser | |
| Keenz 7S | |
| Jeep Wrangler | |
| Baby Trend Expedition | |
| Evenflo Pivot Xplore | |
The fabric is not removable but that isn't really a problem with this wagon.
When kids track mud and sand into the wagon, keep in mind that they may end up sitting on it. Some wagons have footwells so that dirty shoes stay off the seat. This one does not have a footwell. That makes the wagon easier to clean but might make clothes dirtier if it is a messy day.
Steering and Maneuverability
The Radio Flyer is average when it comes to pushing, steering and operating on the grass. It maneuvers more like a wagon than a stroller, whereas the Evenflo Pivot Xplore is shorter and handles like a double stroller.
| | |
| --- | --- |
| Veer Cruiser | |
| Evenflo Pivot Xplore | |
| Baby Trend Expedition | |
| Keenz 7S | |
| Radio Flyer Discovery | |
| Jeep Wrangler | |
Terrain Performance
The Discovery was able to handle a grassy sports field just fine. When it is fully loaded it is much easier to pull over a bumpy or uneven surface than to push. The wheels are bigger than some, but not wide enough to qualify as "all terrain".
Here are the bump test ratings:
| | |
| --- | --- |
| Veer Cruiser | |
| Evenflo Pivot Xplore | |
| Radio Flyer Discovery | |
| Baby Trend Expedition | |
| Keenz 7S | |
| Jeep Wrangler | |
Steering and Veering
The Discovery was able to make sharp turns from a dead stop with lots of weight in the front in our tests. But it took some effort. It was also pretty average in our test to see if it veered to one side or the other during long, straight walks.
When you are out and need to push your wagon through the door of a restroom, the Discovery does the job. It fits through narrow 28 inch doors.
Folding and Transport
Many stroller wagons make life miserable when it comes to folding, unfolding and loading them into cars and vans. The Radio Flyer performed well in our Folding Ease and Ease of Lifting Folded assessments.
Here are the overall scores for Folding and Transport:
| | |
| --- | --- |
| Veer Cruiser | |
| Evenflo Pivot Xplore | |
| Radio Flyer Discovery | |
| Baby Trend Expedition | |
| Jeep Wrangler | |
| Keenz 7S | |
Folding time without removing the canopy is 15 seconds and 35 seconds if you include taking it off and putting it in the storage pocket.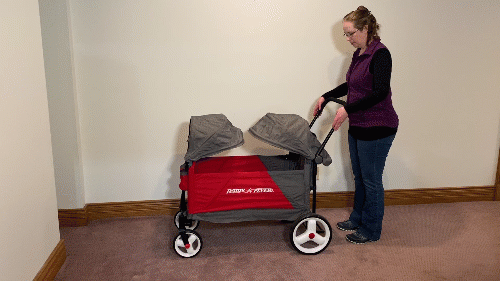 Presumably for safety purposes, there is a velcro strap that goes over a bar on the bottom of the wagon that has to be unfastened. This is something you also have to do on the Keenz 7S, but not on the other wagons we tested.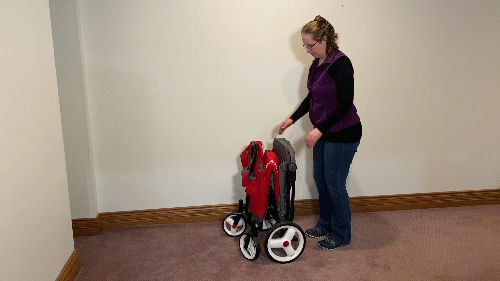 Folded Size in Cubic Feet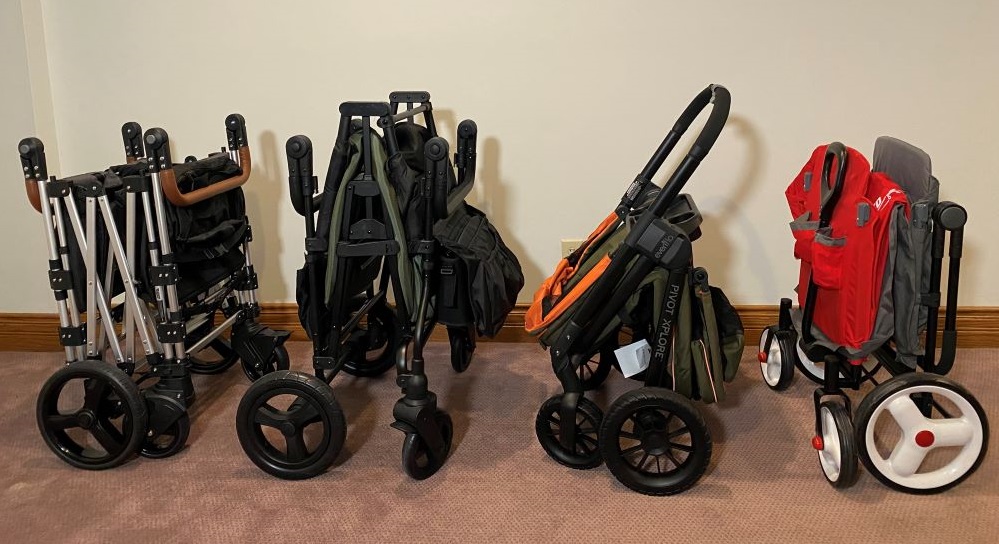 In its folded state, the Radio Flyer is more compact than any other wagon we tested. It is also stable when standing unlike the Evenflo which tends to tip over.
| | |
| --- | --- |
| Radio Flyer Discovery | |
| Veer Cruiser | |
| Keenz 7S | |
| Evenflo Pivot Xplore | |
| Jeep Wrangler | |
| Baby Trend Expedition | |
It fit easily into the trunk of a Honda Civic: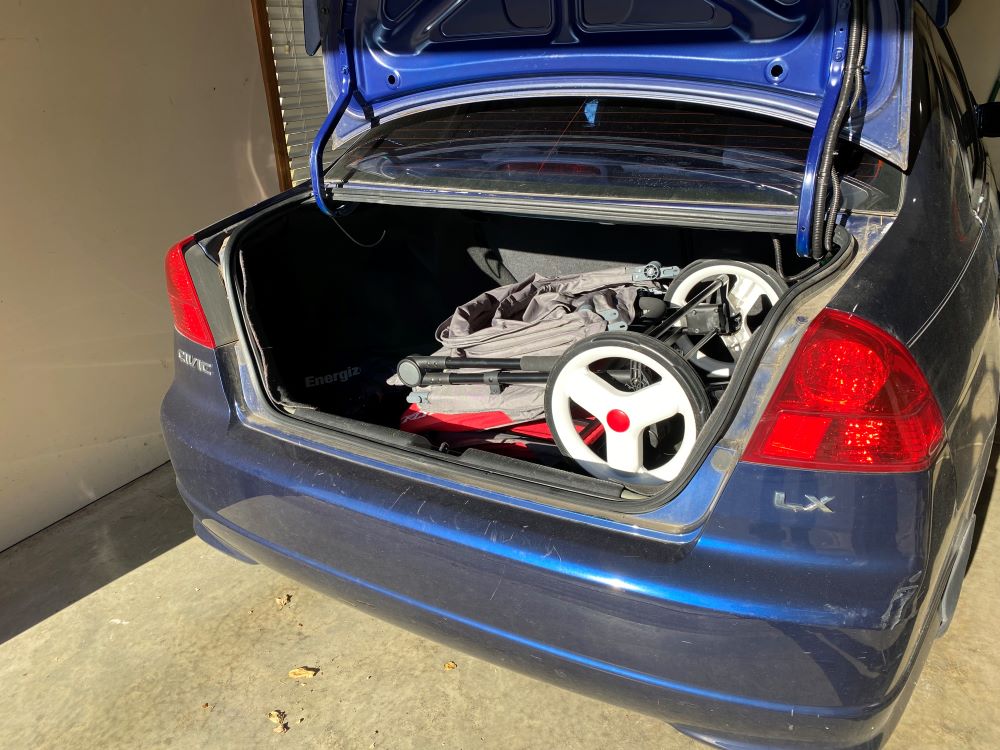 There is lots of room to spare in the back of a minivan even with the rear seats up.
Kid Comfort and Usability
Overall, the Discovery scores well from a kid perspective.
| | |
| --- | --- |
| Veer Cruiser | |
| Evenflo Pivot Xplore | |
| Baby Trend Expedition | |
| Radio Flyer Discovery | |
| Jeep Wrangler | |
| Keenz 7S | |
Seats
This was the only 2-seater wagon we tested with a reclining seat! That includes stroller wagons that are several times as expensive. Although only one of the two seats reclines, this makes it possible for at least one toddler to nap upright while another is sitting on the other side.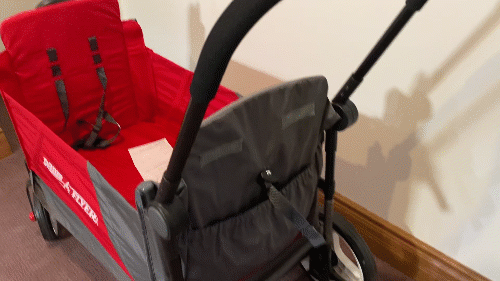 These seats are not the most comfortable, simply because there is no footwell. They are somewhat padded on the bottom and back but they are not ventilated.
The seats include 5-point, unpadded harnesses. They open easily with a one-handed snap.
Accessories
This Radio Flyer is pretty spartan. The canopy is the only accessory. There is no snack tray, and really no place for one. It is also missing cupholders for kids. The two parent cupholders on the outside could be shared with the kids, but we consider this a deficiency. The Radio Flyer Odyssey, which is an upgrade to this wagon, includes fabric cupholders for kids and a mesh storage area. Both are sewn onto the inside of the wagon.
The canopies are a bit flimsy but open and close easily. They provide about 70% coverage from the sun and a 50+% UPF rating. This is better shade coverage than some of the competition.
Bench Feature
One side of the Discovery zips down. This allows children to crawl in and out on their own, which is a big deal as far as the kids are concerned.
When the side is down the wagon makes a nice bench to sit or play on during events. No other stroller wagon we know of has this capability.
The Inside
The inner dimensions of the Discovery are 32″ x 18″ x 11″. This is roughly the same size as the Jeep Wrangler and Keenz 7S, while the Evenflo Xplore and Veer Cruiser are 2 inches shorter and 2 to 3 inches narrower.
Kids can see out of the Discovery while seated. The sides of the Keenz are 2 inches higher and can block the view.
One advantage to having no footwell is that the base of the wagon is flat and firm and can be used as a bassinet or small playard.
Part and Material Quality
If you choose to buy a less expensive stroller wagon like the Stroll 'N Wagon, you should rightfully be concerned with quality. Customer reviews of this wagon are high on average, but some of the negative reviews are related to material and component failure.
We didn't experience any missing or defective parts but our overall quality assessment put the Discovery slightly lower than most of the other products.
| | |
| --- | --- |
| Veer Cruiser | |
| Evenflo Pivot Xplore | |
| Keenz 7S | |
| Jeep Wrangler | |
| Radio Flyer Discovery | |
| Baby Trend Expedition | |
Zippers and velcro functioned well. The canopy was easy to operate although it occasionally comes off its mounting when you bump into it.
The fabric is strong and we didn't see any weaknesses in the seams or stitching.
Radio Flyer has been making wagons and wheeled toys forever so I wouldn't question their engineering. However, the axel assembly doesn't include ball bearings like most of the other wagons. None of the wagons we tested, including this one had spring or shock suspension.
The packaging was adequate. We found a small bit of rust on one part but didn't see any damage after wiping it off.
Tires are made from standard EVA foam like most of the other stroller wagons we tested. A couple also had rubber treads.
The Radio Flyer has large 12 in rear wheels that are 1.9 in wide. The front wheels are 8 in diameter and 1.6 in wide which is a common size.
Discovery Stroll 'N Wagon vs Evenflo Pivot Xplore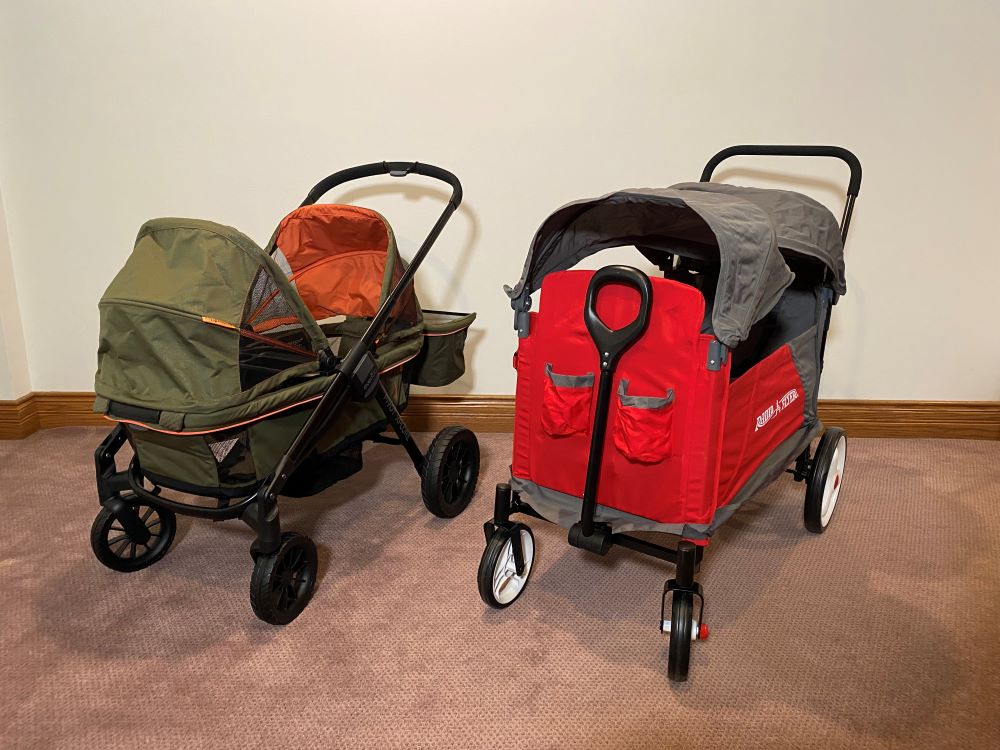 Our Editor's Choice award went to the Veer Cruise, but if you are interested in saving money without compromising on function, the Evenflo Xplore and Radio Flyer Discovery are good choices. The Evenflo received our Recommended award and was the second-highest scoring wagon overall while the Discovery received the Budget Choice award.
Although the Evenflo is priced at just over $300 it is still almost double the typical price of the Discovery.
Our full review of the Evenflo Pivot Xplore wagon
Benefits of the Evenflo Pivot Xplore over the Discovery:
It has a footwell which makes for more comfortable seating
It has slightly better maneuverability
It has a wide and roomy storage bag accessible from the back
It is easier for kids to get in and out of on their own
You can buy a car seat adapter for it
Benefits of the Discovery over the Evenflo Pivot Xplore:
It is about half the price
One of its seats reclines
It has a bench feature
It has a slightly smaller folded size