We evaluated all the best lightweight strollers on the market and chose 20 to purchase and perform extensive side-by-side testing. Not every lightweight stroller is great for airline travel so we narrowed the list to 12 strollers and the best of those include: the Joolz Aer, Zoe Tour+, and Bugaboo Butterfly.
Many strollers you find promoted in other articles aren't mentioned here because they have comparatively weak customer reviews or simply aren't good for airline travel. Strollers that didn't make the cut.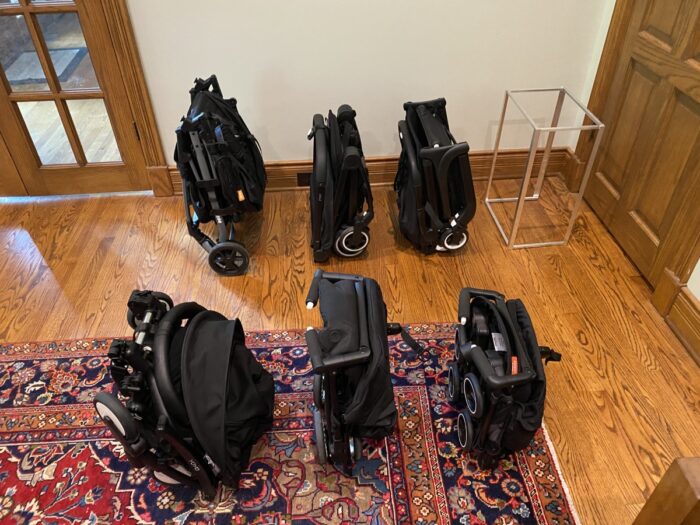 Table of Contents
Weight and Folded Size: We limited this list to strollers 17 lbs or less. The UPPAbaby MINU V2 is the heaviest at 16.9 lbs. We also eliminated strollers that were more than 3.5 cubic feet when folded.
Editor's Choice

Recommended

Recommended

Joolz Aer
Zoe Tour+ Luxe
Bugaboo Butterfly
Besrey
UPPAbaby MINU V2
Inglesina Quid
Baby Jogger City Tour 2
Babyzen YoYo²
Cybex Libelle
gb Pockit+ All-Terrain
albeebaby
Amazon

Amazon
Zoe

albeebaby
Amazon

Amazon

Amazon
buybuyBaby

Amazon

Amazon
buybuyBaby

Amazon
buybuyBaby

Amazon

Amazon
buybuyBaby

Test Lab Score
78
77
76
74
72
71
70
69
67
63
Weight, Size
Folding
Maneuverability
Kid Comfort
Ease of Use
Quality
Specifications
Single, Dual Pedal Brake
Single
Dual
Single
Single
Dual
Single
Single
Single
Single
Single
Minimum Age
6 months
6 months
6 months
3 months
3 Months
6 months
6 Months
Maximum Weight
50 lb
45 lb
50 lb
50 lb
50 lb
50 lb
45 lb
48.5 lb
55 lb
55 lb
Car Seat Adapter Included
No
No
No
No
No
No
No
Yes
No
Yes
Weight
13.4 lb
12.5 lb
16.1 lb
14.4 lb
16.9 lb
13.0 lb
14.0 lb
13.6 lb
13.7 lb
12.3 lb
Folded Size
1.8 ft3
2.6 ft3
2.0 ft3
2.9 ft3
3.3 ft3
2.5 ft3
2.2 ft3
1.7 ft3
1.1 ft3
1.0 ft3
Fold Rating
10
10
10
8
9
10
7
7
7
6
Fold Time
2 sec
2 sec
2 sec
5 sec
3 sec
3 sec
4 sec
6 sec
6 sec
6 sec
Steering Rating
10
10
8
9
9
9
9
9
8
8
Ride Smoothness
88
102
119
134
163
137
122
139
87
100
Kid Cupholders
0
1
0
0
0
0
0
0
0
0
Back Recline
33 °
30 °
28 °
32 °
31 °
27 °
26 °
35 °
43 °
31 °
Storage Capacity
0.49 ft3
0.75 ft3
0.75 ft3
0.63 ft3
0.63 ft3
0.56 ft3
0.51 ft3
0.47 ft3
0.50 ft3
0.35 ft3
Buckle Operation Rating
6
9
8
9
10
7
9
7
10
9
Tips With Bag
Yes
No
Yes
No
Yes
No
Yes
Yes
Yes
Yes
Pinch Rating
10
10
8
8
10
10
8
6
8
8
Wheel Quality Rating
9
8
10
9
10
9
8
10
9
9
Recommended Travel Strollers
The best strollers for airline travel are the Joolz Aer, Zoe Tour+, Zoe Traveler, Nuna TRVL, and Bugaboo Butterfly.
We discuss the Babyzen YoYo2, Cybex Libelle, and gb Pockit+ All Terrain in the next section. Their notable feature is being able to fit in an airline overhead bin, but none of them tested as well as the recommended strollers above.
---
Joolz Aer
---
Editor's Choice
Fast folding, highly maneuverable, lightweight stroller worth the price
| | |
| --- | --- |
| Weight, Size | |
| Folding | |
| Maneuverability | |
| Kid Comfort | |
| Ease of Use | |
| Quality | |
---
The Joolz Aer took the top spot out of 20 lightweight strollers across all testing categories and it is also a great choice for air travel considering its weight-to-size ratio. Weighing in at 13.4 lbs and collapsing to 1.8 cubic ft, it's not the lightest or smallest of all strollers, but its combined score is tough to beat.
This stroller offers quick fold and unfold times, taking 2 seconds to fold and 3 seconds to unfold, all with just one hand. At 21 x 18 x 8.5 inches folded, it slightly exceeds the standard size for many but not all, airline overhead bins.
A distinguishing feature of the Joolz Aer is its exceptional responsiveness and maneuverability. On a smooth sidewalk, in a crowded grocery store, or on paved roads, you can guide it with minimal effort. However, its performance dwindles on uneven terrains like cobblestones or areas with large cracks or gravel.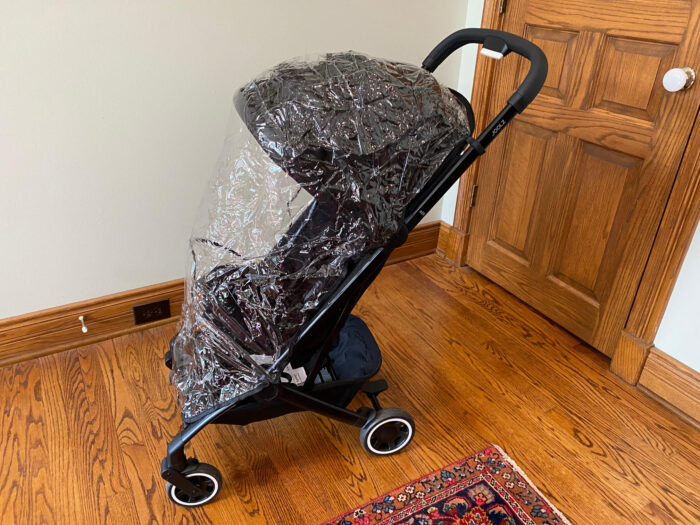 A few features make the Aer parent-friendly. The peekaboo window, brake comfort and effectiveness, included travel bag and rain cover are awesome. The storage basket is reasonable but on the smaller side, though this is quite typical for this category of strollers. There is a pocket for small items.
We like the stylish, comfortable handle though it would be even nicer if it were adjustable in height. Other minor drawbacks include having to use a long zipper to recline the seat, an average harness buckle, and awkward harness adjustment.
Our ride smoothness test positioned the Joolz Aer second of twenty, measuring for vibrations and bumpiness. The seat is soft and plush and reclines to a decent napping angle.
Unfortunately, the Joolz is missing cup holders for parents and children. The canopy provides decent sun protection extending over the knees, but doesn't have as much coverage as the Zoe or Bugaboo.
Despite minor imperfections, the Joolz Aer impresses with its high-quality fabric and robust frame. Its folding mechanism and wheels are reliable.
Our full review of the Joolz Aer.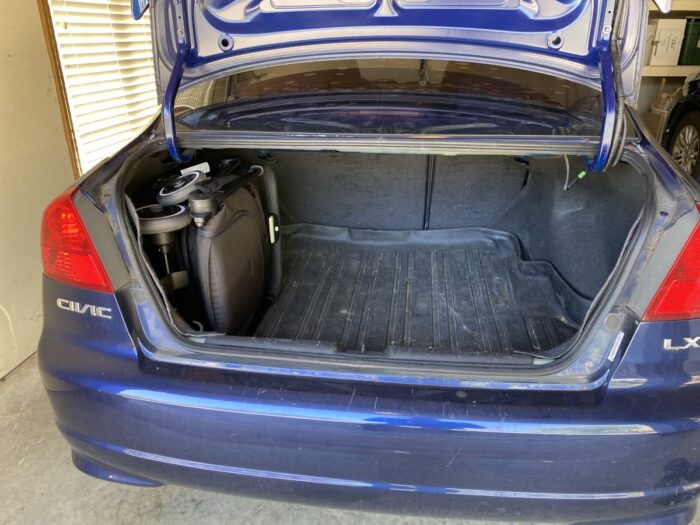 ---
Zoe Tour+ Luxe
---
| | |
| --- | --- |
| Weight, Size | |
| Folding | |
| Maneuverability | |
| Kid Comfort | |
| Ease of Use | |
| Quality | |
---
The Zoe Tour+ Luxe came out as a strong contender for the best travel stroller in all our testing categories. Boasting an ultra-light weight of 12.5 lbs, it's highly suitable for travel despite its larger folded size of 26 x 20.3 x 7.5 inches which prevents it from qualifying as an airline carry-on.
Similar to the Aer, the Zoe Tour+ showcases impressive steering capabilities and can maneuver deftly through compact spaces, such as grocery aisles and crowded airports. Its performance dips when venturing off-road or on uneven terrains.
The stroller tends to drift off course slightly more than average in our testing. It also requires more force than other strollers in the group to jump curbs based on its frame shape. While its overall maneuverability was average in our tests, it excels in regular, everyday usage.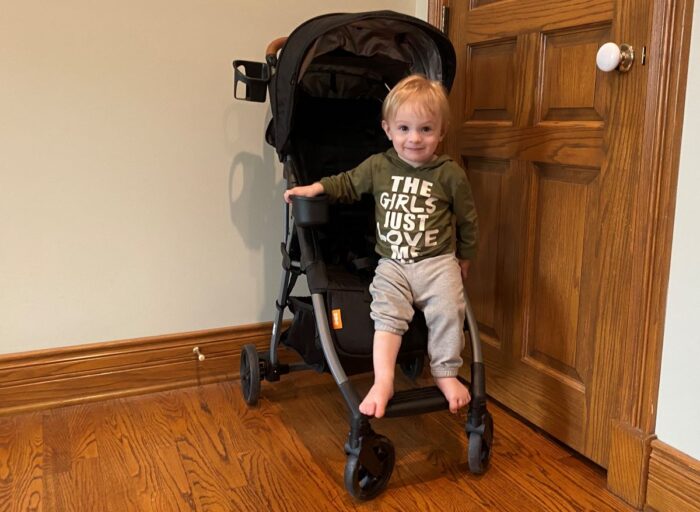 The Zoe Tour+ Luxe we tested came packed with extra features: a cup holder for parents, an organizer, a belly bar, additional storage bags, and a cup and snack holder for children. Surprisingly, this is not the priciest lightweight stroller, but it offered the most extras among all the strollers we purchased.
Despite its feather-light weight, it boasts one of the most spacious storage baskets, offering 0.75 cubic feet of space, and an additional small item pocket near the handle. If you are using the stroller in an airport, the storage basket and cubbies can give you a place to put a diaper bag, purse, toys, and feeding items.
The tan "leatherette" handle offers both aesthetic appeal and comfort. We appreciated the seat recline mechanism, buckle operation, and harness adjustment, alongside the peekaboo window. However, the separate brake pedals and their functionality left something to be desired.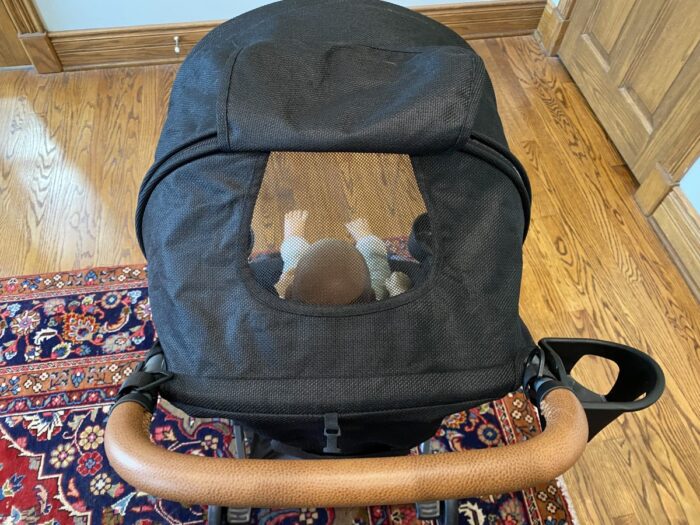 The Zoe Tour+ Luxe provides the convenience of a one-hand fold, averaging 2 seconds to fold and 3 seconds to open. The fold mechanism operates through a simple pull on the strap at the seat's center. Its folded size is compact compared to many strollers, but it falls short of the most compact strollers as shown in the attached photo:
In terms of child comfort, the Zoe Tour+ Luxe provides a ride that's smoother than most. The large canopy offers excellent sun protection, extending beyond the knees, while an extendable leg rest enhances naptime comfort. The upright seat angle is perfectly calibrated, but a recline greater than 30 degrees would be advantageous. While the harness straps are slightly abrasive near the neck area, the seat is generally comfortable. However, this stroller is not designed for larger children, with a maximum weight limit of 45 lbs.
Zoe's Twin+ and Tandem+ double strollers share many features with the Tour+.
In our noise tests, this stroller tied for first place as the quietest, averaging a decibel level of 44. It performed commendably in our pinch-point tests but didn't fare as well in the sideways tip-over test. As for the overall quality of parts and materials, the Zoe Tour+ Luxe is exceptional.
Our full review of the Zoe Tour+ Luxe
---
Bugaboo Butterfly
---
| | |
| --- | --- |
| Weight, Size | |
| Folding | |
| Maneuverability | |
| Kid Comfort | |
| Ease of Use | |
| Quality | |
---
We also highly recommend the Bugaboo Butterfly Stroller for plane travel, owing to its consistently robust performance across all testing categories and specs. While it compacts neatly to 2.0 cubic feet, potentially fitting into some airplane overhead storage compartments, it weighs in heavier than our other top picks at 16.1 lbs.
Scoring 7th place out of 20 in our tests for maneuverability and steering, the Butterfly excels on flat terrains but struggles when confronted with numerous cracks or hurdles. It pushes straighter without pulling than the Zoe Tour+ and Joolz Aer, though, like these models, it's not the best at negotiating curbs. It does, however, feature an impressively low wheel vibration compared to other strollers we tested.
The Butterfly offers a substantial storage basket with a capacity of .75 cubic feet, though it lacks additional storage spaces. A sizable mesh peekaboo window ensures extra airflow for the baby. There's a single brake pedal that's easy on bare or sandalled feet, although it doesn't always engage on the first press.
The harness buckle operates smoothly. At first, I didn't like having to insert four individual clips into the buckle instead of two. However, the Butterfly does a great job of keeping the harness clips up where you can find them which saves a lot of time.
Another benefit is that the harness straps are easy to adjust, and the seat recline mechanism is conveniently one-handed. Regrettably, it's missing a cup holder for parents!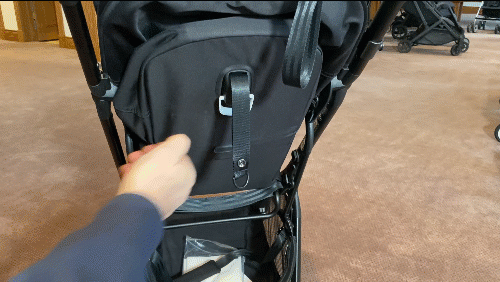 The Butterfly can be collapsed with one hand, and the folding process takes mere seconds. It folds down compactly and features a padded carry strap for easy transportation when folded.
The stroller provides a comfortable ride with a soft, padded seat and an adjustable leg rest. The upright seat angle leans back more than we'd prefer, and the recline doesn't go back far enough. Ride smoothness was average in our tests for the Bugaboo, and it does not come with a cup holder for kids.
Tying with the Zoe for the quietest ride, the Bugaboo registered an average decibel level of 44. The stroller's quality is evident in the fabric's feel and its performance with regular usage. The wheels come with rubber treads and spring suspension, enhancing its overall appeal.
Our full review of the Bugaboo Butterfly Stroller
Zoe Traveler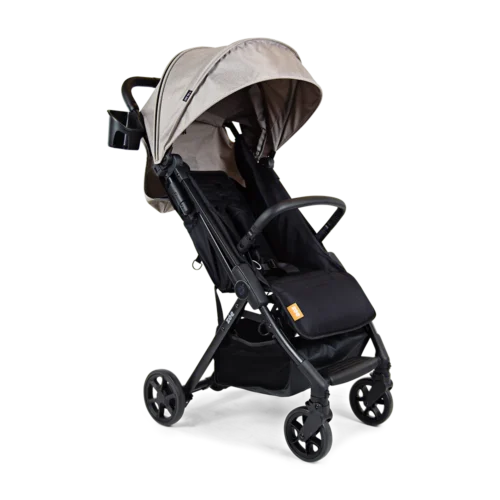 The Zoe Traveler stroller, weighing 13 lbs, is well-received by users for its light weight and easy portability. We found it to be slightly more convenient for air travel than the Zoe Tour+ based on its ability to fold compactly to 22 x 19 x 10 inches, which allows it to fit into many, but not all, airplane overhead bins. The Zoe Tour+ folds to 26 x 20.3 x 7.5 inches.
We like that the belly bar and optional snack tray fold into the Traveler when collapsing to reduce the folded size. Unlike the Tour+ which folds in half, the Traveler is a tri-fold stroller folding into thirds. This results in a smaller fold but it doesn't open as smoothly or reliably and sometimes requires two hands to unfold.
However, the Tour+ is wider, has a taller seat back and increased storage, and is more suitable for daily use. The Tour+ also has additional features like a car seat adapter, all-terrain wheels, and an add-on seat option, allowing it to transform into a Tandem+ stroller for growing families.
The bottom basket is a little difficult to reach and not quite as big as the Tour+ basket.
The Traveler's mélange fabric provides a distinctive look and waterproof capabilities. Users also note the ease of maneuverability and the comfort it offers for their child.
The Traveler's seat can recline up to 32 degrees and features a reclinable footrest. The recline isn't as far back as many, but with the footrest out it still makes a nice napping surface.
The seat does not accommodate an infant car seat. The seat dimensions are small at 11 inches in width and 8 inches in depth, and the back of the seat measures 16 inches high. While Zoe recommends the stroller for children from 3 months of age to 45 lbs, bigger kids will find it uncomfortably tight.
The stroller comes with a belly bar and a parent cup holder, which adds to the convenience. This model also meets the size requirements for strollers at Disney theme parks, gaining it a 'Disney Approved' status.
The brake is easy to engage although a little uncomfortable on uncovered feet.
Nuna TRVL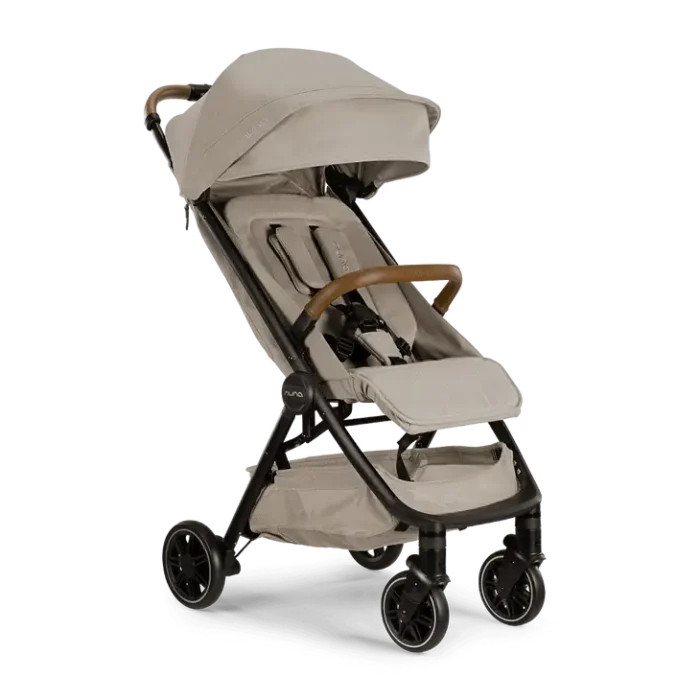 The Nuna TRVL™ stroller is appreciated for its self-collapsing feature, activated with a push of a button. Both fingers must be engaged in the movement to ensure safety, avoiding accidental folding while your baby is in it. However, it's important to remember to handle it by the side of the bumper bar when locked, as it can unfold otherwise, a factor that could be challenging, especially for those who frequently travel.
Unfolding the TRVL stroller is a breeze – it works effortlessly and doesn't require any practice. However, while it is marketed as an ultra-lightweight stroller at 13.6 lbs, this weight does not include the bumper bar or the canopy. Hence, the stroller is naturally slightly heavier than some of the lightest competitors on the market.
The stroller comes with a bag, but no carry strap. The bag, while a nice addition, can be inconvenient as you might occasionally need to fold the stroller quickly and carry it on your shoulder. Furthermore, the bag requires the removal of the back wheels to fit the stroller, which adds an extra step.
While the Nuna stroller is designed for travel, it's worth noting that it may not fit in the overhead compartment due to its dimensions of 24 x 20.25 x 11 inches.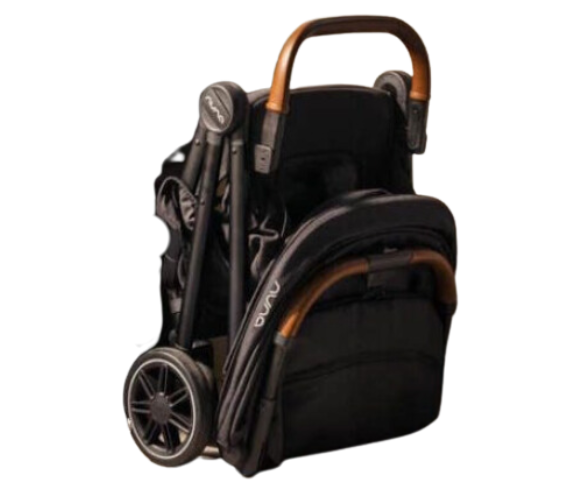 Maneuverability, however, is a high point for the stroller. It pushes nicely, doesn't wobble, and the rear-wheel suspension technology provides a smooth ride. The stroller can also be used on rougher terrain by locking the front wheels.
In terms of compatibility, the stroller can be used with Nuna car seats that easily insert into the bumper bar. However, if you have a different car seat brand, you cannot use it with the Nuna TRVL™ stroller as it doesn't have adapters for other car seats.
Despite the comfortable seat and the in-built footrest, one significant drawback of the Nuna TRVL™ stroller is the seat height when reclined. While it partially reclines, the seat backrest is only 15" which is comparatively very short. This limitation may make the stroller unsuitable for napping as the child grows.
The storage basket is a strong feature. It's large, easily accessible, and securely holds a significant amount of items. The seat compartment and canopy are comfortable and come with the added feature of a large ventilation panel at the back, enhancing breathability. However, the no-rethread 5-point harness could be cumbersome to put together when the toddler is unsettled.
Lastly, it's essential to be aware that the TRVL comes only with a travel bag, and extras like a rain cover are sold separately. Despite the luxury feel and easy folding feature, the stroller falls short on compatibility with other car seats and comfort during reclining for growing toddlers. The Nuna stroller has a hefty price tag and other cheaper travel stroller options might offer more practical features.
Strollers that Fit in An Airplane Overhead Bin
I don't consider the need to fit in an aircraft overhead compartment to be the most important criterion for a travel stroller, even for air travel.
Checking the stroller at the gate, even though it sometimes requires some wait time to pick up the stroller after the flight, is usually a much better option. Here's why:
When I have kids along there are already too many things to carry onboard.
For many airlines, the stroller counts as a carry-on bag or hand luggage, which means if I take the stroller I have to check another bag or limit myself further.
The strollers are too wide to be pushed down the aisle of the aircraft, so they must be folded and carried which ties up my already busy hands.
If you are checking other luggage, checking your stroller at the ticket counter is one less thing you have to take through TSA security. Of course, then you don't have a stroller to put your baby in while at the airport. Pick your poison.
However, if you want to carry your stroller on board the airplane, here are the best options with some pros and cons for each.
---
Babyzen YoYo²
---
| | |
| --- | --- |
| Weight, Size | |
| Folding | |
| Maneuverability | |
| Kid Comfort | |
| Ease of Use | |
| Quality | |
---
Renowned for its compact folding size, the Babyzen YoYo2 fits comfortably as an aircraft carry-on and can be conveniently stowed in many overhead compartments. Despite its travel-friendly dimensions of 20.5 x 17.3 x 7.1 inches, it's recommended to verify specific airline carry-on stroller policies. Most domestic, U.S. airlines permit up to 22 x 14 x 9 inches.
We listed the Babyzen first because it has a higher score than the Cybex Libelle and gb Pockit+, but the Babyzen's folded size is slightly larger than those strollers.
Weighing in at 13.6 lbs, the YoYo2 isn't the lightest stroller in the group but still maintains an easy, light feel during active usage. Its excellent maneuverability and relatively effortless curb-jumping capabilities make it a superb travel stroller, although it's not designed for rough off-road conditions. Wheel vibrations on this model may be slightly more noticeable than on other lightweight strollers.
Its storage basket is .47 cubic feet (quite small) and accommodates up to 11 lbs, which is typical for travel strollers. It is accessible from the front however, two bars obstruct the placement of larger items.
Additional storage is provided via a zippered pocket, ideal for essentials such as wipes, car keys, and cell phones. Regrettably, it lacks a parent console or cup holders; these and other accessories can be purchased separately.
The stroller comes with a comfortable carry strap, allowing easy transportation over your shoulder when folded. The canopy features a small plastic peekaboo window which reflects the sun making it difficult to see through.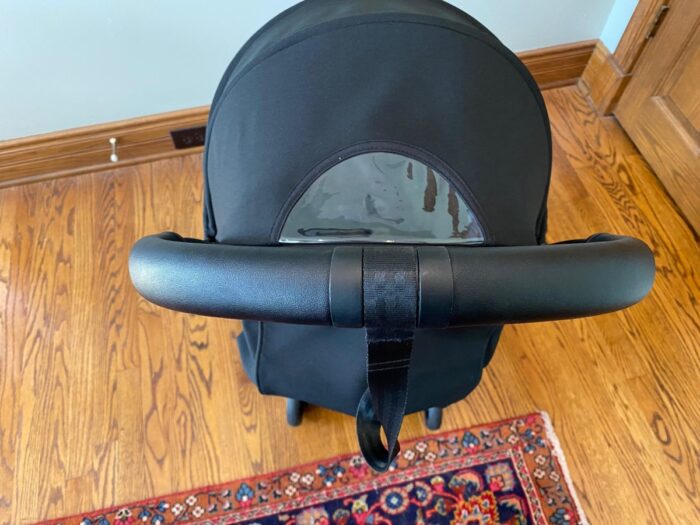 Its synthetic leather handle cover is robust and comfortable, and includes a safety strap to prevent the stroller from rolling away. The handle is not height adjustable, but it measures a comfortable 40″ high. The solidly built canopy offers lesser sun protection than many due to its limited extension.
Setting up the Babyzen YoYo2 took approximately 15 minutes, longer than any other stroller tested. This included assembling the separate YoYo base, frame, and the "6+ Color Pack" that contains the seat and canopy. Our assembly manual rating is 6 out of 10, as the diagrams provided were only satisfactory, and the instructions were separate from the pictures.
The seat recline mechanism involves pulling two straps apart and back together. While it isn't overly complex, other strollers offer more straightforward mechanisms. The seat buckle is easy to operate, and the shoulder harness straps are adjustable as your child grows.
Operating the brakes is a breeze thanks to a single comfortable pedal. This design is preferable to dual-pedal systems. The carry strap conveniently sticks out of the travel bag. While the bag is easy to carry and keeps dirt off the stroller, it is thin and won't protect the stroller when it is thrown around.
The Babyzen YoYo2 comes in several attractive colors and has an optional car seat adapter compatible with certain infant car seat models.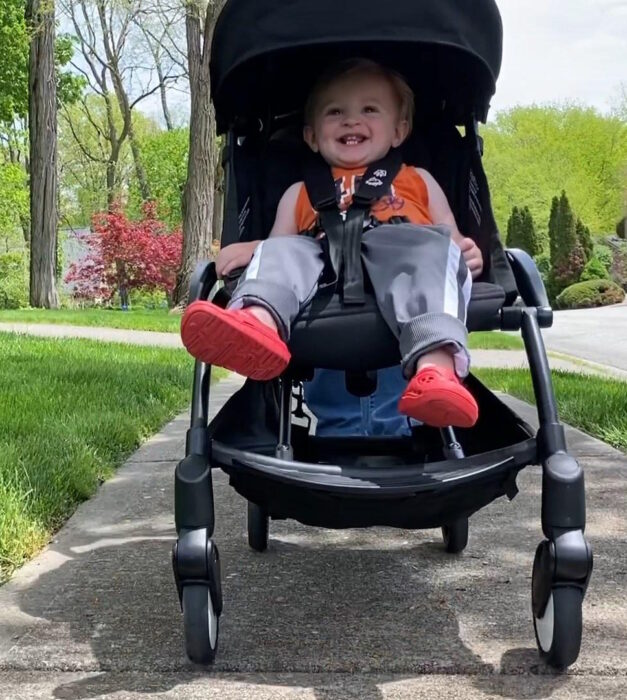 Its folding mechanism was found slightly disappointing, requiring two hands and several steps. The process gets simpler with practice but still takes approximately 6 seconds to fold and 4 seconds to open.
When it comes to child comfort, the YoYo2 offers a well-padded seat and leans back farther than most in its upright position. The seat doesn't recline as much as other strollers in its reclined position. While it doesn't offer mesh ventilation, the small canopy doesn't obstruct much wind. The stroller does not come with cup holders or a snack tray, but they can be purchased separately. Additional accessories are also available, albeit at a rather high price point.
On the downside, the YoYo2 scored below average in our ride vibration and bumpiness tests. However, in terms of quality and safety, it feels sturdy with plush fabric. The folding mechanism is robust and less prone to mechanical issues. The durable rubber wheels, equipped with front spring suspension and rear frame suspension, enhance the stroller's performance.
Despite its lightweight frame, the YoYo2 is remarkably solid and durable. During tip-over tests, it tipped over with a 12 lb bag on the handle and more easily tipped sideways while empty than most other strollers. This stroller had more potential pinch points than many others we tested.
---
Cybex Libelle
---
| | |
| --- | --- |
| Weight, Size | |
| Folding | |
| Maneuverability | |
| Kid Comfort | |
| Ease of Use | |
| Quality | |
---
The Cybex Libelle is an upgraded version of the gb Pockit+ all-terrain stroller. Both brands are owned by the same company.
The Libelle challenges other lightweight strollers in terms of weight and compactness. Weighing a mere 13.7 lbs and occupying just 1.07 cubic feet when folded, with dimensions of 18.9 x 12.6 x 7.8 inches, it conveniently fits into overhead compartments on planes, trains, and buses.
There are numerous joints in the frame that allow the stroller to be folded into a small unit, but those joints make the frame of the stroller flex substantially. Sometimes if feels like its going to break when making simple turns although that hasn't happened to us, it feels like it will.
The gb Pockit+ folds to a smaller size but takes more effort and coordination to make the fold happen.
When it comes to steering and maneuverability, the Cybex Libelle performs adequately on smooth terrains. Its frame showcases slight flex when cornering, yet the wheels respond swiftly. However, encountering bumps or cracks poses a challenge and its performance on uneven terrain is unremarkable, which is a common issue among lightweight strollers.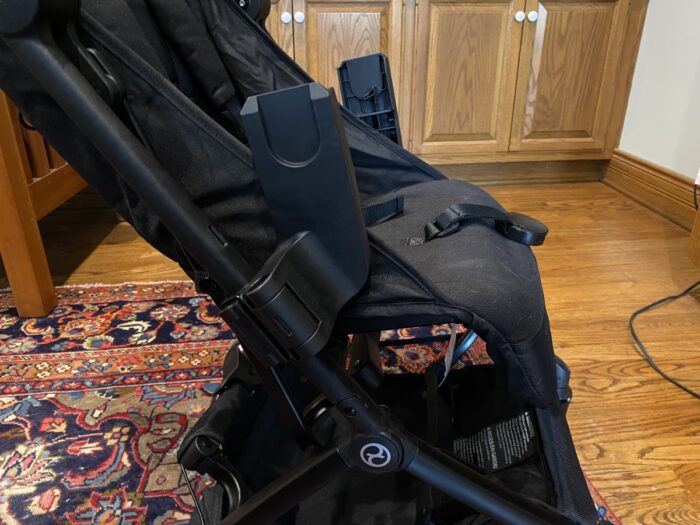 We gauged the effort to mount a curb with a fully-loaded stroller; the Libelle required an average force of 11 kg. Despite the minimal shake in its wheels which facilitated in noise tests, it has a tendency to veer sideways, and lacks front wheel locks for adjustment. Consequently, its overall steering and maneuverability rating is mediocre.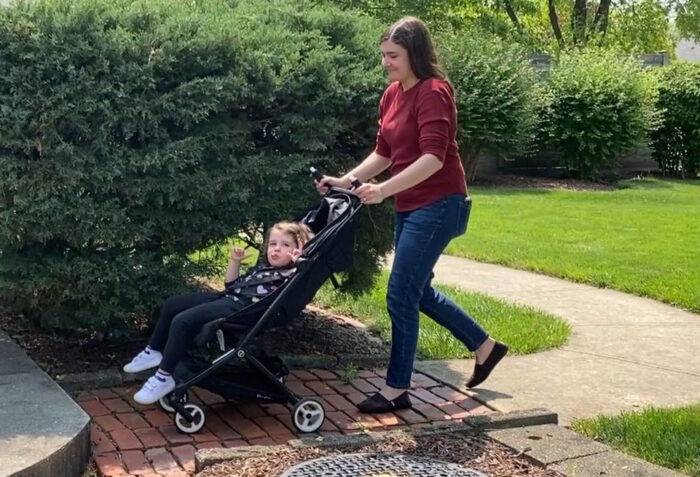 In terms of utility, the Libelle's storage basket, while not large at 0.50 cubic feet, is more accessible than most, albeit small. Capable of holding up to 11 pounds, the basket's central bar placement is, regrettably, inconvenient. Additionally, the stroller lacks any other storage spaces, including cup holders. As for the handlebar, covered in simple foam, the height is fixed at 39 inches, potentially uncomfortable for taller individuals.
The brake, a single pedal at the back center, engages when stepped on from the left and releases from the right, simultaneously affecting both wheels. Its operation is effortless and gentle on the feet. The harness clips are easy to fasten and release with appropriate pressure, but adjusting the straps can be challenging.
The recline mechanism necessitates two hands for inclining and one for reclining, though it doesn't offer a significant recline angle. The stroller comes with car seat adapters compatible with any Cybex infant car seat, enabling usage as a travel system. However, the stroller seat needs to be removed prior to mounting a car seat.
When it comes to folding and transport, the Libelle's compactness shines as it folds down to 1.1 cubic feet, making it one of the smallest folding strollers available. The folding process requires two hands and care should be taken not to pull the latch instead of the frame when carrying. Unfortunately, it lacks a carry strap.
Regarding comfort, the Cybex Libelle excelled in our vibration and bumpiness tests, though its seat design has drawn complaints about slouching and discomfort. The padding is adequately thick and extends beyond the knee bend area down to the calves. The seat is inclined at 62 degrees in its upright position, but it may be uncomfortable for larger children.
In our quality and safety assessment, the Libelle scored 8 out of 10 in our pinch-point tests. Most of the pinch points we identified were related to the folding process, emphasizing the need to keep children away while folding.
The Cybex Libelle showcases high-quality parts and materials that have proven durable. Features such as the folding mechanism, brake pedal, and canopy hinges function consistently well. The stroller comes equipped with front wheels with spring suspension, EVA foam treads, and sturdy wheel assemblies.
---
gb Pockit+ All-Terrain
---
Compact travel stroller, difficult to fold, not particulraly kid or parent friendly
| | |
| --- | --- |
| Weight, Size | |
| Folding | |
| Maneuverability | |
| Kid Comfort | |
| Ease of Use | |
| Quality | |
---
The gb Pockit+ All-Terrain stroller tips the scales at 12.3 lbs and when folded, has a volume of 1.01 cubic feet. We measured its folded dimensions to be 16.5 x 13.4 x 7.9 inches which is smaller than the Cybex Libelle's 18.9 x 12.6 x 7.8 inches. It will fit in every overhead bin that we are aware of, although some airlines have additional restrictions beyond dimensions.
Its nimble steering and maneuverability are commendable, however, the frame's flexibility may create an illusion of breakability, especially when negotiating sharp turns with a full load. Despite this, the Pockit+ posted a respectable score for Ease of Steering.
Advertised as an "all-terrain" stroller, it falls short in handling anything other than flat surfaces. Its small wheels tend to swivel and jam, while its frame lacks the rigidity to navigate obstacles. Its performance in rough terrain tests was disappointing. This isn't a problem in airports, but may limit where you can go as tourists.
It has the lowest score in the group for wheel vibration. In our veering tendency tests, the Pockit+ fell slightly below average. Notably, it has front wheel locks to keep from veering on long, straight walks. Taking into account all these factors, its Overall Steering and Maneuverability Rating was unimpressive.
The Pockit's compact design naturally limits storage space. Its basket can hold up to .35 cubic feet, roughly equivalent to two bread loaves. Access to this basket can be challenging and despite its 11-pound rating, it's unlikely to hold this much. Regrettably, there's no additional storage, including parent cup holders or a compartment for small items.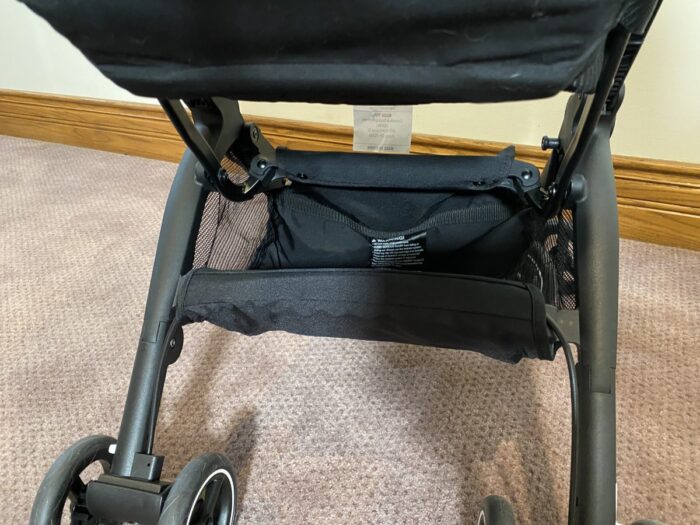 Its sunshade lacks a peekaboo window but offers a minor gap between the shade and the seat back for partial visibility. This, however, does let in light.
The non-adjustable, foam-padded handles are placed at a height of 38 inches, posing difficulties for taller individuals. These handles tend to wobble and flex while making turns.
The harness buckle is simple to use, featuring two clips and a one-thumb release. Adjusting the harness entails sliding clips along straps behind the shoulder harnesses, which can be a bit challenging but quicker than rethreading.
Its brakes operate both rear wheels with a single pedal located on the right rear wheel, which is small and can be hard to engage with your foot. Releasing the brake pedal is uncomfortable with uncovered feet.
The gb Pockit is compatible with Cybex infant car seats using provided car seat adapters.
Reclining the seat back involves a one-hand operation: unzip the zipper below the handlebar, press the button on the recline clip, pull down and release the strap. Raising the seat requires two hands: holding the recline strap while pushing up the recline clip.
In our folding demonstration video for the gb Pockit+, we showcase an easy fold method resulting in a marginally larger fold size. Achieving the smallest fold size involves extra steps, including raising the rear wheels and aligning them before compressing the whole stroller.
The Pockit+ folding process requires two hands and a bit of patience. On average, the larger fold takes around 6 seconds while the more compact fold takes an additional 6 seconds, granted everything runs smoothly. Often it takes much longer to get the wheels aligned properly for the fold.
While the gb Pockit+ All-Terrain stroller does not excel in certain areas, it's one of the top contenders for a small and lightweight option. If your main priorities are travel and commuting with the occasional mild outdoor usage, the gb Pockit+ All-Terrain could be a decent choice.
Why You Should Trust Us
Being a U.S. native but having lived in Africa and Asia for 11 years, and traveled for work and pleasure all over Europe, with numerous visits to Central America, and a couple to South America, with and without kids, I have a great deal of experience in airports and airplanes.
My wife and I founded ExperiencedMommy.com and now KidTravel.org and have collectively reviewed more than 111 strollers over the past six years. We own 20 lightweight strollers and use them with our grandkids as well as farming them out for additional experience and feedback.
In the research process, we looked at stroller safety issues, recall notices, studied certification standards, and performed our own safety checks like tip-over and pinch-point testing.
Price vs Performance
Note that the Nuna TRVL and Zoe Traveler are missing from the chart below because we haven't tested them yet. The Nuna TRVL is high priced at $500 while the Zoe Traveler currently sells for half that at $249.
How They Compare by Category
Weight and Folded Size
The strollers we recommend above vary in weight from 12 to almost 17 lbs. In practice you may not be able to tell much difference but every pound counts when you travel! The folded size is also similar enough that it shouldn't be too big of a factor unless you absolutely need to be able to carry it on a plane.
Weight
| | |
| --- | --- |
| gb Pockit+ All-Terrain | |
| Zoe Tour+ Luxe | |
| Inglesina Quid | |
| Joolz Aer | |
| Babyzen YoYo² | |
| Cybex Libelle | |
| Baby Jogger City Tour 2 | |
| Besrey | |
| Bugaboo Butterfly | |
| UPPAbaby MINU V2 | |
Folded Size
| | |
| --- | --- |
| gb Pockit+ All-Terrain | |
| Cybex Libelle | |
| Babyzen YoYo² | |
| Joolz Aer | |
| Bugaboo Butterfly | |
| Baby Jogger City Tour 2 | |
| Inglesina Quid | |
| Zoe Tour+ Luxe | |
| Besrey | |
| UPPAbaby MINU V2 | |
Folded Dimensions
Most U.S. domestic airlines use a 22 x 14 x 9 inch maximum dimension guideline for carry-on eligible bags and strollers for overhead compartments. Many international carriers accept larger sizes or use a weight criterion or total dimension standard where the sum of the height, width and depth must total less than a maximum number specified in their policy.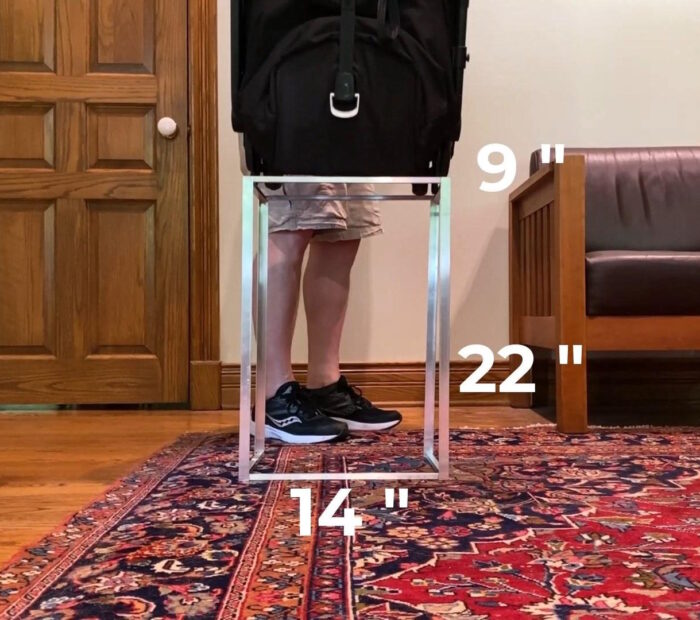 Getting into Disney World with any of the strollers in this article is not a problem. And they all fit easily into the trunks of even small cars.
| | Folded Dimensions |
| --- | --- |
| gb Pockit+ All-Terrain | 13.8 x 11.8 x 7.1 in |
| Cybex Libelle | 18.9 x 12.5 x 7.8 in |
| Babyzen YoYo² | 21 x 17.5 x 8 in |
| Joolz Aer | 21 x 18 x 8.5 in |
| Bugaboo Butterfly | 21 x 18 x 9 in |
| Inglesina Quid | 22 x 19 x 8 in |
| Baby Jogger City Tour 2 | 22 x 20 x 7 in |
| UPPAbaby MINU V2 | 23 x 20.3 x 12.5 in |
| Besrey | 25.2 x 19.7 x 11.8 in |
| Zoe Tour+ Luxe | 26 x 20.3 x 7.5 in |
Storage and Ease of Use Comparison
Stroller storage space is always important but especially valuable when on vacation. Here are how the baskets compare for the strollers for airplane travel we recommend above.
Of the three the Joolz Aer basket in the center below is the smallest, at least from the back.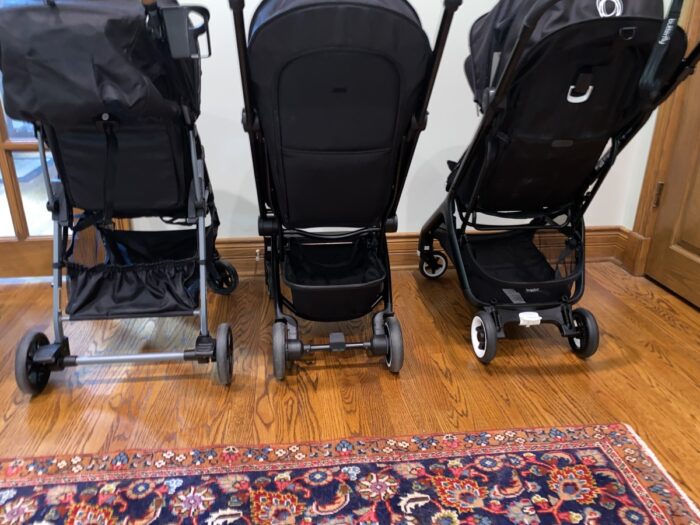 But most of these strollers have front access to the basket as well and the Joolz and Bugaboo have large front openings. In an airport when you are sitting facing your baby it is nice to be able to get to the basket from the front.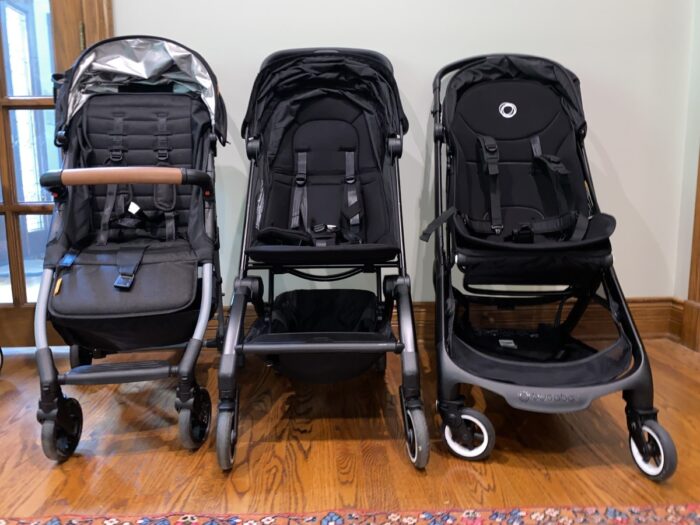 Overall the Butterfly and Tour+ have the most usable basket space of the three.
This next group of strollers fold to a smaller size and not surprisingly have smaller baskets overall.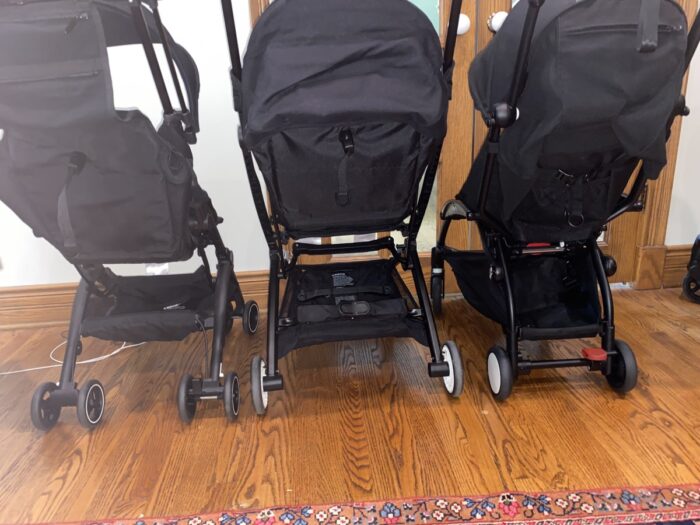 In the front view you can see that the gb Pockit has little front access, and the basket of the YoYo is blocked by two metal bars that keep you from putting anything big in the basket. Unfortunately, the rear opening of the YoYo is also too small for many diaper bags.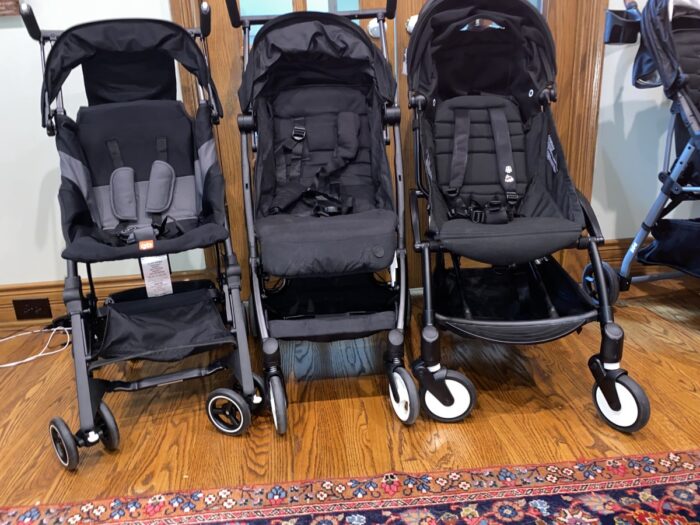 While the volume of the baskets is a factor, the opening size can be just as important.
Storage Basket Volume:
| | |
| --- | --- |
| Zoe Tour+ Luxe | |
| Bugaboo Butterfly | |
| UPPAbaby MINU V2 | |
| Besrey | |
| Inglesina Quid | |
| Baby Jogger City Tour 2 | |
| Cybex Libelle | |
| Joolz Aer | |
| Babyzen YoYo² | |
| gb Pockit+ All-Terrain | |
In addition to the basket, several of the strollers have extra storage options. The Zoe comes with a parent console with two cup holders and several cubbies and pockets as shown below.
If you aren't using the console, there is a small fabric pocket on the canopy that will hold a phone.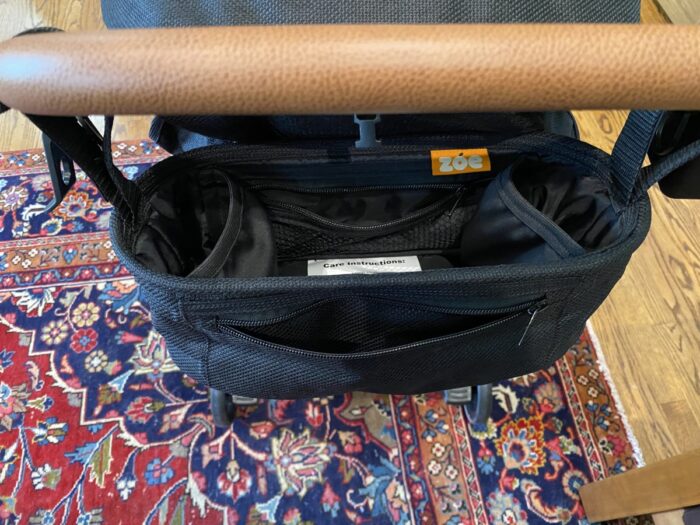 The Joolz Aer has a thin pocket on the back but it doesn't hold very much.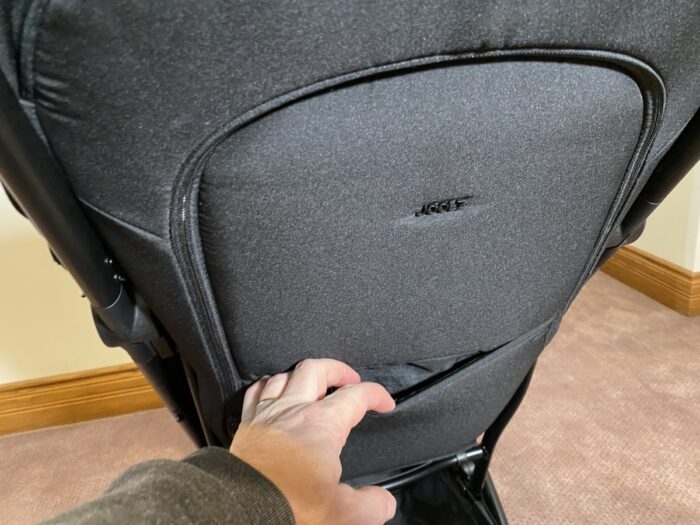 The Butterfly, gb Pockit+ and Cybex Libelle have no additional compartments.
However, the YoYo has a fabric, zippered pocket: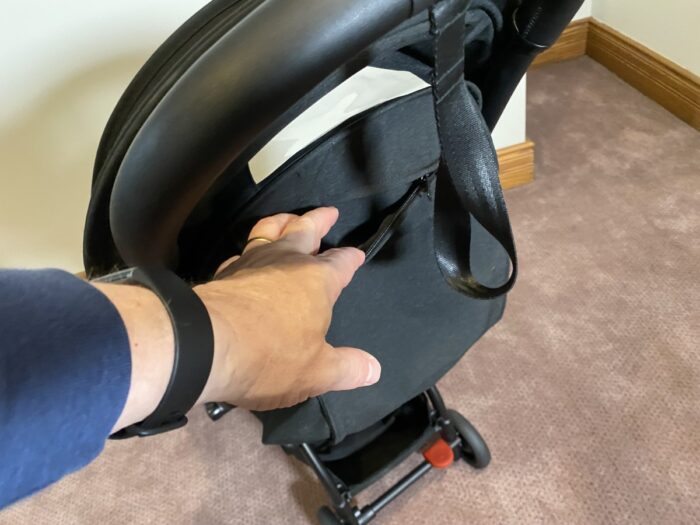 Except for the gb Pockit and Libelle the other recommended strollers have a peekaboo window in the canopy for viewing your little one.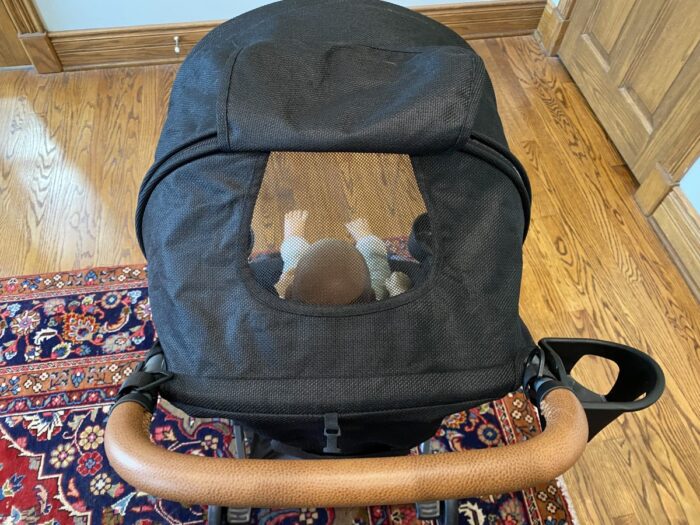 The handles on all of these strollers are non-adjustable and fixed at around 39″ high plus or minus an inch. There are very few strollers with adjustable handlebars that are also lightweight.
If you need a higher or lower handle consider the Ergobaby Metro+ which has an adjustable handle from 37.4″ to 41.3″. We did not buy and test the Metro+ because of its slightly lower customer reviews. It is about 18 lbs and has some very nice features for travel including a small fold size.
For taller and shorter parents, handle height can be important. The Baby Jogger City Mini GT2 is the only stroller in the group with an adjustable handle. The rest are non-adjustable and with few exceptions are about 39 inches high.
How could we discuss Ease of Use without mentioning parent cup holders? Few strollers come with them, but all of them have cup holders or parent consoles that can be purchased separately. This is a great parent organizer with a cup holder that will fit any stroller.
| | Parent Cupholders |
| --- | --- |
| Zoe Tour+ Luxe | 1 |
| Besrey | 1 |
| Joolz Aer | 0 |
| Bugaboo Butterfly | 0 |
| UPPAbaby MINU V2 | 0 |
| Inglesina Quid | 0 |
| Baby Jogger City Tour 2 | 0 |
| Babyzen YoYo² | 0 |
| Cybex Libelle | 0 |
| gb Pockit+ All-Terrain | 0 |
The Bugaboo Butterfly is the only stroller mentioned above with both a one-hand seat recline and one-hand seat raise action. The others take two hands for at least one of the steps. The Joolz has a zipper that goes all the way around the edge of the seat like a suitcase.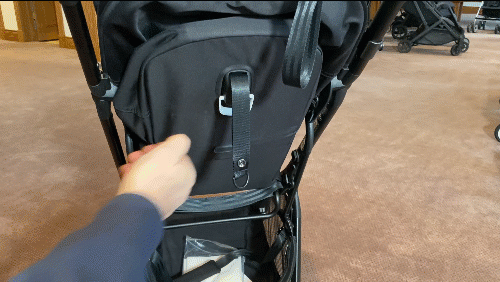 The Babyzen and Joolz Aer come with nice travel bags that include shoulder straps. Note that they are made of thin nylon and provide minimal protection of the stroller. Strollers that are checked or gate-checked will probably get some abuse. It's not likely they will break badly enough to not be operational (although that could happen), but there can be damage to the handle or surfaces. Bags like this one offer more protection but they are one more thing to carry. Personally, I skip the bag.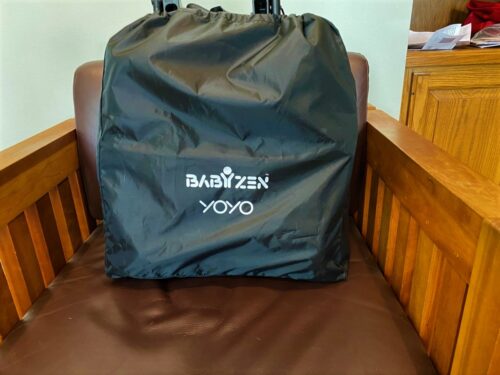 Only a few travel strollers come with infant car seat adapters for mounting a car seat.
Car Seat Adapter Included
| | Car Seat Adapter Included |
| --- | --- |
| Babyzen YoYo² | Yes |
| gb Pockit+ All-Terrain | Yes |
| Joolz Aer | No |
| Zoe Tour+ Luxe | No |
| Bugaboo Butterfly | No |
| Besrey | No |
| UPPAbaby MINU V2 | No |
| Inglesina Quid | No |
| Baby Jogger City Tour 2 | No |
| Cybex Libelle | No |
Car Seat Compatability
| | Compatible Car Seats |
| --- | --- |
| Joolz Aer | NA |
| Zoe Tour+ Luxe | NA |
| Bugaboo Butterfly | NA |
| Besrey | NA |
| UPPAbaby MINU V2 | NA |
| Inglesina Quid | NA |
| Cybex Libelle | NA |
| Babyzen YoYo² | Cybex Aton, Cybex Aton 2, Cybex Aton M, Maxi Cosi Micos 30/Mico Max 30, Nuna Pippa, Nuna Pippa Lite, Clek Liing |
| gb Pockit+ All-Terrain | CYBEX infant car seat |
| Baby Jogger City Tour 2 | Baby Jogger infant car seat (sold separately) |
In the Ease of Use category, we considered the brake operation, storage, recline operation, carry straps, handle height and adjustability, harness and buckle operation, and several other things. Here are the overall scores for Ease of Use:
| | |
| --- | --- |
| Zoe Tour+ Luxe | |
| Besrey | |
| UPPAbaby MINU V2 | |
| Bugaboo Butterfly | |
| Joolz Aer | |
| Baby Jogger City Tour 2 | |
| Babyzen YoYo² | |
| Inglesina Quid | |
| Cybex Libelle | |
| gb Pockit+ All-Terrain | |
Maneuverability
We did maneuverability testing on all the strollers to be able to compare them in a consistent way. This included steering through an obstacle course, pushing on rough trails and rough surfaces, measuring the force required to jump curbs, measuring how far strollers would go straight without drifting off a center line, measuring wheel vibration and several other tests. The Overall Maneuverability Scores below incorporate all of those results:
| | |
| --- | --- |
| Baby Jogger City Tour 2 | |
| Joolz Aer | |
| UPPAbaby MINU V2 | |
| Bugaboo Butterfly | |
| Inglesina Quid | |
| Besrey | |
| Zoe Tour+ Luxe | |
| Babyzen YoYo² | |
| Cybex Libelle | |
| gb Pockit+ All-Terrain | |
Here are the ratings for basic steering and turning and flat surfaces. All the strollers did pretty well. Steering Ratings:
| | |
| --- | --- |
| Joolz Aer | |
| Zoe Tour+ Luxe | |
| Besrey | |
| UPPAbaby MINU V2 | |
| Inglesina Quid | |
| Baby Jogger City Tour 2 | |
| Babyzen YoYo² | |
| Bugaboo Butterfly | |
| Cybex Libelle | |
| gb Pockit+ All-Terrain | |
When it came to rough surfaces, or consistently bumpy, like on brick or cobblestone streets, none of these strollers did great. You really need bigger wheels and better suspension for rough roads and off-roading. Lightweight, travel strollers just aren't built for that. That said, the Baby Jogger City Tour 2 and Besrey strollers did a little better than the others in this group.
Folding
The top three travel strollers, the Joolz Aer, Bugaboo Butterfly, and Zoe Tour+, all fold in two seconds and open in two or three. They can all be folded and opened with one hand.
The Joolz and Bugaboo are all tri-fold strollers that collapse with the press of a release button or latch followed by squeezing the fold button on the handle. The Zoe is a bi-fold and collapses in one step by pulling the strap on the seat.
The more compact strollers, the gb Pockit+, Cybex Libelle, and Babyzen YoYo, require two hands, require multiple steps to fold and unfold, and take from 6 to 30 seconds to fold correctly. Of these three, the Libelle is the easiest.
Here's what it looks like to fold 19 strollers in just over two minutes.
You can see the relative size of the strollers when folded below. All stand when folded, but most aren't too stable, especially the Zoe. The YoYo, Libelle, and Pockit have a high probability of being accepted as carry-on bags for placement in aircraft overhead compartments.
The Tour+ won't be accepted as a carry-on for most US domestic flights. And the Aer and Butterfly are hit and miss for domestic flights and a higher probability for international flights.

Here is how the strollers look with the 22 x 14 x 9 inch, standard airline baggage sizer. Some airlines allow for slightly larger bag sizes, but this is the most common standard.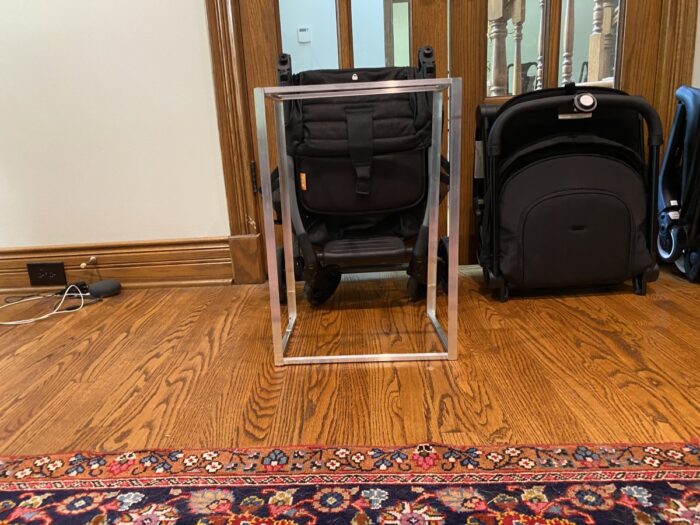 Once folded here is how you carry the strollers:
| | Carry By |
| --- | --- |
| Cybex Libelle | Frame or Handle |
| Baby Jogger City Tour 2 | Frame or Handle |
| gb Pockit+ All-Terrain | Frame or Handle |
| Zoe Tour+ Luxe | Fold strap |
| Joolz Aer | Carry strap or Carry Bag |
| Babyzen YoYo² | Carry strap or Carry Bag |
| Bugaboo Butterfly | Carry Strap |
| UPPAbaby MINU V2 | Carry Strap |
| Besrey | Bumper bar or Frame |
| Inglesina Quid | Bumper bar |
All of them fit easily into a car trunk: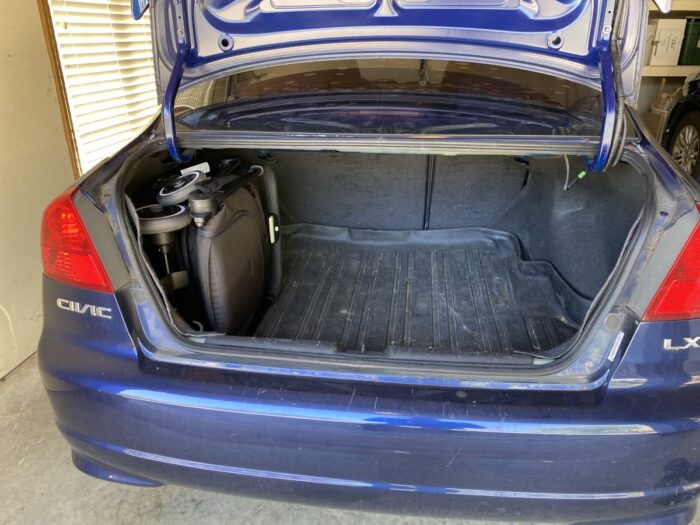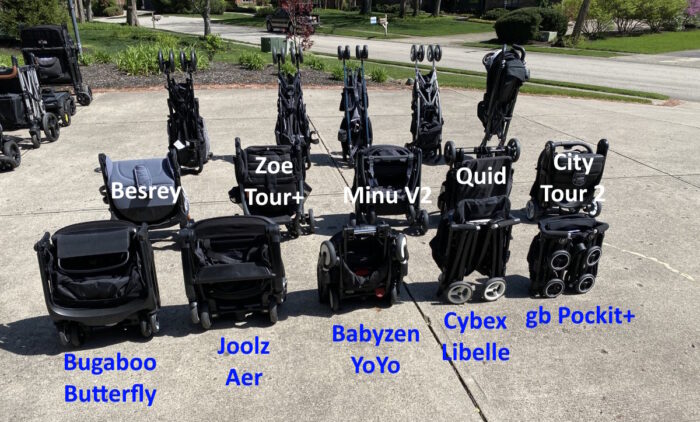 Kid Comfort
Comfort is key for strollers used on vacation, as they'll be used a lot.
We first checked how smooth the ride is. Using a tool called an accelerometer, we measured the bumpiness kids might feel in the seat. We did this on a fairly smooth path with some purposely rough spots. A lower number means a smoother ride.
Results for Smoothness of Ride:
| | |
| --- | --- |
| Cybex Libelle | |
| Joolz Aer | |
| gb Pockit+ All-Terrain | |
| Zoe Tour+ Luxe | |
| Bugaboo Butterfly | |
| Baby Jogger City Tour 2 | |
| Besrey | |
| Inglesina Quid | |
| Babyzen YoYo² | |
| UPPAbaby MINU V2 | |
Strollers that do well for airline travel typically aren't the strollers that are most comfortable for bigger kids.
We assigned a "Sized for Big Kids Rating" based on manufacturer guidelines, seat depth, width, height, and distance to the ground.
The top strollers on this list accommodate children up to 50 lbs. The Cybex Libelle claims to handle 55 lb kids but the measurements and our experience make us skeptical.
Sized for Big Kids Rating:
| | |
| --- | --- |
| Joolz Aer | |
| Bugaboo Butterfly | |
| UPPAbaby MINU V2 | |
| Babyzen YoYo² | |
| Zoe Tour+ Luxe | |
| Besrey | |
| Inglesina Quid | |
| Cybex Libelle | |
| gb Pockit+ All-Terrain | |
| Baby Jogger City Tour 2 | |
Except for the Zoe Tour+ you'll need to buy snack trays and cup holders for kids separately.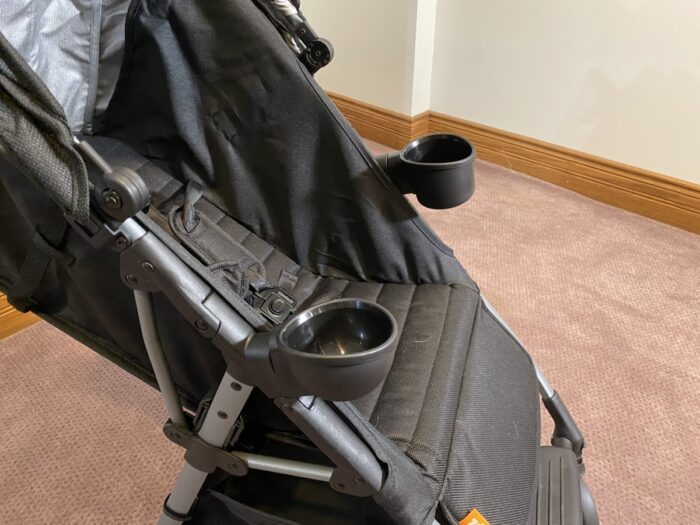 Our babies never liked reclining back too far when they were out and about unless it was nap time. Many strollers lean back at a steep angle even when they are fully upright. This is a complaint we have against some of the top strollers on our list. Upright Seat Angle:
| | |
| --- | --- |
| Zoe Tour+ Luxe | |
| UPPAbaby MINU V2 | |
| gb Pockit+ All-Terrain | |
| Inglesina Quid | |
| Baby Jogger City Tour 2 | |
| Cybex Libelle | |
| Joolz Aer | |
| Besrey | |
| Bugaboo Butterfly | |
| Babyzen YoYo² | |
On the other end of the scale, when it is nap time you want a seat that will go back as far as possible. Here are the Maximum Seat Recline Measurements:
| | |
| --- | --- |
| Baby Jogger City Tour 2 | |
| Inglesina Quid | |
| Bugaboo Butterfly | |
| Zoe Tour+ Luxe | |
| UPPAbaby MINU V2 | |
| gb Pockit+ All-Terrain | |
| Besrey | |
| Joolz Aer | |
| Babyzen YoYo² | |
| Cybex Libelle | |
Also important for napping are leg rests that can be raised. In addition to those below the Nuna TRVL and Zoe Traveler also have leg rests. One can be purchased for the YoYo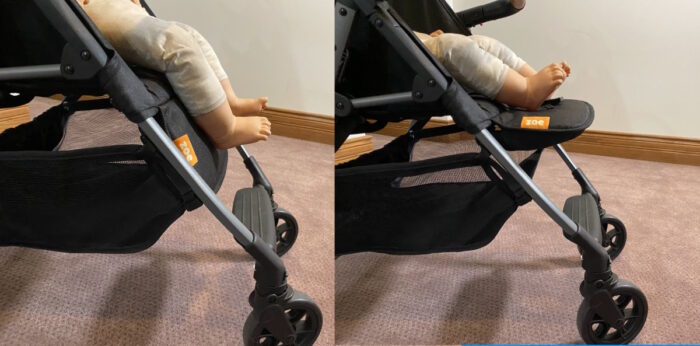 Sun protection is also important on vacation. Some of these strollers have very skimpy canopies and others have good coverage. Take a look below.
The Zoe canopy extends down to the belly bar. The Bugaboo also has good coverage, although some sun shines through the large peekaboo window up top.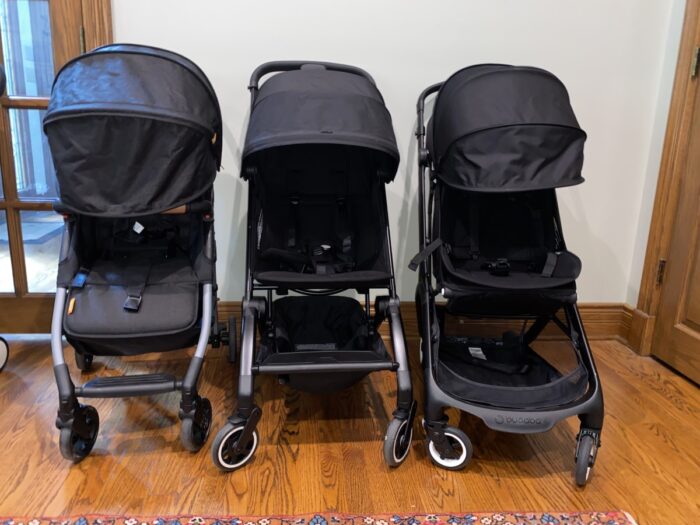 The compact fold strollers have mostly pitiful sun shades. The Babyzen's isn't too bad but it is still smaller than the strollers above.
We measured the noise level of each of the strollers because noisy strollers drive me crazy. Here are the average decibel levels:
| | |
| --- | --- |
| Zoe Tour+ Luxe | |
| Bugaboo Butterfly | |
| Baby Jogger City Tour 2 | |
| Joolz Aer | |
| Cybex Libelle | |
| gb Pockit+ All-Terrain | |
| Babyzen YoYo² | |
| UPPAbaby MINU V2 | |
| Besrey | |
| Inglesina Quid | |
All things considered, here is how the strollers rank for Overall Kid Comfort:
| | |
| --- | --- |
| Zoe Tour+ Luxe | |
| Bugaboo Butterfly | |
| Besrey | |
| Joolz Aer | |
| UPPAbaby MINU V2 | |
| Babyzen YoYo² | |
| Inglesina Quid | |
| Baby Jogger City Tour 2 | |
| Cybex Libelle | |
| gb Pockit+ All-Terrain | |
Durability
The quality of parts and materials is important for a travel stroller because of the wear and tear that always happens.
We examined the wheels, folding mechanisms, safety features, zippers, snaps and velcro, suspension and other quality factors and rated Overall Quality as follows:
| | |
| --- | --- |
| Zoe Tour+ Luxe | |
| Besrey | |
| UPPAbaby MINU V2 | |
| Inglesina Quid | |
| Bugaboo Butterfly | |
| Joolz Aer | |
| Baby Jogger City Tour 2 | |
| Babyzen YoYo² | |
| Cybex Libelle | |
| gb Pockit+ All-Terrain | |
Stroller Accessories for Travel
Sadly many strollers do not include the following basic accessories, which can be lifesavers on a trip.
Cup Holders
Here is a good universal cup holder that attaches to the stroller frame and can be used for both kid and parent cups.
Organizers or Consoles
We like this Momcozy parent organizer because of its many little places to store things and the built in cup holder. Velcro straps allow it to fit on all handlebars.
Rain Covers
Rain covers are optional but if you want to be super prepared here is a generic stroller rain cover. It is a good idea to check whether there is a rain cover made specifically for your stroller before you buy generic.
Stroller Fans
Stroller fans can add hours to your day when the weather is uncomfortably hot. There are many choices but here is a good one.
Stroller Boards
If you have a second child who is able to handle standing on a stroller board, make sure to check on the manufacturer's website for one of these. This one isn't perfect but is semi-universal. It is a lot simpler to have a stroller board than to lug around a double stroller if your kids' ages are appropriate.
Alternative Strollers for Air Travel
Here are a few strollers that are good choices for travel that either didn't score quite as high as the Joolz, Zoe, or Butterfly, or didn't fold quite as compactly as the Pockit, Libelle, or Babyzen, and thus weren't discussed above.
Of these, the UPPAbaby MINU V2 is a very solid choice as well as the Besrey Gravity fold stroller based on overall performance.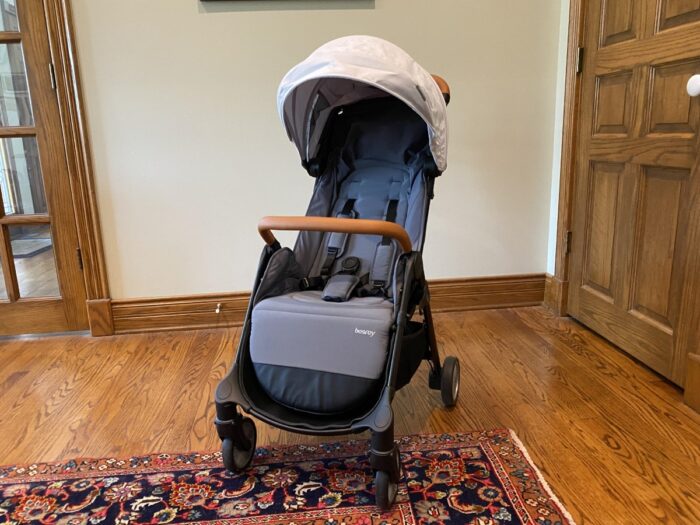 Besrey Gravity Fold
Score: 74
The Besrey stroller surprised us with great scores in maneuverability, user-friendliness, and quality. It appeals to parents with features such as ample storage, an included cup holder, and a peekaboo window.
It has a reasonable weight for travel at 14.4 lbs. But its fold size is 2.9 cubic feet and 25.2 x 19.7 x 11.8 inches which is on the larger side.
Mirroring the aesthetics and feel of a high-end stroller, it nonetheless comes at a lower price. Despite these merits, it did fall short on ride smoothness compared to others and lacks side panels for sun protection.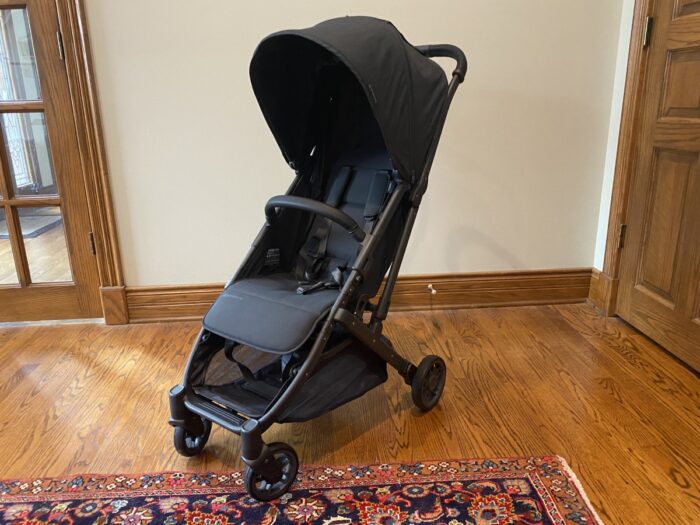 UPPAbaby MINU V2
Score: 72
Like the Besrey, the MINU V2 has a high-end look and feel. It is super easy to fold and steer. And it is strong in the storage department.
However, from a travel perspective, it is a bit heavier than the top strollers at 16.9 lbs and has the largest folded dimensions of the group at 23 x 20.3 x 12.5 inches (3.3 cubic feet).
The downsides are a comparatively bumpy ride and a seat back that doesn't attach well to the frame such that it tips backward and forward when it shouldn't.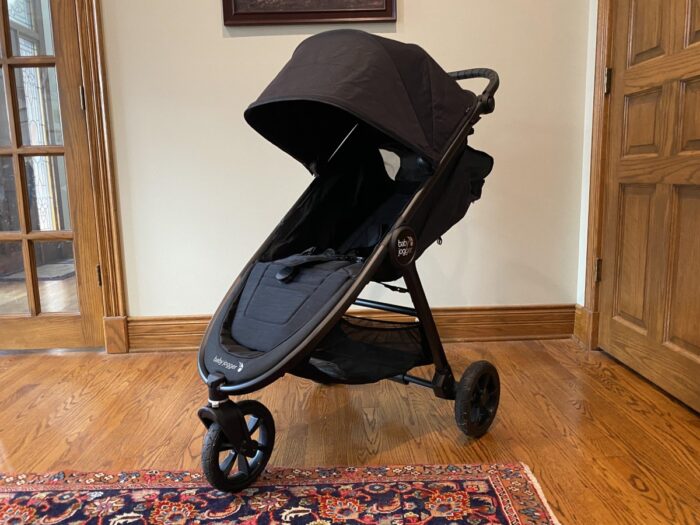 Baby Jogger City Mini GT2
Score: 71
The City Mini GT2 is a robust, 3-wheel, lightweight stroller that transports kids up to 65 lbs or 44 inches. It is 20 lbs and barely made our cutoff for lightweight strollers. It folds super easily, maneuvers well, has great quality, and good parent and kid comfort features. The basket is big but difficult to access. Double stroller version.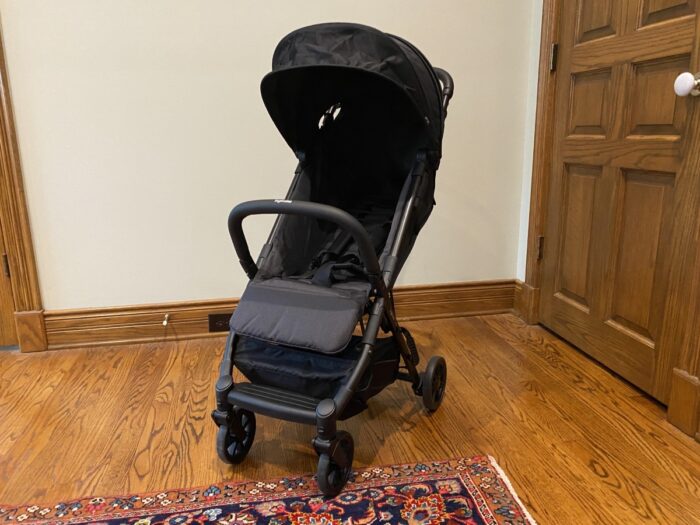 Inglesina Quid
Score: 71
The Quid is very lightweight at 13 lbs folds to a very reasonable 22 x 19 x 8 inches or 2.5 cubic feet. With these numbers it is definitely in the running for a solid travel stroller.
We also love its maneuverability and quality.
But it is lacking in the folding department where it requires two hands, and doesn't score as high as many in kid comfort or parent ease of use.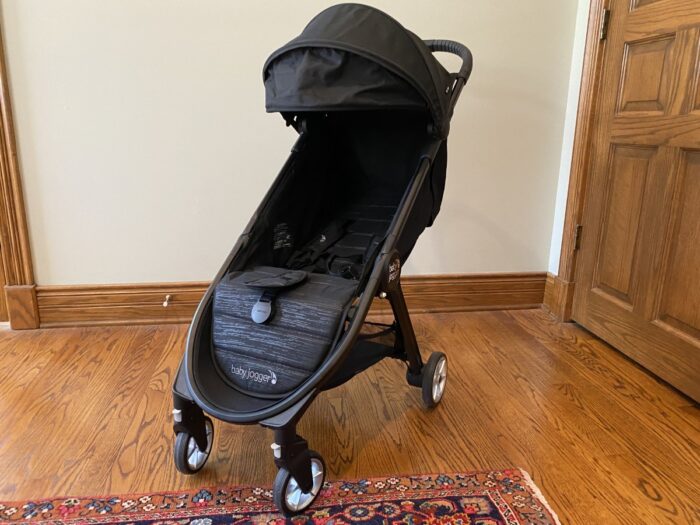 Baby Jogger City Tour 2
Score: 70
Finally, the City Tour 2 is also a decent choice for air travel at 14 lbs and 2.2 cubic feet folded. The folded dimensions are a little wider than we would like at 22 x 20 x 7 inches.
It excels at pushing and steering and is easy to fold.
It scores well in kid comfort, ride smoothness, and noise. We wish it came with cup holders.
There is a Double stroller version available.
Strollers That Didn't Make the Cut
Here are some strollers that are popular, but we didn't buy and test because they had lower customer reviews than our cutoff limit. Some of these we do own but don't recommend for travel for the reasons we list below. For example, we didn't list any umbrella strollers because they are quite bulky when folded compared to other strollers we tested.
gb Pockit+ All City

Honestly the gb Pockit+ All City is right on the borderline for customer satisfaction and it has excellent specs for travel at 13.2 lbs with a very small fold size that is just slightly bigger than the Pockit+ but still able to fit in an overhead bin.
We may buy and test this one in the future. However, the gb and Cybex stroller we have didn't perform well in any areas of our testing so we aren't surprised the average reviews aren't that high for this one.
Delta Children Clutch Compact Stroller

The Delta Children Clutch has a similar frame style as the Pockit+ All City. It is also very lightweight and folds compactly. But it is also short in the customer review department and has limitations that make it unlikely to score well in most of our categories.
Mompush Lithe Lightweight Stroller

The Mompush Lithe Lightweight Stroller is light but has weak customer reviews.
Ergobaby Metro+ Compact Baby Stroller

The Ergobaby Metro+ Compact Baby Stroller also has less than perfect customer reviews although it has good specs for travel.
Silver Cross Jet 3

The Silver Cross Jet 3 stroller has even weaker reviews than those above.
Mountain Buggy Nano V3 Stroller

I don't know why people continue to tout the Mountain Buggy Nano V3 Stroller when the customer experience is largely underwhelming.