The Veer Cruiser stroller wagon was the top performer in our hands-on testing of the top stroller wagons on the market. We evaluated 25 products, purchased the leading seven, and ran them through 65 tests and measurements.
The Veer excels in going. It may not be the best choice for hauling things to an event, sitting on, and playing in. But it's hard to beat if you want your kids with you on a walking trail.
---
Veer Cruiser
---
| | |
| --- | --- |
| Parent Comfort and Usability | |
| Kid Comfort and Usability | |
| Steering, Maneuverability | |
| Folding, Transport | |
| Part and Material Quality | |
---
How it Compares
Here's how the Cruiser compares to other leading wagons on test performance and specs. It was selected as Editor's Choice primarily because of how easy it is to maneuver, fold and transport, as well as the obvious build quality.
Editor's Choice

Recommended

Budget Choice

Veer Cruiser
Evenflo Pivot Xplore
Baby Trend Expedition
Radio Flyer Discovery
Keenz 7S
Jeep Wrangler
Amazon
BedBath&Beyond
buybuyBaby
Walmart

Amazon
BedBath&Beyond

Amazon

Walmart

Amazon

Amazon

Test Lab Score
83
81
76
76
73
69
Parent Comfort and Usability
Kid Comfort and Usability
Steering, Maneuverability
Folding, Transport
Part and Material Quality
Specifications
This Product
Seats
2
2
2
2
2
2
Weight
32.5 lbs
34.7 lbs
42.0 lbs
30.5 lbs
32.0 lbs
46.2 lbs
Capacity in Pounds
110 lbs
110 lbs
110 lbs
120 lbs
110 lbs
110 lbs
Minimum Age
6 months
6 months
6 months
1
1
6 months
Goes through standard sized door
Yes
Yes
Yes
Yes
Yes
No
Grass Rating
10
10
8
7
8
7
Time to Assemble
13 sec
21 sec
18 sec
25 sec
21 sec
16 sec
Dirt, Crumb Removal Rating
9
7
8
9
9
9
Storage Volume Rating
1
7
8
3
10
10
Car Seat Adapter Included
No
No
Yes
No
No
Yes
Additional Accessories Included
Snack Tray
Canopy, Snack Tray
Canopy w/ Mosquito Netting, Nap Mat, Snack Tray
Canopy
Canopy, Cooler Bag
Canopy, Cooler Bag
Folding Time
20 sec
20 sec
28 sec
36 sec
54 sec
31 sec
Folded Size
7.9 cu ft
9.0 cu ft
13.1 cu ft
6.9 cu ft
8.9 cu ft
10.2 cu ft
Fits in Sedan Trunk
Yes
Yes
No
Yes
No
No
Seats Recline
No
No
No
One of two
No
No
Kid Cupholders
Yes
Yes
Yes
No
No
No
Where it Fits Among Other Choices
The Veer Cruiser fits in the category of stroller wagons because it can be pushed or pulled and has seats with harnesses. It is the most expensive 2-seater wagon currently on the market.
We will go into far more detail below, but the Veer's obvious advantages are its high-quality materials and components, a design that handles well on grass and over bumps, a compact folded size, and smooth, easy operation.
The Evenflo Pivot Xplore is our runner-up choice and can be purchased at half the price of the Veer. One of the Xplore's advantages over the Veer is that it comes with a canopy and storage basket included.
Most Common Complaints
The Cruiser has very positive customer reviews in general. To get a balanced perspective we read all the negative reviews and specifically compared each criticism to our own experience.
| Criticism | Our Experience |
| --- | --- |
| Veers while steering; won't go straight | We found it to be more sensitive to uneven pushing than other wagons, requiring more minor adjustments to keep straight |
| Difficult to stow because of accessory removal | Some accessories do have to be removed, but this is typical of most stroller wagons |
| Missing parts | No missing pieces |
| Hot in the sun | Some plastic parts did get hot in the sun |
| Cup and snack holder doesn't keep things in place | The cup holders aren't too deep but are adequate for typical kid-sized cups. The main snack tray has one large partition for each child and doesn't keep snacks separated. There are small snack holders beside each seat that are not too deep but work fine. |
| Small wheels drag in the sand | We haven't tried it on the beach yet. The wheels are not wide enough to handle soft sand. |
| Heavy and hard to lift | It is among the lighter wagons and because it folds compactly, it's actually easier to lift than most of the others |
| Difficulty steering with the swivel wheels in the back | The steering in push-mode does take getting used to but it has some advantages once you get used to it |
| Customer service non-responsive | We emailed customer service and received a response in only 7 minutes |
| Wheel broke | Nothing broke for us |
| Braking mechanisms broke | Brake activation takes a little force |
| Difficult to push on non-sidewalk terrain | In our grass-terrain and bump tests, the Veer did better than other wagons |
| Handle doesn't extend far enough | The handle extended to 42″ in height which is higher than all the others we tested except for the Keenz 7S which was 42.5″ |
| Footwell not deep enough | Agreed. The footwell is 4.5″ deep. Bigger kids' knees stick up and their legs don't sit flat on the seat. |
| Lack of included canopy and accessories | It is disappointing that the canopy, storage bin and car seat adapter must be purchased separately. |
Testing and Research
We subjected the Veer to 65 real-world tests over three months comparing it to five other 2-seat stroller wagons and two 4-seat wagons.
Parent Comfort and Usability
Mom and dad need a wagon that meets their needs too. We evaluated cleaning, assembly, customer service, the manual, the handle, storage, brakes, cup holders, and car seat adapters in this category.
| | |
| --- | --- |
| Jeep Wrangler | |
| Keenz 7S | |
| Baby Trend Expedition | |
| Radio Flyer Discovery | |
| Veer Cruiser | |
| Evenflo Pivot Xplore | |
Overall the Veer didn't do too well, primarily because of a lack of storage and car seat adapter, and brake activation and effectiveness.
The time to unpackage and assemble the Veer was only 13.5 minutes, the easiest and fastest of all the wagons. The product manual is good but would have been better with words and pictures on the same page.
Customer service responded courteously to our email in 7 seconds.
The handle is comfortable and adjustable from 38 inches to 42 inches which is adequate for most people.
We did not assess the canopy or car seat adapter which must be purchased separately.
Storage Volume Ranking
| | |
| --- | --- |
| Keenz 7S | |
| Jeep Wrangler | |
| Baby Trend Expedition | |
| Evenflo Pivot Xplore | |
| Radio Flyer Discovery | |
| Veer Cruiser | |
Extra storage is a real benefit when you purchase a double stroller or stroller wagon. The Veer doesn't include any storage options out of the box but you can purchase a storage basket that attaches to the front.
The basket isn't as accessible as it could be, but it is convenient that you don't have to remove it in order to fold or stow the wagon.
Cleaning
Both ends of the wagon interior are plastic seats, which are easy to clean. The sides are made of fabric stretched across an aluminum frame.
The fabric can be spot cleaned.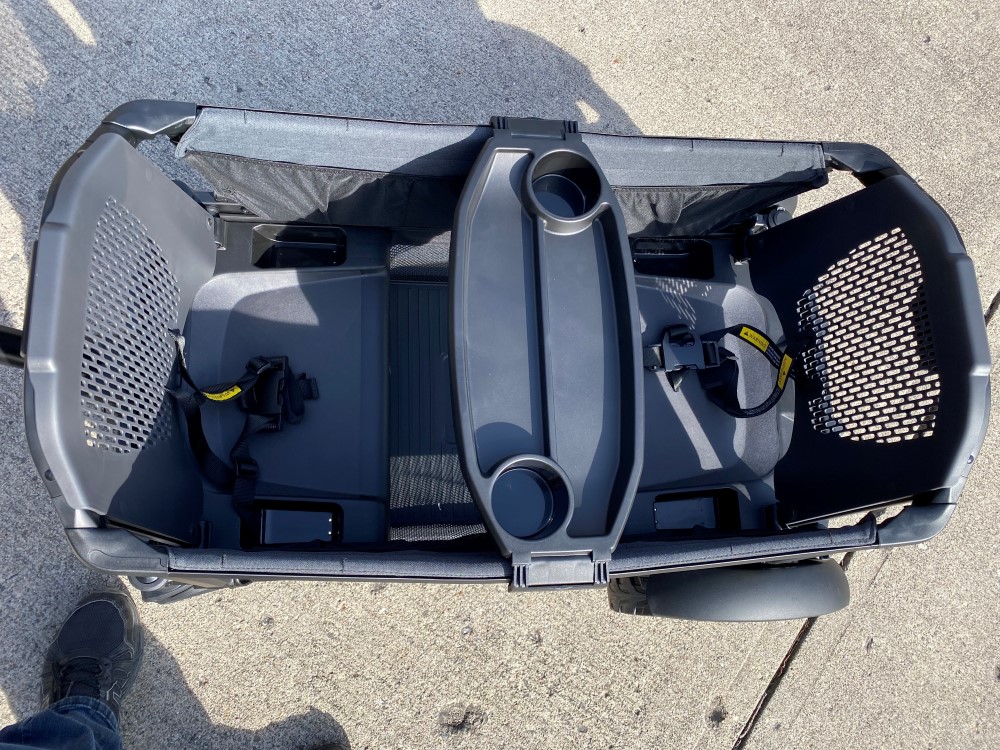 The interior is open and easy to access. There aren't too many places for crumbs to hide so the Veer compares well in crumb removal:
| | |
| --- | --- |
| Veer Cruiser | |
| Radio Flyer Discovery | |
| Keenz 7S | |
| Jeep Wrangler | |
| Baby Trend Expedition | |
| Evenflo Pivot Xplore | |
Most of the dirt and mud from little shoes will stay in the footwell so that kids don't have to sit in it on rainy, dirty days.
Steering and Maneuverability
The Veer Cruiser really shines when it comes to pushing, pulling, and maneuverability.
| | |
| --- | --- |
| Veer Cruiser | |
| Evenflo Pivot Xplore | |
| Baby Trend Expedition | |
| Keenz 7S | |
| Radio Flyer Discovery | |
| Jeep Wrangler | |
Terrain Performance
In our terrain performance tests, we loaded up the Veer with 40 lbs of weight in the front and in the back.
Even fully loaded it pushed easily over the grass, navigating up and down hills and weaving on side-hills.
When you push the Veer its large wheels are in front and are able to roll over bumps, roots, and trees better than strollers with small wheels in the front.
This gave the Veer the top score in the bumpy terrain test:
| | |
| --- | --- |
| Veer Cruiser | |
| Evenflo Pivot Xplore | |
| Baby Trend Expedition | |
| Radio Flyer Discovery | |
| Keenz 7S | |
| Jeep Wrangler | |
Many stroller wagons, including the Veer are advertised as all-terrain. That is a stretch. While the front wheels are 12 inches in diameter and 2 inches wide, they aren't wide enough to handle soft sand or mud without getting bogged down.
While you can power through some tough terrain in pull-mode, lifting the front wheels over obstacles, don't assume it will be easy.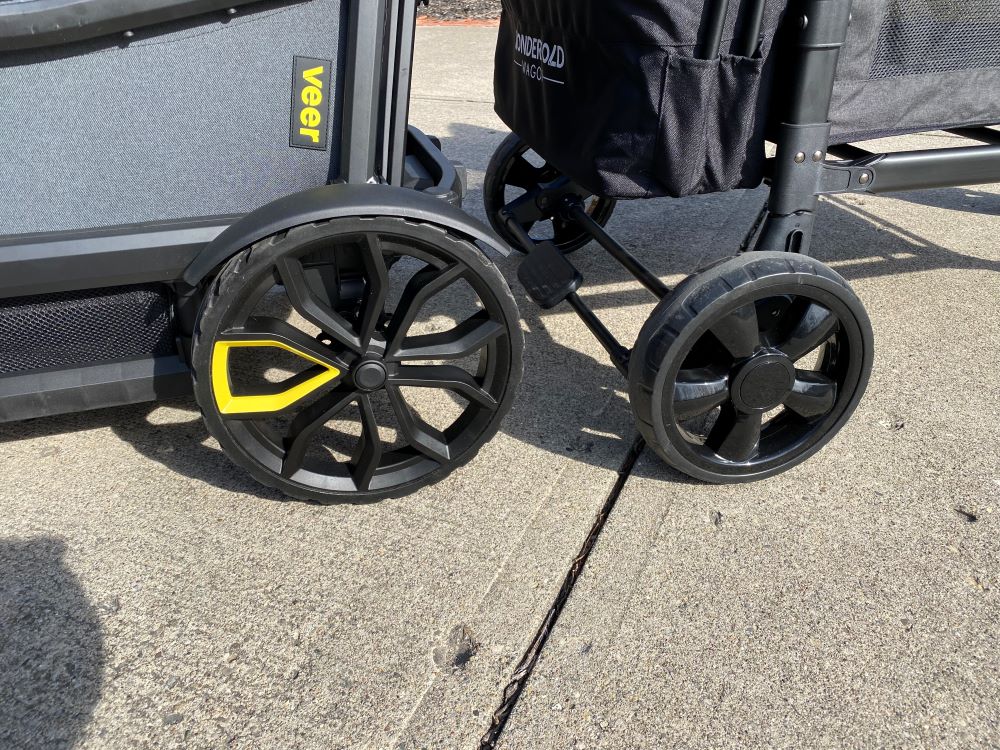 Pulling and Veering to One Side
Some buyers complained that the wagon would constantly veer to one side or the other.
We tested the wagon's innate tendency to veer off a centerline and found that it actually veers less than other stroller wagons in a controlled test.
However, people are imperfect in their pushing and the Veer is sensitive to pushing a little harder on one side of the handle or the other. So in the real world, we found that it did veer to one side and we had to make small adjustments while pushing to keep it on track.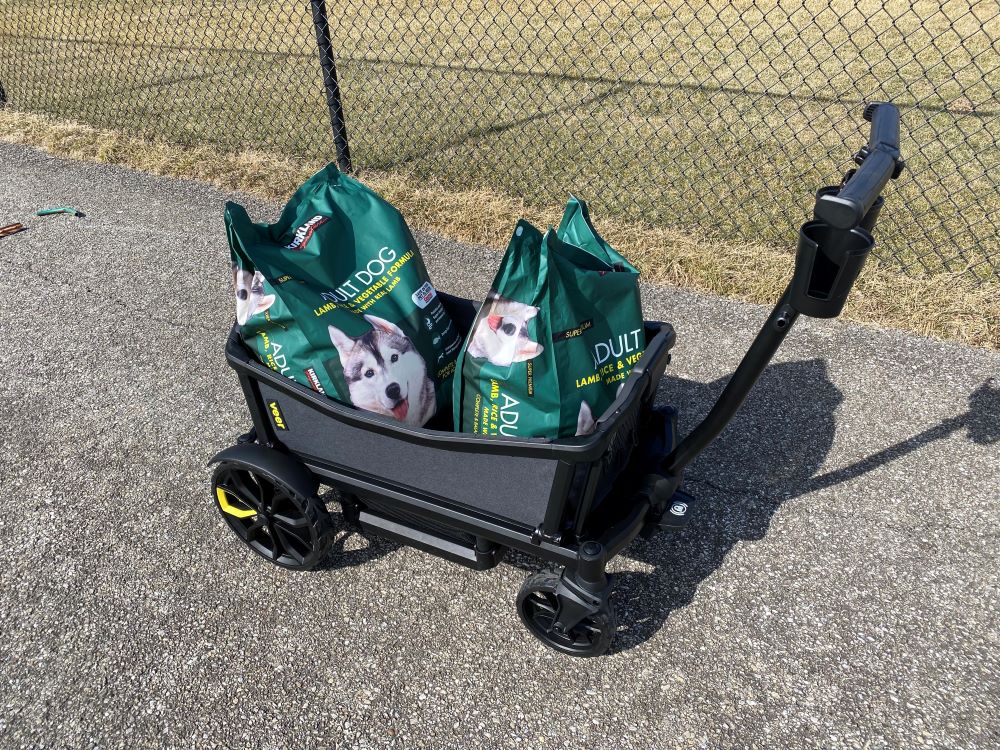 Pushing and Turning Force
The Veer made a sharp turn from a dead stop with very little force required:
| | |
| --- | --- |
| Veer Cruiser | |
| Evenflo Pivot Xplore | |
| Keenz 7S | |
| Baby Trend Expedition | |
| Radio Flyer Discovery | |
| Jeep Wrangler | |
The force to get it rolling was also less than most others:
| | |
| --- | --- |
| Veer Cruiser | |
| Evenflo Pivot Xplore | |
| Baby Trend Expedition | |
| Radio Flyer Discovery | |
| Keenz 7S | |
| Jeep Wrangler | |
Steering
Stroller wagons with a wider wheelbase like the Jeep Wrangler, were harder to turn and steer. Those that are longer from front to back are also more difficult to turn particularly when there is weight in the front. These include the Radio Flyer Discovery and Jeep. Although the Keenz 7S is long, it actually turns quite well.
The Evenflo Pivot Xplore is a bit shorter and handles more like a stroller. Its maneuverability rating was on par with the Veer:
| | |
| --- | --- |
| Veer Cruiser | |
| Evenflo Pivot Xplore | |
| Baby Trend Expedition | |
| Keenz 7S | |
| Radio Flyer Discovery | |
| Jeep Wrangler | |
The Veer easily fit through narrow, 28 inch wide doors.
Folding and Transport
The best stroller wagon in the world is no fun if it's difficult to fold and put in a vehicle. The Cruiser folds easily, compactly, and is comparatively manageable to lift.
Here are the total scores for Folding and Transport:
| | |
| --- | --- |
| Veer Cruiser | |
| Evenflo Pivot Xplore | |
| Radio Flyer Discovery | |
| Baby Trend Expedition | |
| Jeep Wrangler | |
| Keenz 7S | |
The Veer folds and unfolds in about 20 seconds. Taking the canopy off and putting it back on adds another 10 seconds on both ends.
When you unfold the wagon to set it up, the sides click into place with a sound that makes you think "this thing is really solid."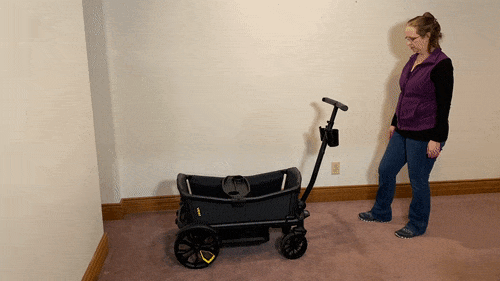 Folded Size in Cubic Feet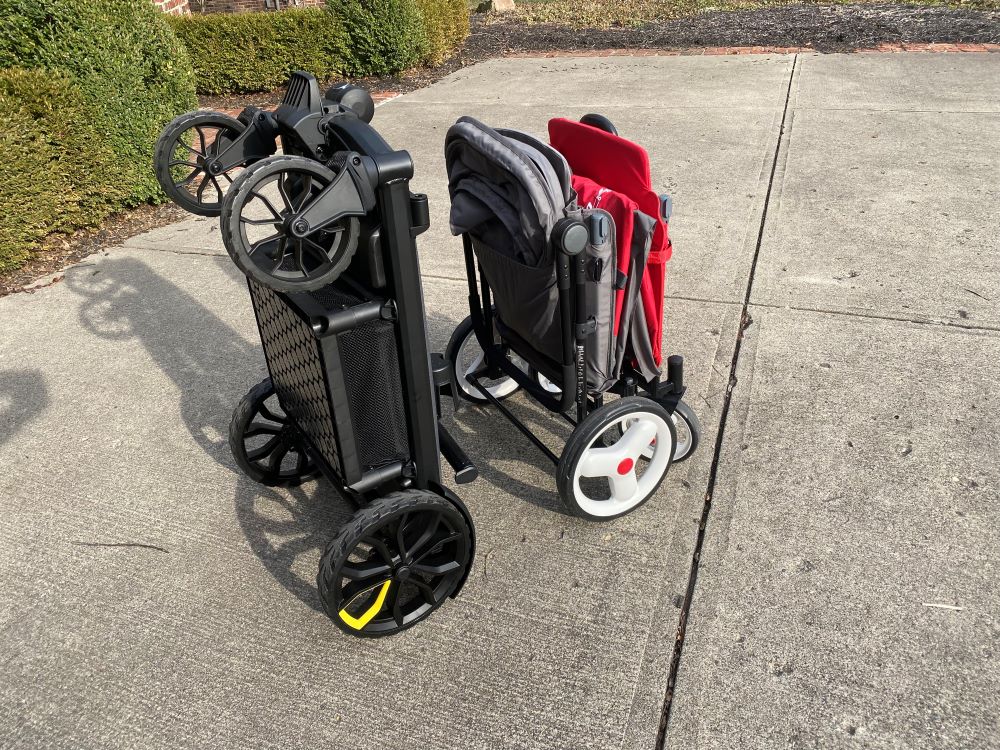 Stroller wagons folded size in cubic feet:
| | |
| --- | --- |
| Radio Flyer Discovery | |
| Veer Cruiser | |
| Keenz 7S | |
| Evenflo Pivot Xplore | |
| Jeep Wrangler | |
| Baby Trend Expedition | |
The Veer fits into the trunk of a Honda Civic and you can save more space by taking off the wheels.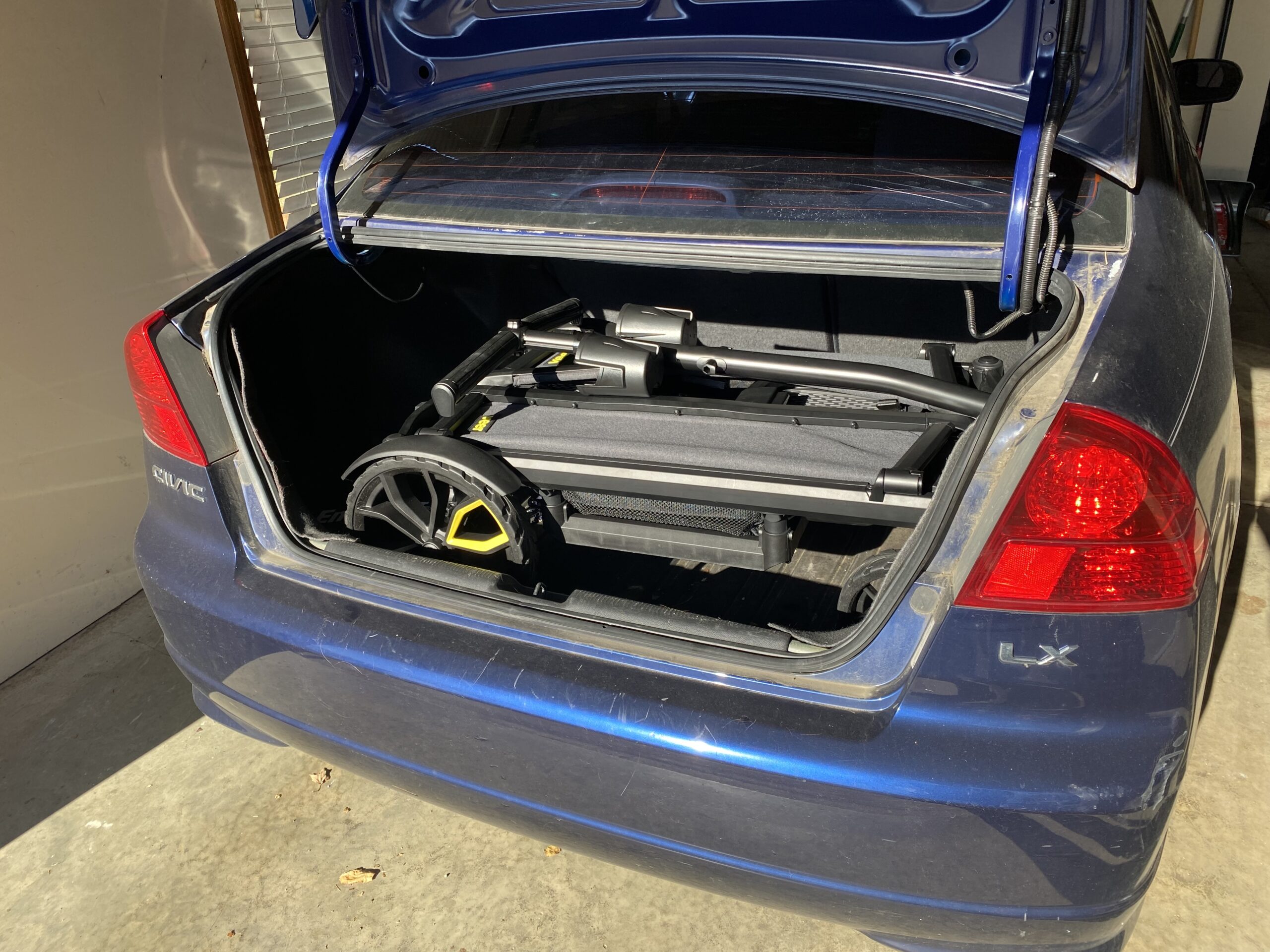 This photo doesn't completely capture the comparison, but here is the folded profile of the Veer, the Wonderfold W4 and Anthem 4. The latter two are 4-seat wagons.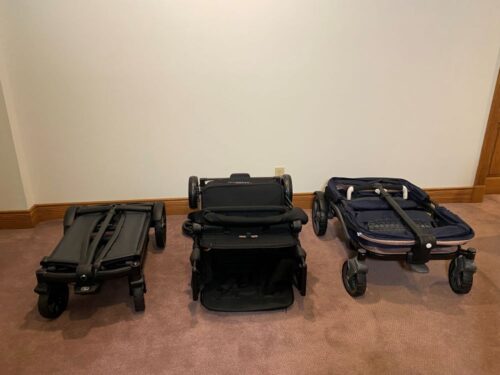 Kid Comfort and Usability
In this category, we looked at the features that make a stroller wagon more fun, usable, and comfortable for toddlers.
| | |
| --- | --- |
| Veer Cruiser | |
| Evenflo Pivot Xplore | |
| Baby Trend Expedition | |
| Radio Flyer Discovery | |
| Jeep Wrangler | |
| Keenz 7S | |
Seats
The Veer seats are contoured and ventilated. Neither seat reclines so it is less likely that your toddler will be able to nap.
The footwell certainly makes the sitting position more comfortable than other wagons like the Jeep, Discovery and Baby Trend Expedition. As we've noted, the footwell, is only 4.5 inches deep but that's better than nothing and is an inch deeper than the Evenflo Xplore footwell.
The harnesses are 3-point and the mechanism works well enough. The harnesses are not padded.
Snack Tray and Storage
There is a snap-on snack tray that mounts across the middle between the two seats. It would be nice if there were somewhere to store it on the wagon while not in use to get it out of the way.
The combination of the snack tray and the little plastic cubbies on each side of each seat provide enough snack flexibility. The cupholders are sized well for sippy-cup-sized drinks.
There are several mesh pockets sewn into the sides of the interior about big enough to hold a wipe container.
The Inside
The Veer Cruiser measures 30″ x 16″ x 13.5″. That is 13.5″ from the bottom of the footwell to the top of the side.
These dimensions make the Veer a tad wider than the Evenflo and Baby Trend but not quite as deep.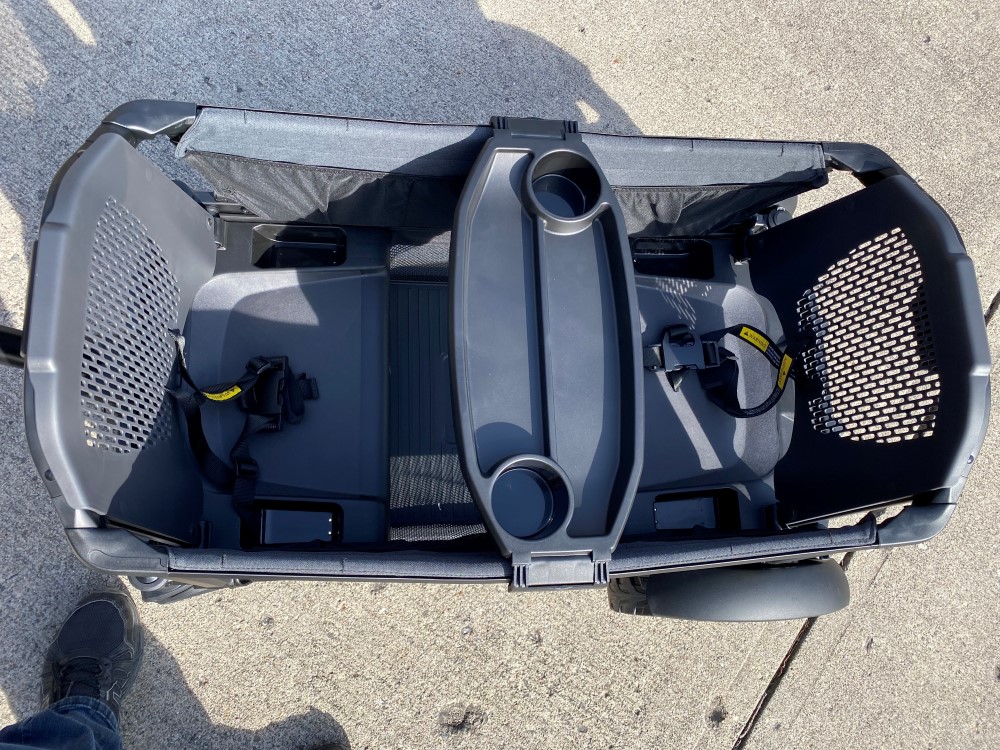 The Jeep Wrangler, Keenz 7S, and Radio Flyer Discovery are all 2 inches wider and 2 to 3 inches longer. The larger wagons have more room to wiggle, play and store things, whereas the Veer is more like climbing into the cockpit of a sports car.
The sides of the Cruiser are low enough for many children to be able to climb over. Kids view this as a big plus. For smaller tikes, one end of the wagon can be folded down for entry.
Part and Material Quality
With the substantial price tag of the Veer Cruiser you would expect a high level of quality and that's what you get. Here are the overall ratings for part and material quality:
| | |
| --- | --- |
| Veer Cruiser | |
| Evenflo Pivot Xplore | |
| Keenz 7S | |
| Jeep Wrangler | |
| Baby Trend Expedition | |
| Radio Flyer Discovery | |
Our Cruiser was packaged well and had no discernable defects.
The frame is made of welded aluminum. The welds are very visible making you wonder whether the purpose is simply to look rugged. Whether that is true or not, the frame, handle and most other parts certainly feel rugged.
Most stroller wagons have zippers, buttons and velcro. The Veer has none of that, meaning there is not much to break, tear or snag.
The release buttons for folding the sides and handle operate crisply.
The axel assemblies have ball bearings and seem well made. The Veer is by no means a jogging stroller wagon. None of those exist.
However, to test the wheels we did run with the wagon. In our run test, the small swivel wheels shook badly, proving again that this product is not for running. To be fair, all the strollers had shakey wheels in the run test.
The little amount of fabric on the sides is durable.
Wheels
The tires are made of polyurethane. Other stroller wagons we tested have tires made from EVA foam and in some cases a combination of rubber and EVA foam.
We did not assess tire density or durability, however, if we had we would expect the Veer's polyurethane tires to hold out longer than EVA foam tires on other wagons. EVA foam is typically less expensive and less robust.
Veer Cruiser vs Gladly Anthem 4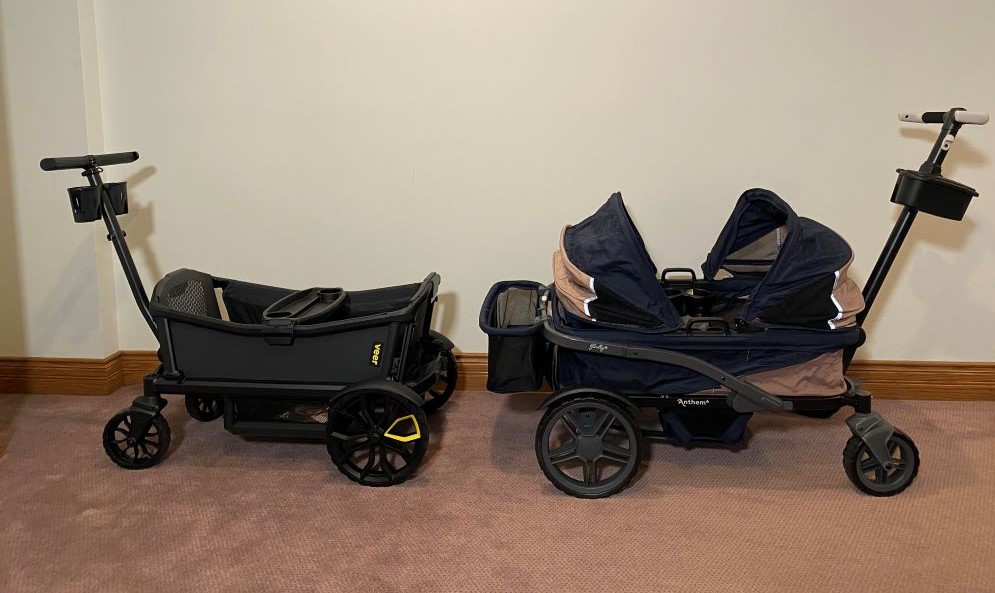 Although the Veer Cruiser is a 2-seat stroller wagon and the Anthem4 is a 4-seater, you may consider the Anthem4 as an alternative to the Veer.
Both wagons are designed with large wheels in front and swivel wheels in the back. In our tests, they both scored very well on steering and maneuverability.
Advantages of the Anthem 4 over the Veer Cruiser:
It has a lower price
It comes standard with a canopy, large storage compartment and a nap mat
It has quite a bit more internal space
Even if you don't plan to use the wagon for more than two or three children, the additional width and leg room of the Anthem 4 makes for a more comfortable experience and extra storage space.
Our full review of the Gladly Anthem4
Advantages of the Veer Cruiser over the Anthem 4:
Better build quality
A smooth, reliable folding mechanism
The Anthem 4 has a tight, compact fold, but the folding button itself sometimes sticks and requires some shaking to make it engage. Other than that problem area, the Anthem 4 performance compares very favorably with the Veer in most every respect.
Veer Cruiser vs Evenflo Pivot Xplore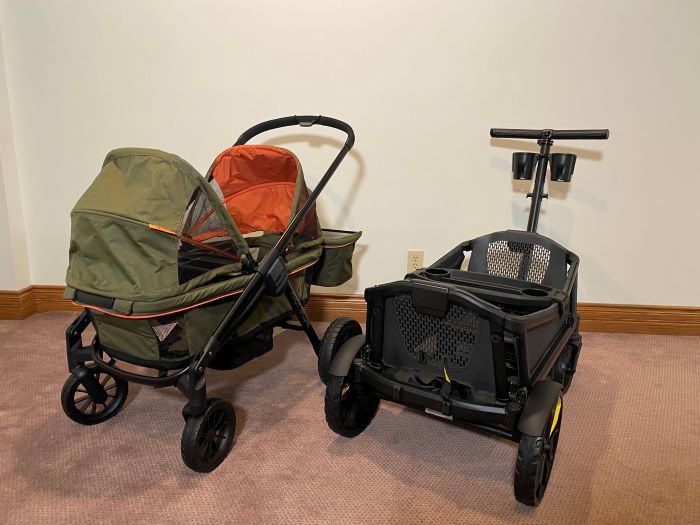 In our testing, the Veer and Evenflo stroller wagons came out number one and two respectively. The Xplore is roughly half the price of the Veer. It includes a built-in canopy and nice-sized storage bag out of the box.
Our full review of the Evenflo Pivot Xplore wagon
Advantages of the Evenflo Pivot Xplore over the Veer Cruiser:
Half the price
Handles like a stroller
Front folds down for very small children to crawl in on their own
Large, accessible storage container included
Advantages of the Veer Cruiser over the Pivot Xplore:
More rugged construction
Can handle bigger bumps in push mode
Parent cupholders included
It looks cool
Both of these stroller wagons are easy to fold and stow. Both have reasonably comfortable seats, though neither have reclining seats. Both are quite maneuverable compared to their peers.