We purchase and extensively tested the 11 best stroller wagons.
The Veer Cruiser is a higher-end stroller wagon that is durable and smooth when pushed. The Evenflo Pivot Xplore stroller wagon is similar to the Veer Cruiser in how it performs but is a bit larger in size and boasts a much lower price.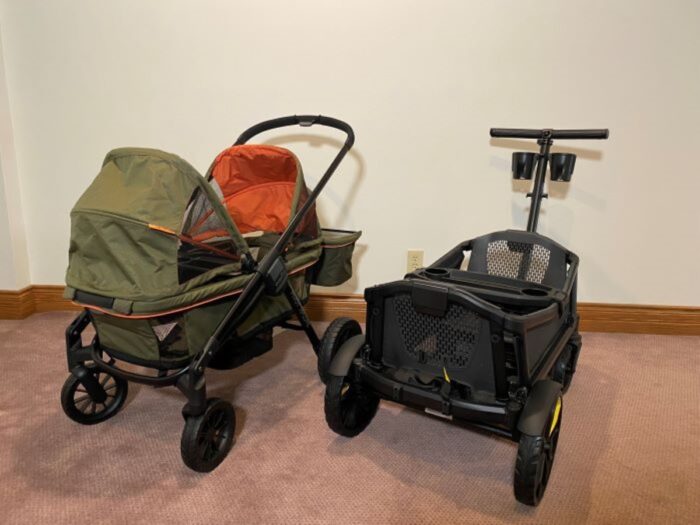 How They Compare
After putting both of these stroller wagons through 65 tests and measurements, we determined the Veer to be our Editor's Choice. This decision was based on Veer's high-quality build and ease of use.
We also highly recommend the Evenflo stroller wagon for its functional features, great material quality, and reasonable price. It is also easy to fold, transport, and maneuver.
Here is how the Veer Cruiser and Evenflo Pivot Xplore compare to each other on basic specs:
Editor's Choice

Recommended

Veer Cruiser
Evenflo Pivot Xplore
Amazon
Veer

Amazon
BedBath&Beyond
Evenflo

Test Lab Score
83
80
Parent Comfort and Usability
Kid Comfort and Usability
Steering, Maneuverability
Folding, Transport
Part and Material Quality
Specifications
Seats
2
2
Weight
32.5 lbs
34.7 lbs
Capacity in Pounds
110 lbs
110 lbs
Minimum Age
6 months
6 months
Goes through standard sized door
Yes
Yes
Grass Rating
10
10
Time to Assemble
13 min
21 min
Dirt, Crumb Removal Rating
9
7
Handle Height Range
38" to 42"
37" to 40"
Storage Volume Rating
1
7
Car Seat Adapter Included
No
No
Car Seat Adapter Compatibility
NA
NA
Additional Accessories Included
Snack Tray
Canopy, Snack Tray
Folding Time
20 sec
20 sec
Folded Size
7.9 cu ft
9.0 cu ft
Folded Dimensions
40" L 24.5" W 14" H
40" L 27.5" W 21" H
Fits in Sedan Trunk
Yes
Yes
Seats Recline
No
No
Kid Cupholders
Yes
Yes
Harness Type
3-point
3-point
Inner Wagon Dimensions
32.5" L 17.5" W 14" H
30" L 15" W 15" H
Front Wheel Diameter
12.00 in
8.00 in
Rear Wheel Diameter
8.0 in
10.5 in
Premium Veer vs Practical Evenflo
The Veer Cruiser feels and acts like a high-quality superior stroller wagon when pushing or pulling over a variety of terrains and folding up. The Evenflo also performs well in these areas, but the Veer outshines it overall.
While the Veer is a rugged and premium stroller wagon, the Evenflo offers extra features that must be purchased separately for the Veer like a canopy and storage basket.
As we mentioned earlier, the Veer is the most expensive 2-seater wagon currently on the market. For parents looking for a more budget-friendly stroller wagon, the Evenflo is more reasonably-priced.
Veer Cruiser Video Review
Common Complaints vs Our Experience: Veer Cruiser
Overall, the Veer Cruiser had many positive reviews and happy customers. To hear what all customers have to say about the Veer, we looked through negative reviews to compare criticisms about the Veer to our personal experiences.
View our FULL criticism and experience table here: Veer Cruiser Stroller Wagon Review.
| Criticism | Our Experience |
| --- | --- |
| Footwell not deep enough | Agreed—for taller children. The footwell is only 4.5″ deep so knees stick up and legs cannot sit flat on the seat. |
| Heavy and hard to lift | The Veer weighs less than many stroller wagons and it also folds compactly, so it's easier to lift than most stroller wagons. |
| Lack of accessories and canopy | Correct, a canopy, storage bin and car seat adapter are not included and must be purchased separately. |
| Veers when pushed | It is more sensitive to uneven pushing and requires minor adjustments to keep it straight. |
| Items fall out of the snack and cup holders | The cup holders aren't very deep but they are suitable for children's cups. The snack holders aren't deep either but they do keep snacks contained. |
Evenflo Pivot Xplore Video Review
Common Complaints vs Our Experience: Evenflo Pivot Xplore
Like the Veer Cruiser, we also surveyed negative reviews of the Evenflo Pivot Xplore and compared them to our own experience.
View our ENTIRE criticism and experience table here: Evenflo Pivot Xplore Stroller Wagon Review.
| Criticism | Our Experience |
| --- | --- |
| Handle too low | Parents can adjust the handle between 37″ and 40″ with the highest setting being 1-2″ shorter than other wagon handles. For our testers who are 5'4″ and 5'10", the handle height wasn't a problem, but it could be for taller adults. |
| Doesn't lock when folded up | This is true. When the Evenflo is folded up, there is nothing to hold it in place so it can sometimes tip over. |
| Bulky when folded | We didn't think the Evenflo was very bulky when folded compared to many other stroller wagons, but it is also not the most compact. |
| Canopies come off too easily | Yes, the canopy does come loose at times when the stroller is being folded, unfolded, or if a toddler grabs on to it. |
| Difficult to move while folded, heavy, bulky | Compared to many stroller wagons, the Evenflo is easier to move and transport. |
Test and Research Results
We run all the wagons through a consistent set of 65 tests over a multi-month period so that they can be accurately compared. The wagons are used by us and various members of the research team made up of moms and dads and their kids.
We score the wagons in five categories and break down the ratings and pros and cons for the Veer and Evenflo by category below.
Parent Comfort and Usability
Since we are parents and get to choose first, we evaluate things that matter to parents including storage, the handle, brakes, customer service, cupholders, and cleaning. Here is how the Veer and Evenflo scored in parent comfort and usability:
| | |
| --- | --- |
| Veer Cruiser | |
| Evenflo Pivot Xplore | |
Unboxing and Assembling
| | |
| --- | --- |
| Veer Cruiser | |
| Evenflo Pivot Xplore | |
Unboxing and assembling the Veer only took 13.5 minutes which is impressively fast, especially compared to the length of time (21 minutes) it took to unbox and assemble the Evenflo.
Veer's product manual is decent but it could be better with words and pictures on the same page. The Evenflo user manual is also easy to understand.
Regarding customer service, it took 57 minutes to hear back from Evenflo's customer service team whereas it only took 7 minutes to receive an email back from Veer's customer service team.
Parent Cupholders
The Veer Cruiser includes two parent cupholders that snap onto the handle of the stroller wagon. They are easy to snap on and pull off when needed.
There are two parent cupholders on the Evenflo Xplore but they are in an odd position and not sized very well.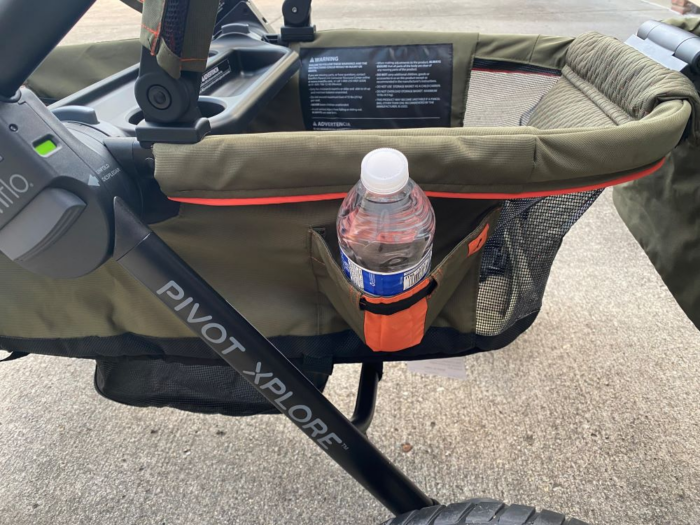 Handles
Handles on the Veer are comfortable and adjustable from 38 inches to 42 inches which is adequate for most people.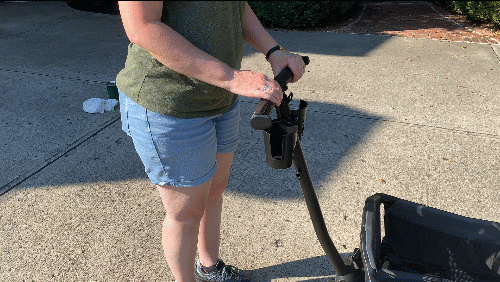 Unlike the Veer, the Evenflo handle only goes up to 40 inches so it could stand to be higher for taller parents.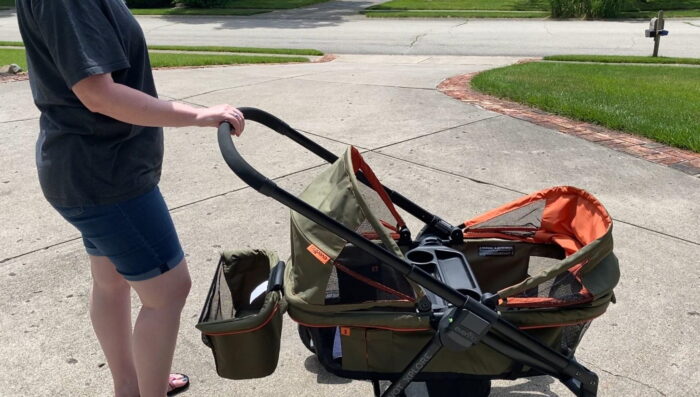 Car Seat Adapter
Unfortunately, we couldn't assess the Veer or Evenflo car seat adapter because neither stroller wagon included a car seat adapter. They can be purchased separately for both wagons.
Storage
The Veer is lacking in storage space compared to the Evenflo (and other stroller wagons for that matter). In fact, the Veer Cruiser's design doesn't include any storage options. Instead, a storage basket can be purchased separately and added to the front of the wagon. Here are the storage ratings:
| | |
| --- | --- |
| Evenflo Pivot Xplore | |
| Veer Cruiser | |
The Evenflo Xplore doesn't have many storage options either but there are certainly more than the Veer. There is a moderately-sized storage bag under the handlebar. The wagon itself has room to hold items but only if it's not already being occupied by two children.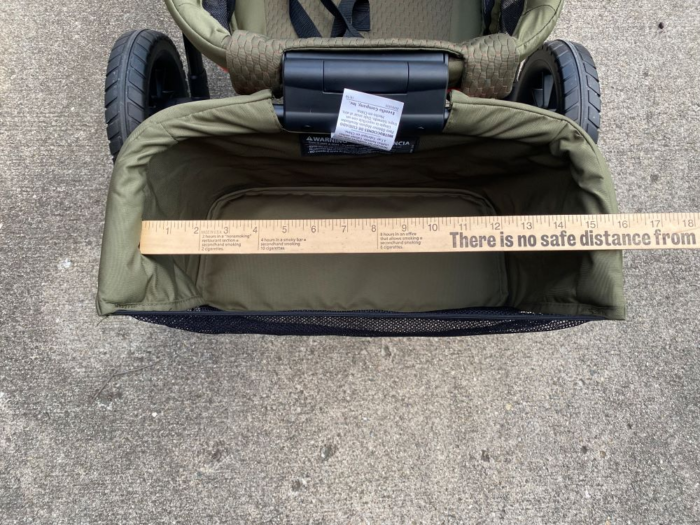 Cleaning Rating
| | |
| --- | --- |
| Veer Cruiser | |
| Evenflo Pivot Xplore | |
Cleaning the Veer is easy since the inside of the wagon includes plastic seats. The sides of the wagon are made of fabric stretched across an aluminum frame. This fabric can be spot cleaned.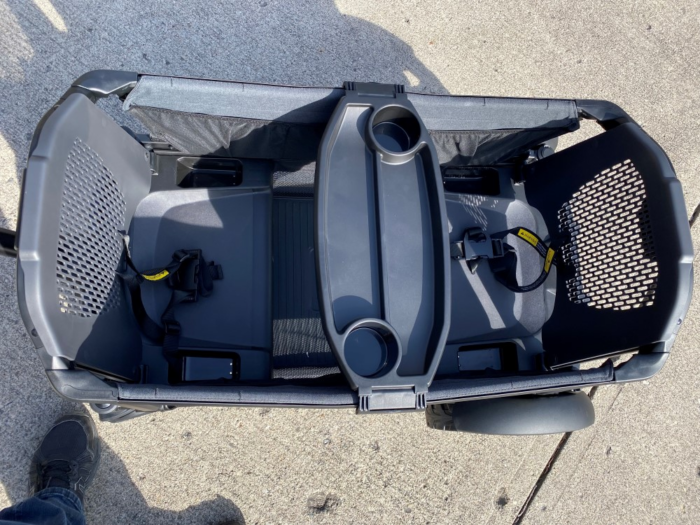 There are not many places for crumbs to fall and hide which helps give the Veer a high cleaning rating.
The Evenflo is also easy to clean as the fabric is resilient and spot cleanable.
Since both stroller wagons have a footwell, parents should hopefully not have to clean the seats as often since dirty shoes will spend most of their time in the footwell compartment.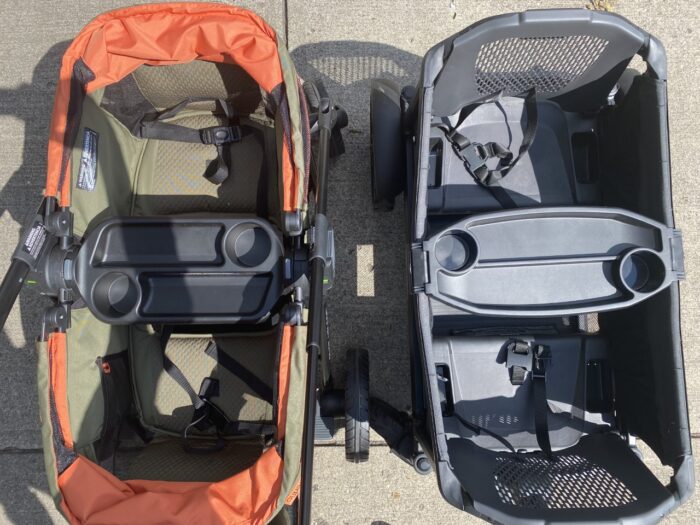 Brake Effectiveness
Both strollers were tested for brake effectiveness and how well the brakes activate and release. Brake effectiveness ratings:
| | |
| --- | --- |
| Veer Cruiser | |
| Evenflo Pivot Xplore | |
We noticed that the brakes on the Veer take a little more effort to engage than the brakes on the Evenflo.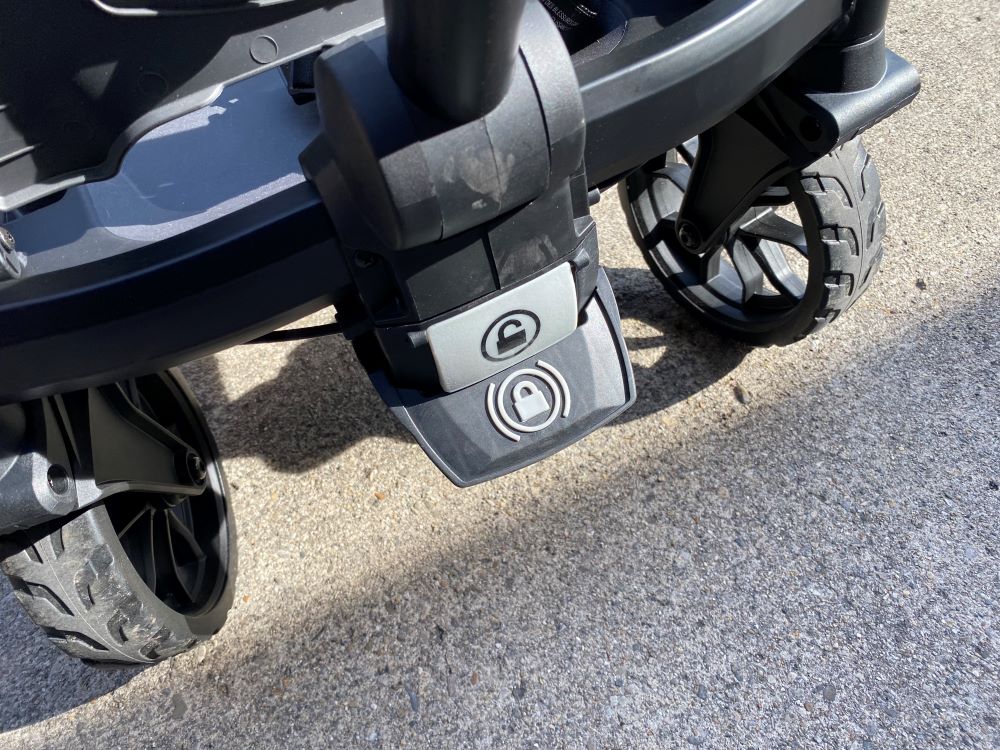 With that being said, the Evenflo brakes didn't always brake the first time they were pushed.
The Evenflo Xplore has a separate brake pedal on each rear wheel whereas the Veer (and most wagons) have a single pedal that brakes both wheels. Separate pedals are less effective and convenient.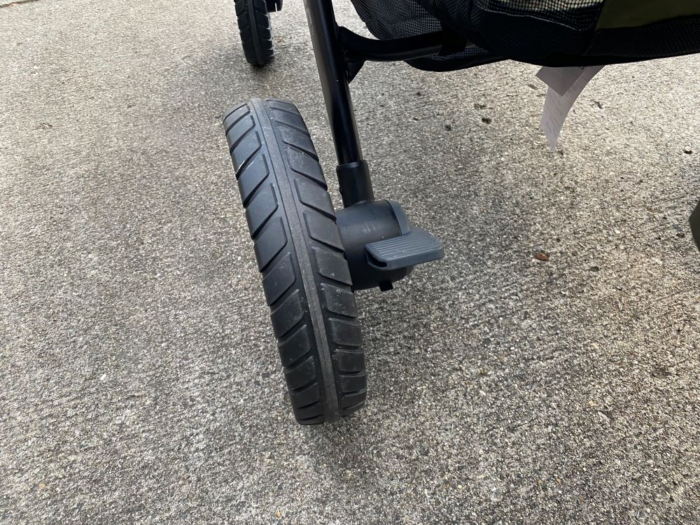 Steering and Maneuverability
We performed our steering tests with each wagon loaded with 80 lbs of dog food, in front and rear seats. Then we pushed and pulled them up and down hills, through the grass and over other terrains to get a feel for the capabilities of each one. Here were the final scores for steering, maneuverability and terrain tests:
| | |
| --- | --- |
| Veer Cruiser | |
| Evenflo Pivot Xplore | |
Pushing and Turning
These two wagons both took 11 pounds of force to get rolling to the same speed while loaded.
Force-to-turn was a different story. The Veer took much less force to make a 90-degree turn from a dead stop:
| | |
| --- | --- |
| Veer Cruiser | |
| Evenflo Pivot Xplore | |
Grass and Terrain Performance
Both of these wagons did well in our grass and terrain testing, although the Veer definitely has the edge going over bumps.
Grass: The Veer and Evenflo both pushed easily over the grass both pushing straight and making turns.
Hills: The Veer navigated up and down hills and weaved on side hills well.
Bumps: With the Veer, its large wheels are in front and are able to roll over bumps, roots, and trees fairly well. The Evenflo wheels aren't as large, so it's not as easy to push over bumps. We recommend switching the Evenflo handle from push-mode to pull-mode to more easily get over bumps and large roots.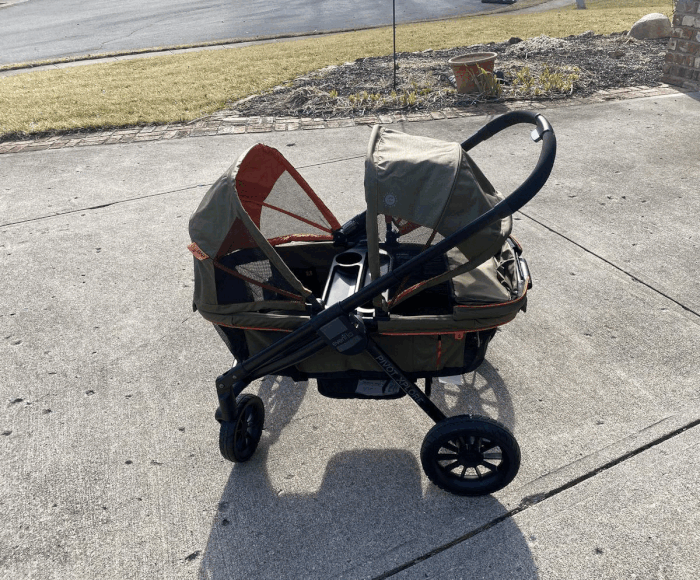 The Veer's large diameter wheels are only 2″ wide and Evenflo's are 2.25″ wide, so neither stroller wagon is capable of handling soft sand or mud well. To do so would require the Veer and Evenflo to have all-terrain wheels that are 4″ wide or more.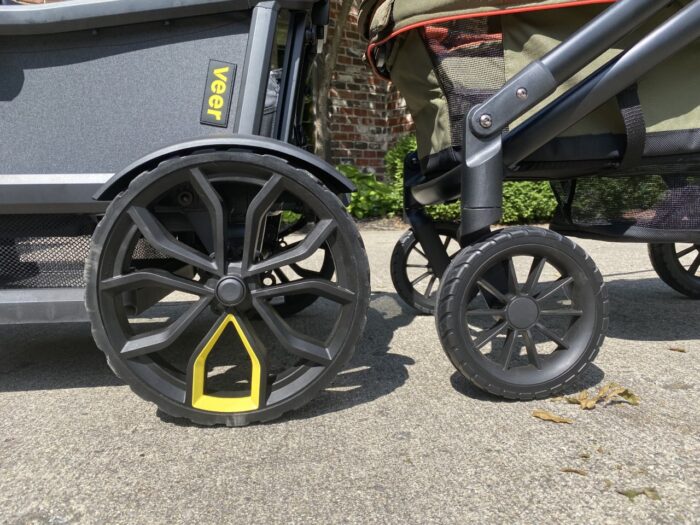 Wheel Width
The Evenflo Pivot Xplore has slightly thinner front wheels (1.9″) than the Veer front wheels (2″).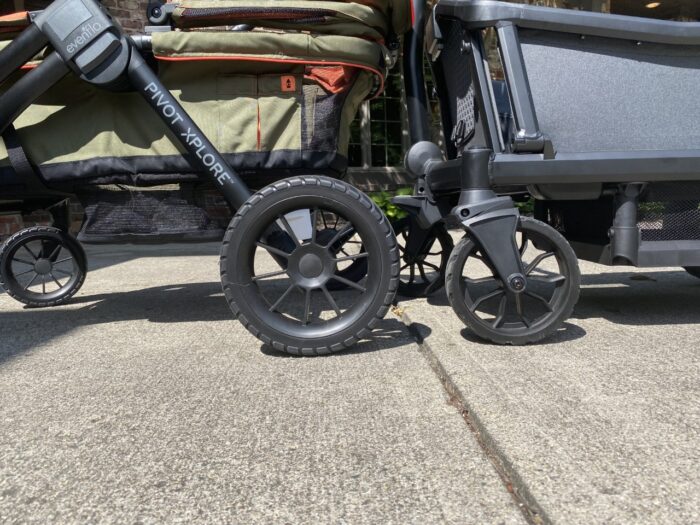 | | |
| --- | --- |
| Evenflo Pivot Xplore | |
| Veer Cruiser | |
As for rear wheels, the Evenflo Xplore has wider rear wheels (2.25″) than the Veer (2″).
| | |
| --- | --- |
| Veer Cruiser | |
| Evenflo Pivot Xplore | |
Staying Straight
We checked both stroller wagons' tendency to veer when pushed. While some users of the Veer Cruiser said the wagon doesn't push straight easily, we found it does pretty well compared to the Evenflo.
With that being said, the Veer is more sensitive than the Evenflo to pushing more on one side of the handle than the other. It requires more slight adjustments when pushing to keep it straight.
| | |
| --- | --- |
| Veer Cruiser | |
| Evenflo Pivot Xplore | |
Steering
When it comes to steering and maneuvering, both the Veer and Evenflo stroller wagons performed exceptionally well.
| | |
| --- | --- |
| Veer Cruiser | |
| Evenflo Pivot Xplore | |
The Veer's rear wheels swivel. That's different than most other strollers and wagons and takes some getting used to.
Folding and Transport
Both the Veer and Evenflo are easy to fold and transport. Neither wagon is too heavy. Weight comparison:
| | |
| --- | --- |
| Veer Cruiser | |
| Evenflo Pivot Xplore | |
Thankfully, the Veer Cruiser folds easily, compactly, and is pretty easy to lift and transport.
The Evenflo's design also allows it to be easily folded and transported.
Folding Time
| | |
| --- | --- |
| Veer Cruiser | |
| Evenflo Pivot Xplore | |
The Veer is a fast fold at just over 20 seconds. In the video below we take off the snack tray. this is required, but you can usually get by with leaving the cupholders attached when folded.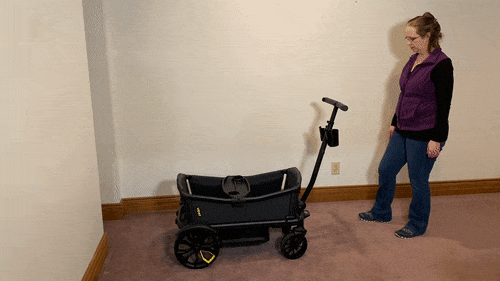 The quality of the Veer is apparent by the satisfying clicking noises it makes when the sides snap into place.
The Xplore also takes about 20 seconds to fold. Both the attached storage basket and canopies can remain attached when folded which saves time and space.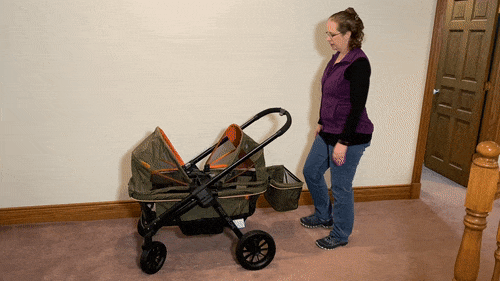 Folded Size in Cubic Feet
| | |
| --- | --- |
| Veer Cruiser | |
| Evenflo Pivot Xplore | |
Both wagons fold to a relatively small size.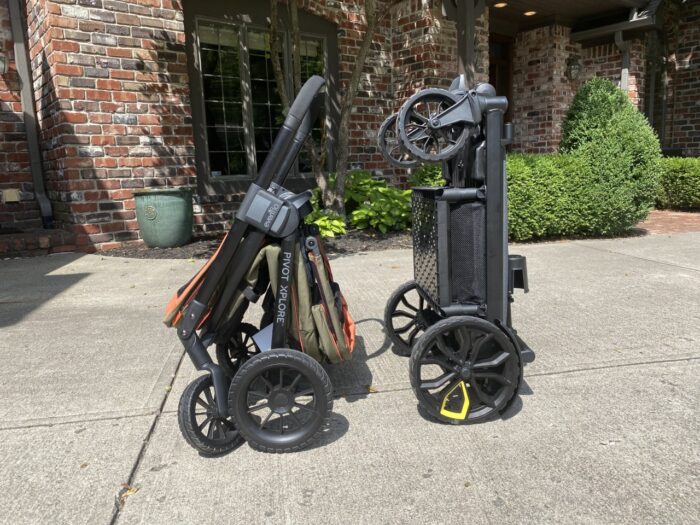 The Veer stands up reliably but you need to exercise caution. It can quite easily be tipped over and fall on a small child. The Evenflo wagon doesn't always stay standing up.
How They Fit in a Trunk
We were able to get the Veer in the trunk of a Honda Civic even with the wheels on. The wheels remove easily and the Veer without wheels is even more compact.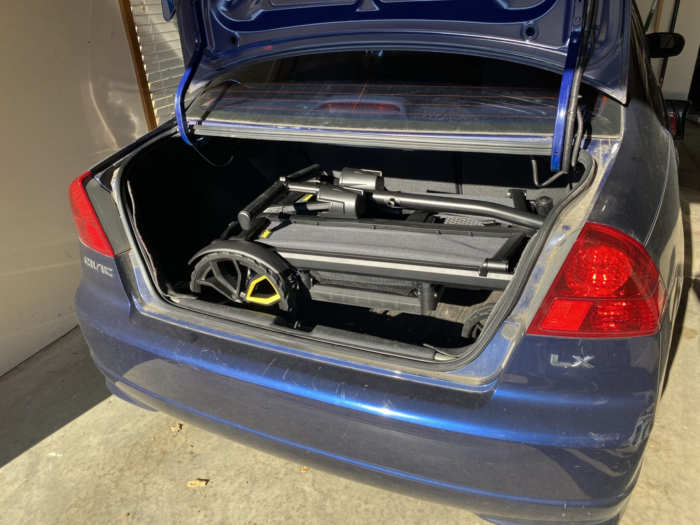 The Evenflo is not quite as tidy on its side in the trunk but does leave quite a bit of additional space.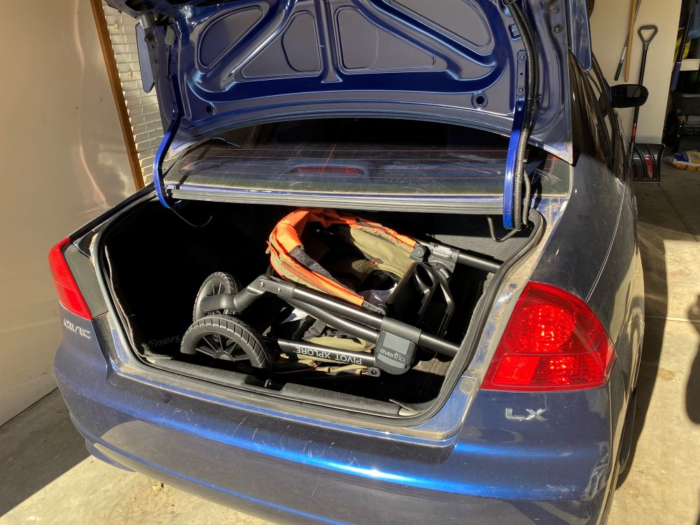 Kid Comfort and Usability
We compared snack holders, cupholders, seat comfort, the ability to climb in and out, and other accessories to to determine ratings for kid comfort and usability:
| | |
| --- | --- |
| Veer Cruiser | |
| Evenflo Pivot Xplore | |
Seat Comfort
Seat comfort ratings:
| | |
| --- | --- |
| Evenflo Pivot Xplore | |
| Veer Cruiser | |
The Veer seats are hard-backed, shaped well and perforated for air flow. The seats do not recline and aren't ideal for naps.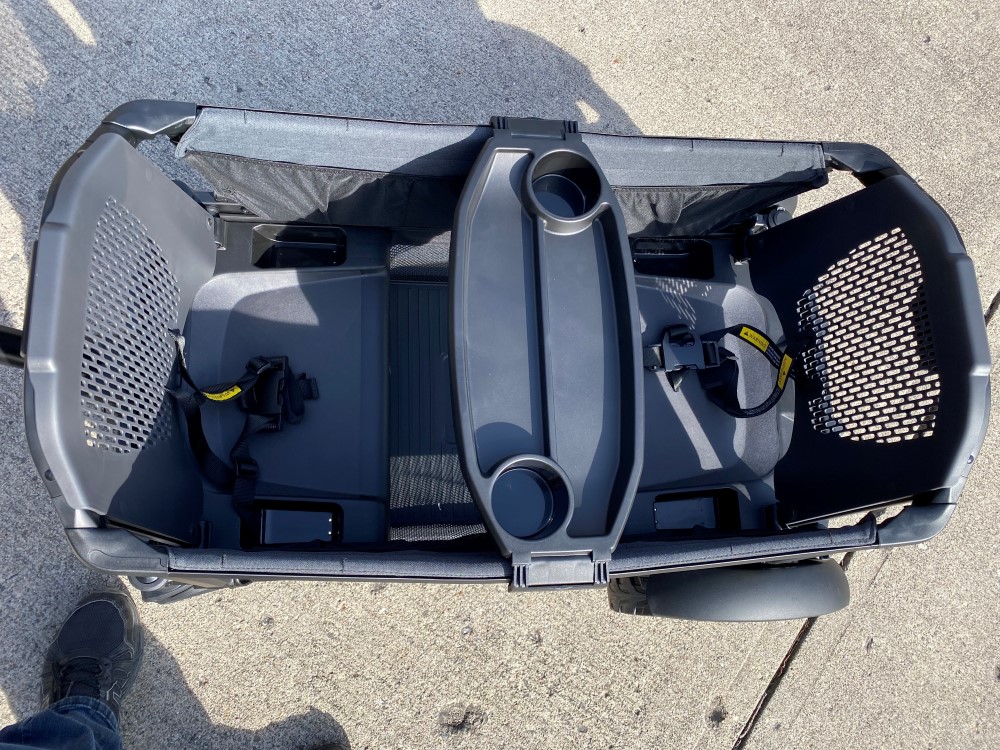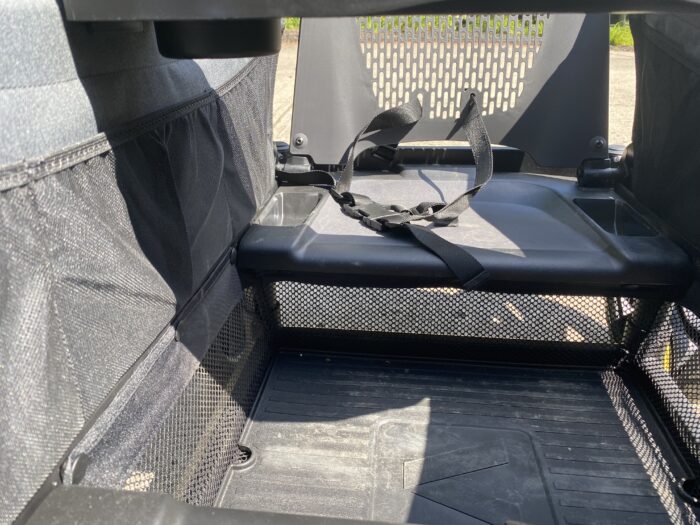 Evenflo's seats have a thick pad in the back and bottom. They do not recline but are comfortable. Unlike the Veer seats, the Evenflo seats are not ventilated.
The Veer seats got hot quickly in the sun and sometimes we had to cover them with a towel so that kids could sit without burning themselves.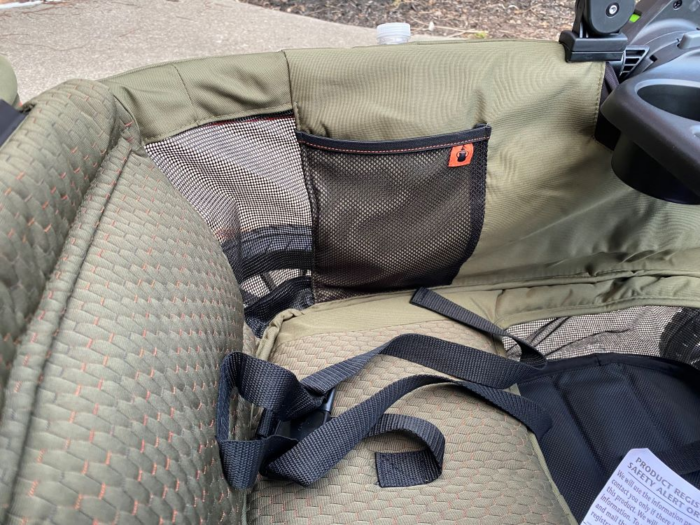 The Veer's footwell is only 4.5 inches deep. While it could be deeper, it's still one inch deeper than the Evenflo Xplore's footwell.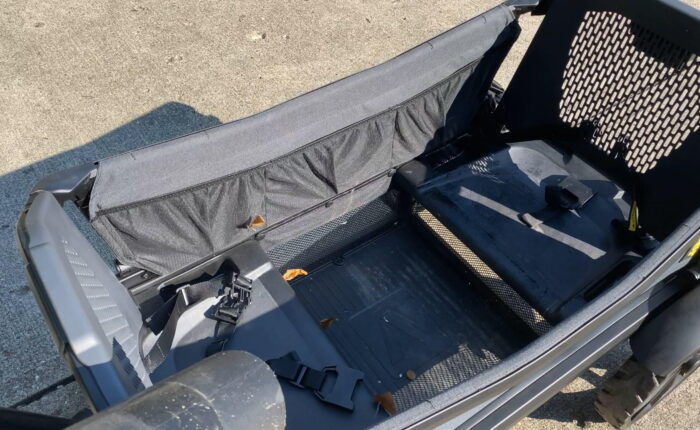 At 11″ x 12″ the Evenflo footwell is not too big and is only 3.5″ deep.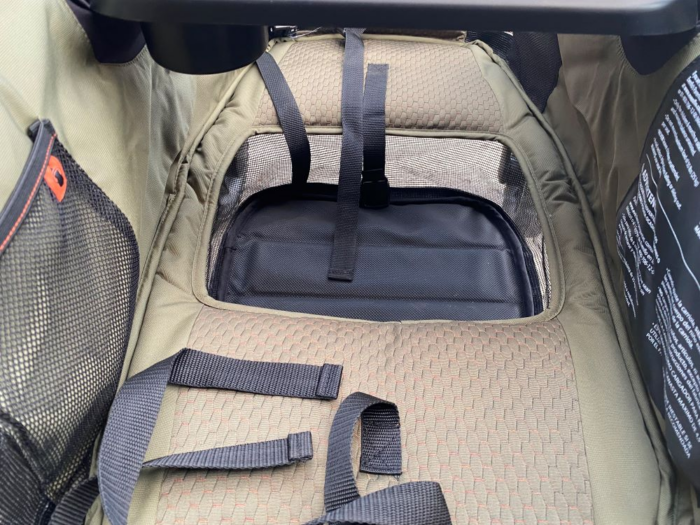 Harness Comfort
The harnesses in the Veer and Evenflo are both 3-point and the mechanisms work fine. Neither of the harnesses are padded. Harness comfort ratings:
| | |
| --- | --- |
| Veer Cruiser | |
| Evenflo Pivot Xplore | |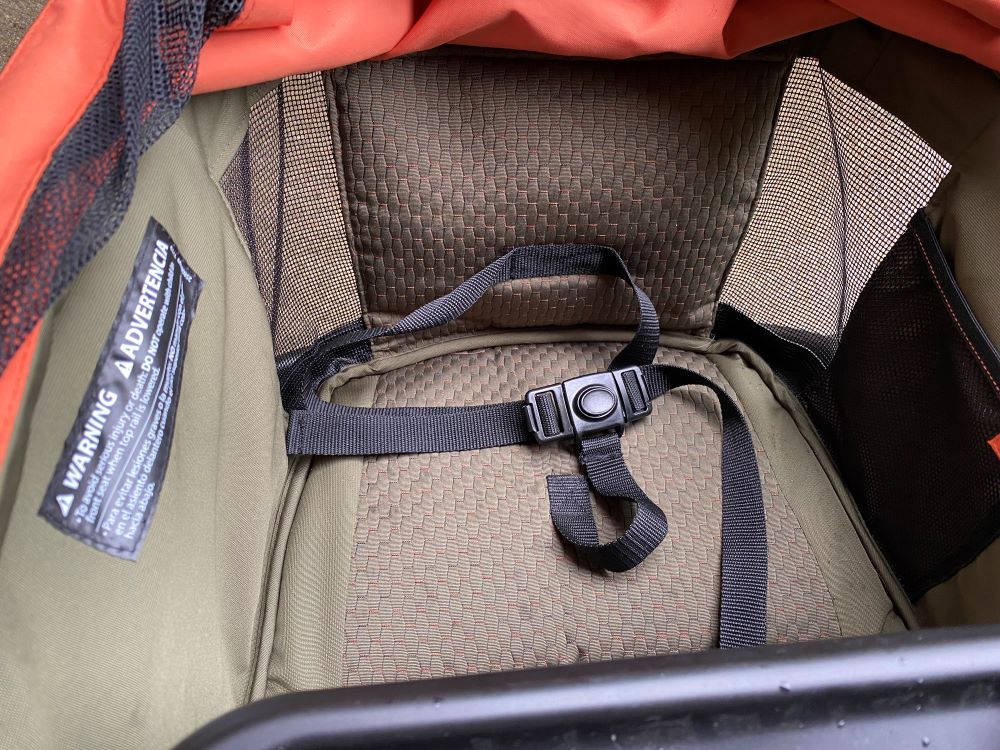 Snack Tray
The Veer Cruiser includes a snap-on snack tray that mounts across the middle between the two seats.
It is easy to remove and install and does a good job of keeping cups from tipping over and snacks from flying out.
The mesh pockets on the side are not roomy but adequate for tucking in toys, pacifiers or even a bag of wipes.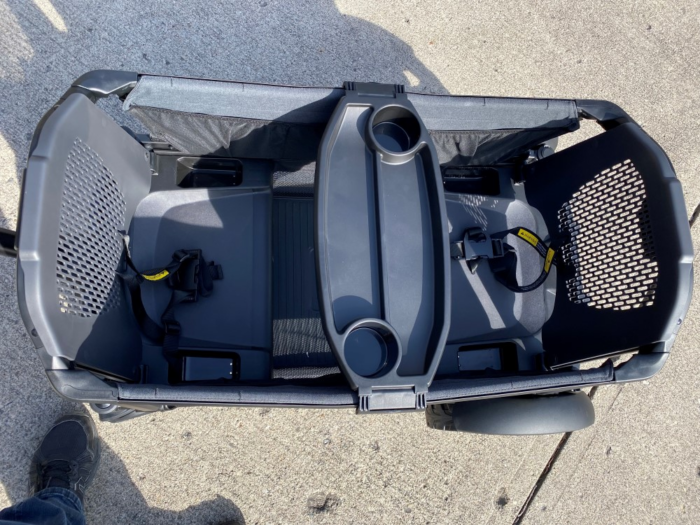 The snack tray in the Evenflo Xplore is harder to remove and install but you really only need to take it out if you are using a car seat adapter.
A benefit of the Xplore's snack tray is that you don't have to remove it in the folding process.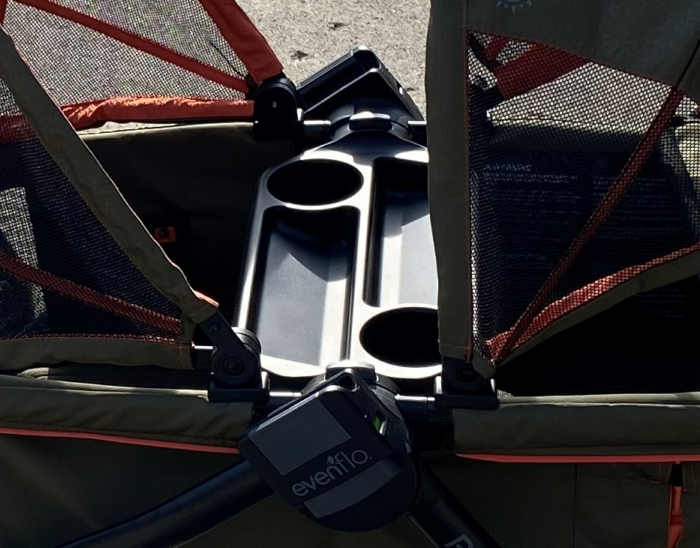 Inner Wagon Space
| | |
| --- | --- |
| Veer Cruiser | |
| Evenflo Pivot Xplore | |
The Veer Cruiser has close to the same amount of inner wagon space as the Evenflo Pivot Xplore. It measures 30″ x 16″ x 13.5″ on the inside whereas the Evenflo measures 30″ x 15″ x 15″. The depth measurement is from the bottom of the footwell to the top of the side.
Neither the Veer nor the Evenflo has much play room inside, but both stroller wagons have the capability for one end to be folded down. This way smaller children can climb in. Older children can easily climb over and sit down.
The end of the Pivot Xplore folds down for easy entry.
Canopy
The Veer does not come with a canopy and must be purchased separately. They are sold as single-seat canopies so you would need to buy two to get full coverage.
We love the ease of use of the Evenflo canopy that remains attached to frame. It opens and closes easily. On occasion the canopy mountings came loose and had to be reinserted if the canopy was pulled or pressure was applied in the wrong direction while folding.
The Evenflo doesn't have many connectors like zippers and velcros to worry about wearing out.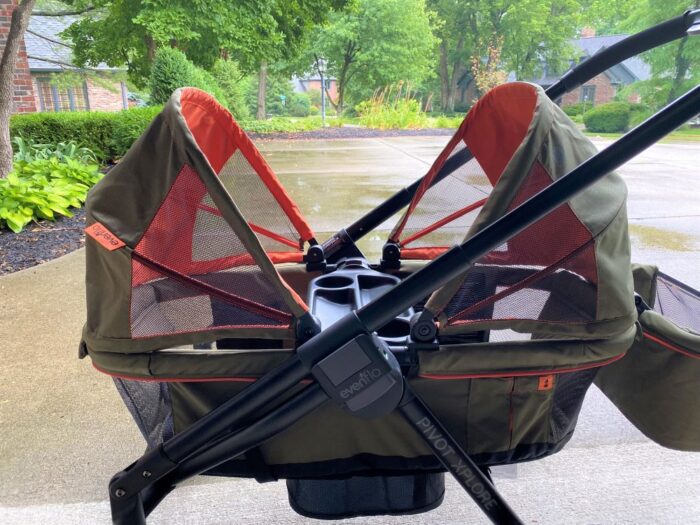 Part and Material Quality
The Veer Cruiser features high-quality parts which is to be expected given its substantial price tag. It scored slightly higher in part and material quality compared to the Evenflo Xplore:
| | |
| --- | --- |
| Veer Cruiser | |
| Evenflo Pivot Xplore | |
Veer Cruiser Part and Material Quality
The frame of the Veer Cruiser is made of welded aluminum. It looks durable to the eye and feels strong when you use it even under adverse conditions.
The seats and handle are also well-constructed. This wagon is something you can keep and use for many years.
Unlike many strollers and other wagons, the Veer does not make use of velcro, zippers or snaps.
The crucial moving parts include the handle folding mechanism and the seat and sides release buttons. Both of these mechanisms are solid and work smoothly.
Evenflo Pivot Xplore Part and Material Quality
The Evenflo Pivot Xplore is well packaged and we love the manual which is laid out logically with relevant pictures and step-by-step instructions.
There is no spring suspension but we couldn't detect a noticeable difference in the ride versus other wagons with springs in the front-wheel assemblies.
Other than the issue with the canopy sometimes coming loose we haven't had any problems with the operation of any of the moving parts.
The wheels on the Evenflo are a bit smaller than some competitors which would have led us to believe the maneuverability would be negatively affected. But it is surprisingly agile and steers better than most wagons.