The Veer Cruiser Stroller Wagon is know for its rugged build and ability to go offroad. The Keenz 7S is popular for its accessories and unique features.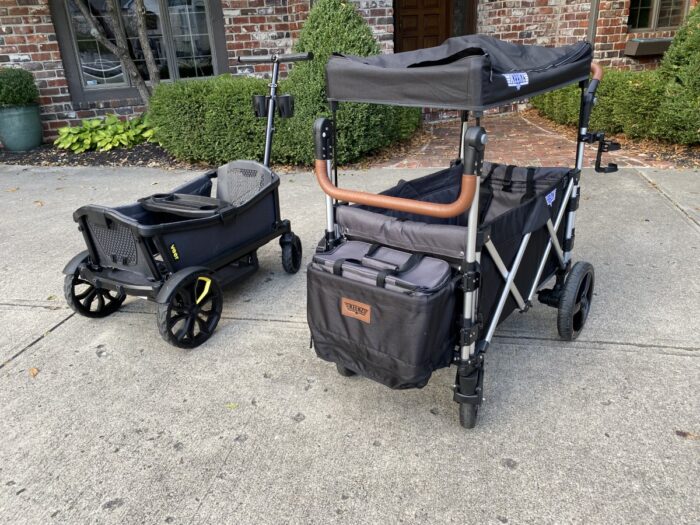 How To Choose
Having a clear idea of how, when and where you are going to use your wagon should help you decide which one is best for your situation.
We purchased and tested the Veer and Keenz 7S along with 9 other top stroller wagons.
Editor's Choice

Veer Cruiser
Keenz 7S
Amazon
Veer

Amazon

Test Lab Score
83
72
Parent Comfort and Usability
Kid Comfort and Usability
Steering, Maneuverability
Folding, Transport
Part and Material Quality
Specifications
Seats
2
2
Weight
32.5 lbs
32.0 lbs
Capacity in Pounds
110 lbs
110 lbs
Minimum Age
6 months
1
Goes through standard sized door
Yes
Yes
Grass Rating
10
8
Time to Assemble
13 min
21 min
Dirt, Crumb Removal Rating
9
9
Handle Height Range
38" to 42"
28" to 42.5"
Storage Volume Rating
1
10
Car Seat Adapter Included
No
No
Car Seat Adapter Compatibility
NA
NA
Additional Accessories Included
Snack Tray
Canopy, Cooler Bag
Folding Time
20 sec
54 sec
Folded Size
7.9 cu ft
8.9 cu ft
Folded Dimensions
40" L 24.5" W 14" H
36" L 26" W 16.5" H
Fits in Sedan Trunk
Yes
No
Seats Recline
No
No
Kid Cupholders
Yes
No
Harness Type
3-point
5-point
Inner Wagon Dimensions
32.5" L 17.5" W 14" H
31" L 18" W 14" H
Front Wheel Diameter
12.00 in
7.00 in
Rear Wheel Diameter
8.0 in
12.0 in
We'll discuss our test results in detail below, but generally the Veer Cruiser:
Our complete review of the Veer Cruiser
The Keenz 7S:
Our complete review of the Keenz 7S
Keenz has released new models with additional features and sizes:
Keenz 7S 2.0 – Two-passenger upgrade to the 7S with snack tray and cup/cell holder
Keenz 7S+ – Four-passenger wagon with some upgrades
Keenz XC – Two-passenger luxury model with removable and reclining seats
Keenz XC+ – Four-passenger luxury model with removable and reclining seats
Veer Cruiser Video Review
Criticisms of the Veer Cruiser vs Our Experience
While the Veer Cruiser is well rated and popular there are still negative reviews. We collected all the negative statements to compare them with our experience using and testing the Veer.
Here are the first few items. Find the rest in this article: Veer Cruiser Stroller Wagon Review.
| Criticism | Our Experience |
| --- | --- |
| Not much room in the footwell | Many wagons have no footwell at all. The Veer's is 15″ x 11″ x 4.5″ which is adequate for all but older children. |
| Goes to the side when pushing | The Veer handle is sensitive and it is easy to move off a straight line if you are not paying attention. |
| Folding requires removal of snack tray and canopies | True, like most wagons, accessories slow down the folding process. |
| Seats get hot in the sun | The hard plastic seats get hot in the sun. We had to cover ours with a blanket. |
| Food slides around on the snack holder. | The snack holder has a divider for use by two children but snacks can move all the way from one side to another. |
Keenz 7S Elite Video Review
Criticisms of the Keenz 7S vs Our Experience
The Wonderfolds have their fair share of positive reviews and a few negative ones as well. Here is a partial list with notes about our experience.
Here is the full list of criticisms: Keenz 7S Elite Stroller Wagon Review.
| Criticism | Our Experience |
| --- | --- |
| Steering and pushing difficulty | This wagon scored a 77 in our steering and maneuvering testing which put it slightly above average compared to the other 10 wagons. |
| Wheels come off | The wheel button release button may be bumped and release a wheel. This happened to us when loading the wagon in a van, but never when pushing it. |
| Bumpy ride | The Keenz has spring suspension as many wagons do. While it doesn't look like its any bumpier than other wagons, kids sit on the floor of the wagon and may feel the bumps more than in some wagons. |
| Customer service problems | We sent an email to Keenz customer service and they responded appropriately in less than 2 hours. |
| Big and bulky when folded | Yes. |
Test and Research Results
We ran the wagons through 65 tests and involved four moms, a few dads and lots of kids in the evaluation process. We rated the wagons in the following categories:
Parent Comfort and Usability
Steering and Maneuverability
Kid Comfort and Usability
Folding and Transport
Part and Material Quality
Parent Comfort and Usability
It takes some work to manage a stroller wagon so these tests assessed ease of cleaning, handle comfort, assembly, customer service, storage, storage accessibility and more. Scores for parent comfort and usability.
Unboxing and Assembling
In part, because the Veer doesn't include a lot of accessories or a canopy, it only took us 13 minutes to unbox and assemble. The Keenz 7S took 21 minutes.
We received a response from Veer customer service to our email in only 7 minutes. Keenz took 1 hour and 40 minutes, which is also impressive.
Parent Cupholders
As a parent I'm biased, but I love the placement of the parent cup holders on the Veer handle.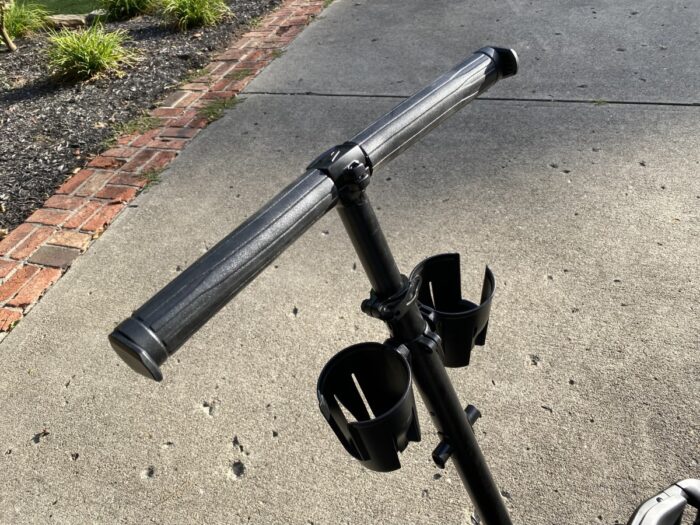 The Keenz has a cup holder that can be placed on any corner of the frame. Because there are no internal kid cup holders you may find yourself using this one for them.
There is an additional fabric pouch on the back that can be used as a cup holder.
Handles
The push and pull handles on the Keenz are comfortable and have a height range of 28″ to 42.5″. The Veer's handles adjust with a clamp and range from 38″ to 42″ in height.
Car Seat Adapters
You have to purchase a car seat adapter separately for the Veer and it is not available for the Keenz.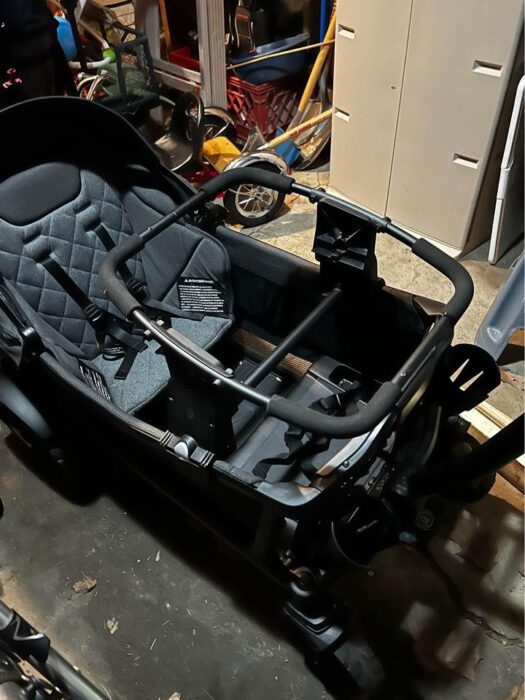 Storage
The Keenz 7S is not short on storage right out of the box, whereas the Veer has none. Hence the following storage ratings.
Storage ratings:
This storage basket can be purchased separately for the Veer. Veer foldable storage basket.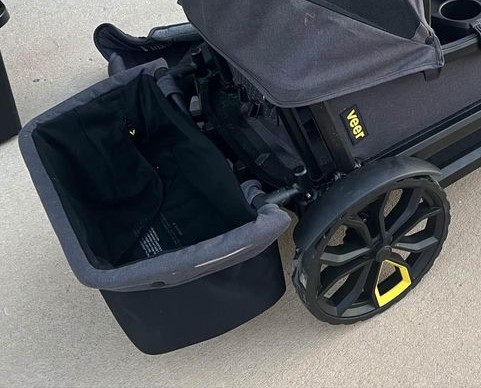 Keenz has a big storage basket that mounts on the front. It also comes with an insulated cooler bag.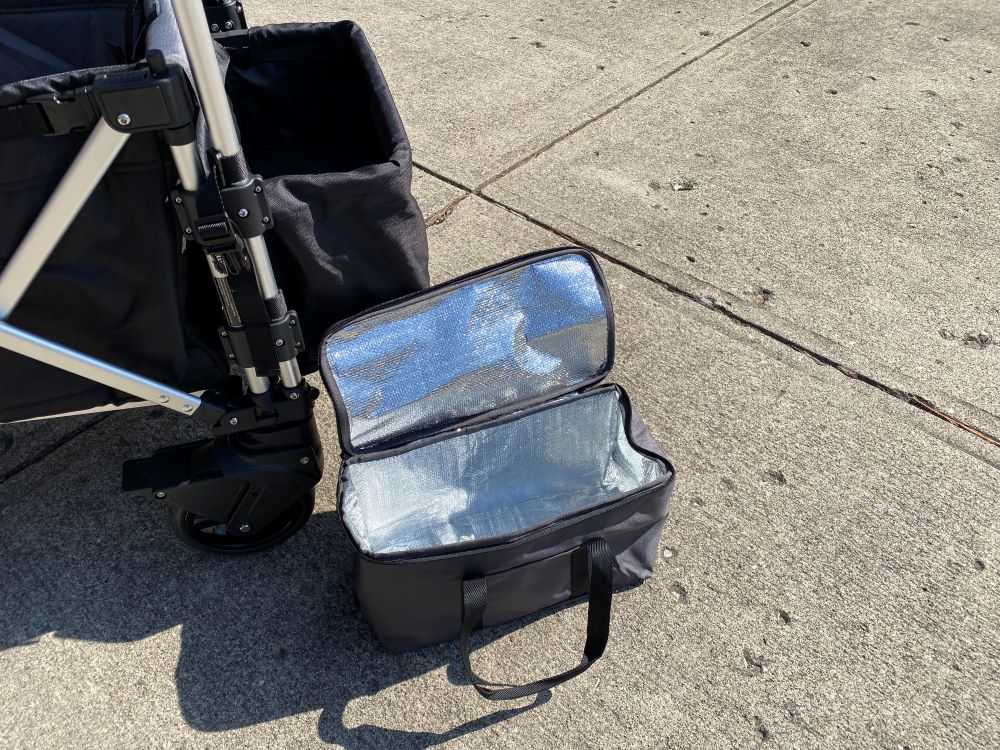 There is a parent organizer on the back of the wagon with several compartments.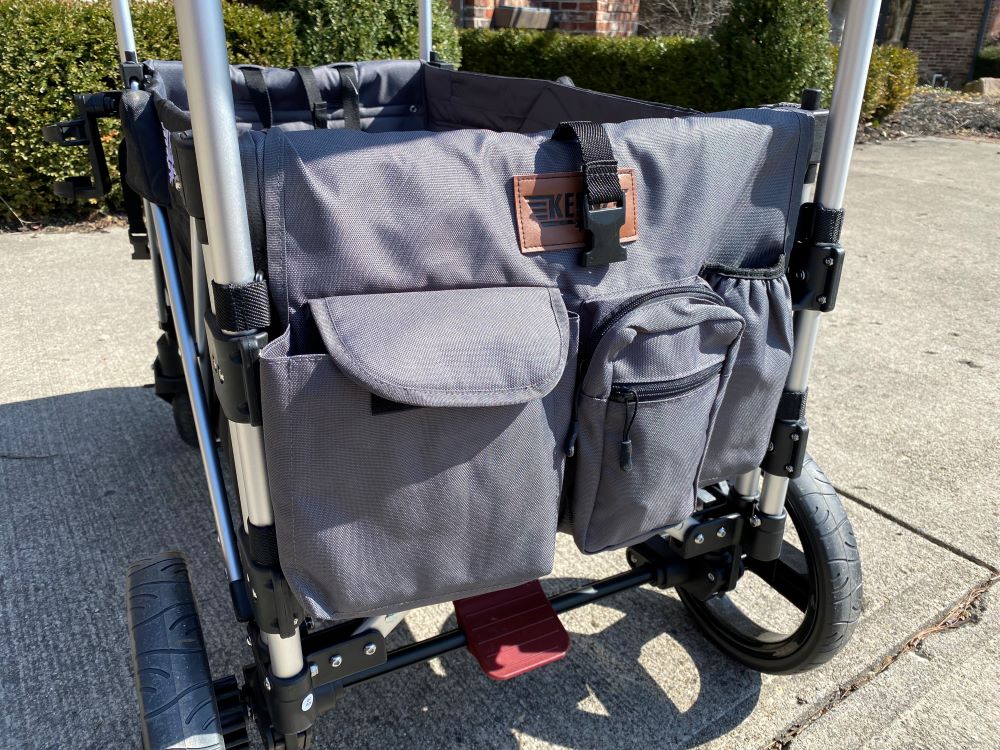 Cleaning Rating
We are able to keep our Veer Cruise clean with a wet rag on the hard plastic of the seat backs and seats and in the small snack cubby holes. You also have to reach down into the footwell.
The insides of the Keenz are easy to reach and clean and there is nowhere for crumbs to hide.
Cleaning is not a big differentiator between these two wagons.
The fabric on both wagons wipes clean easily.
Brake Effectiveness
The Keenz 7S brakes were easier to engage and release than the Veer's. The Keenz' was also easy on bare and sandalled feet.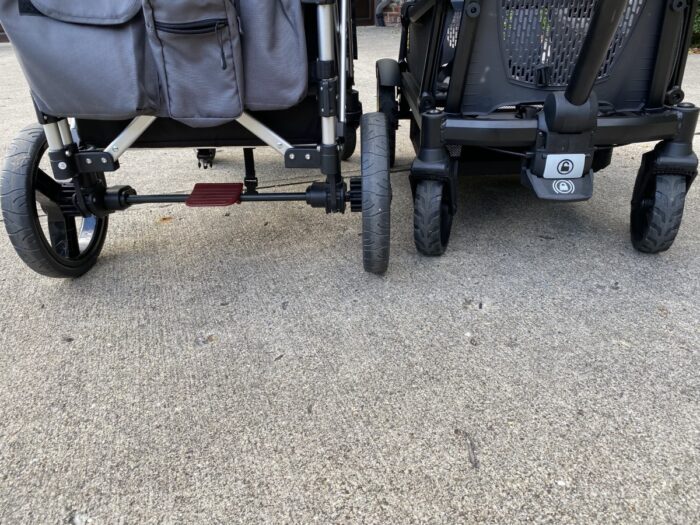 The Veer brake took a little force to push down. And the button to release the brake also requires a firm push.
We measured how fast the wagons stopped once the brakes were engaged in our runaway-wagon test and a skid test. The Veer stopped almost immediately while the Keenz skidded a bit.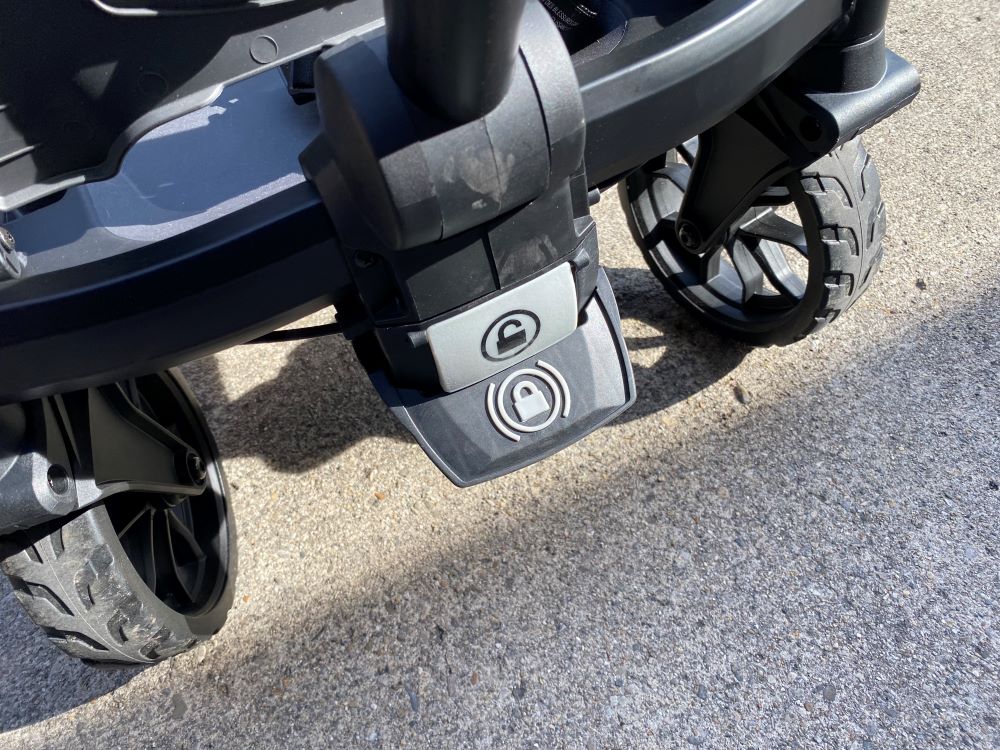 The overall brake scores are similar but Keenz is easier to brake and the Veer stops better. Brake effectiveness ratings:
Steering and Maneuverability
Steering, pushing and maneuverability are important buying criteria for a stroller wagon because no one wants to fight to push a wagon full of kids. Steering and Maneuverability Scores:
| | |
| --- | --- |
| Veer Cruiser | |
| Evenflo Pivot Xplore | |
| Anthem 4 | |
| Larktale Caravan | |
| Ever Advanced Side-Unzip | |
| Baby Trend Expedition | |
| Keenz 7S | |
| Wonderfold W1 Original | |
| Graco Modes Adventure | |
| Radio Flyer Discovery | |
| Ever Advanced | |
| Wonderfold W4 Elite | |
| Jeep Wrangler | |
Pushing and Turning
We found that the Veer took very little effort to push and turn but it does require practice. The wheels in the back swivel which is different from most other wagons including the Keenz.
In executing a turn from a dead stop the Keenz, and most other wagons, take more force than the Veer.
Force to turn each wagon 90-degrees from a stop.
| | |
| --- | --- |
| Anthem 4 | |
| Veer Cruiser | |
| Evenflo Pivot Xplore | |
| Keenz 7S | |
| Baby Trend Expedition | |
| Radio Flyer Discovery | |
| Wonderfold W1 Original | |
| Graco Modes Adventure | |
| Larktale Caravan | |
| Ever Advanced | |
| Wonderfold W4 Elite | |
| Jeep Wrangler | |
| Ever Advanced Side-Unzip | |
And here is the Force to get each wagon rolling:
| | |
| --- | --- |
| Veer Cruiser | |
| Evenflo Pivot Xplore | |
| Ever Advanced Side-Unzip | |
| Baby Trend Expedition | |
| Anthem 4 | |
| Radio Flyer Discovery | |
| Larktale Caravan | |
| Keenz 7S | |
| Graco Modes Adventure | |
| Wonderfold W1 Original | |
| Jeep Wrangler | |
| Wonderfold W4 Elite | |
| Ever Advanced | |
It is worth noting that the two wagons are very similar in weight:
| | |
| --- | --- |
| Radio Flyer Discovery | |
| Graco Modes Adventure | |
| Keenz 7S | |
| Veer Cruiser | |
| Wonderfold W1 Original | |
| Ever Advanced | |
| Evenflo Pivot Xplore | |
| Ever Advanced Side-Unzip | |
| Larktale Caravan | |
| Anthem 4 | |
| Baby Trend Expedition | |
| Jeep Wrangler | |
| Wonderfold W4 Elite | |
Terrain Performance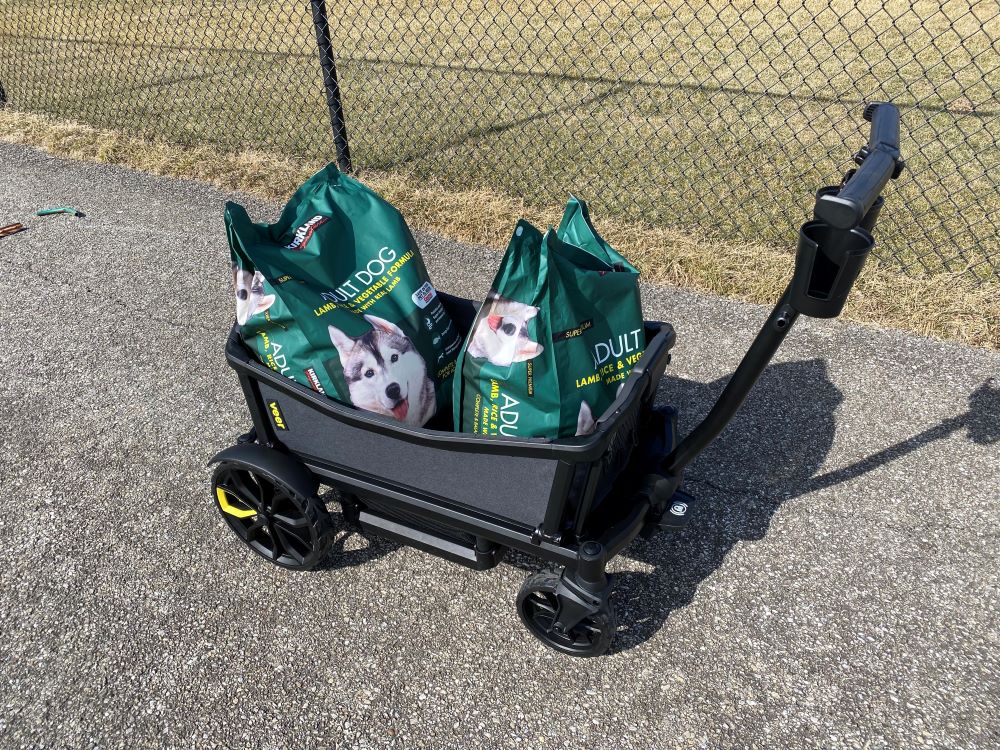 The Veer performed well off-road and in our bump test with its big wheels in the front to climb over obstacles.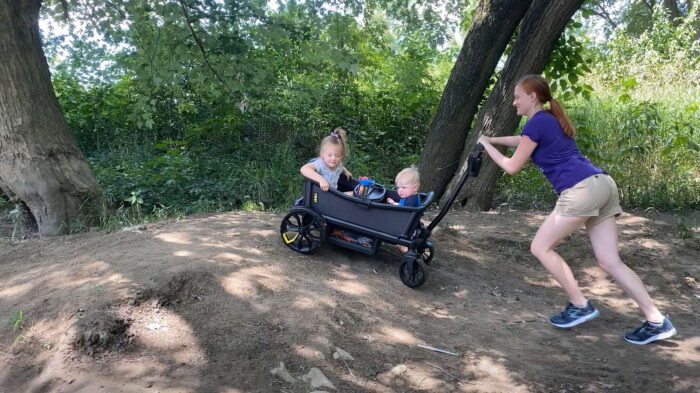 Grass: The Keenz pushes adequately on grass in parks and athletic fields. The Veer has no problem on the grass.
Hills: The Keenz didn't do as well as the Veer on hills and particularly not turning while on hills.
Sand: I don't consider either wagon adequate on soft sand. Sand-worthy wheels have to be much wider than what comes with either of these wagons.
The Keenz 7S 2.0, 7S+, XC and XC+ wagons come standard with wider, "all-terrain" wheels. We haven't tested those wagons in the sand yet. I'm sure they will perform better than the 7S but the new wheels are still not as wide as beach wheels need to be to traverse soft sand easily bearing a load.
Folding and Transport
We compared the Keenz and Veer in folding and unfolding time, and ease of loading in and out of a vehicle. The Veer comes out ahead in this category.
Folding and transport scores:
Folding Time
Removing the canopy definitely adds to the fold time for the Keenz 7S and other Keenz wagons. This is an unfair comparison because we didn't have the canopy on the Veer for this measurement.
However, the Keenze still took longer to fold even after subtracting time for removing the canopy.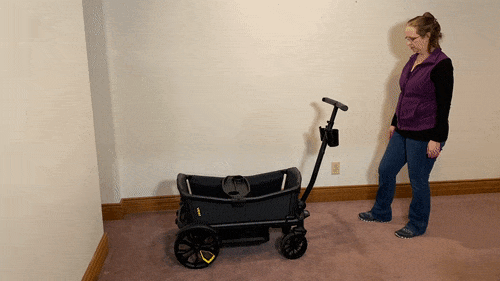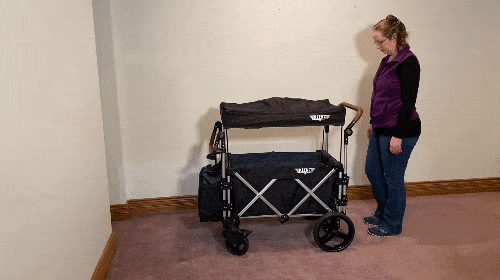 Folded Size in Cubic Feet
The Keenz 7S is not much bigger than the Veer folded, but it feels bulkier to handle.
In the Trunk of a Car or Back of a Minivan
The Keenz 7S would not fit in our Honda Civic trunk.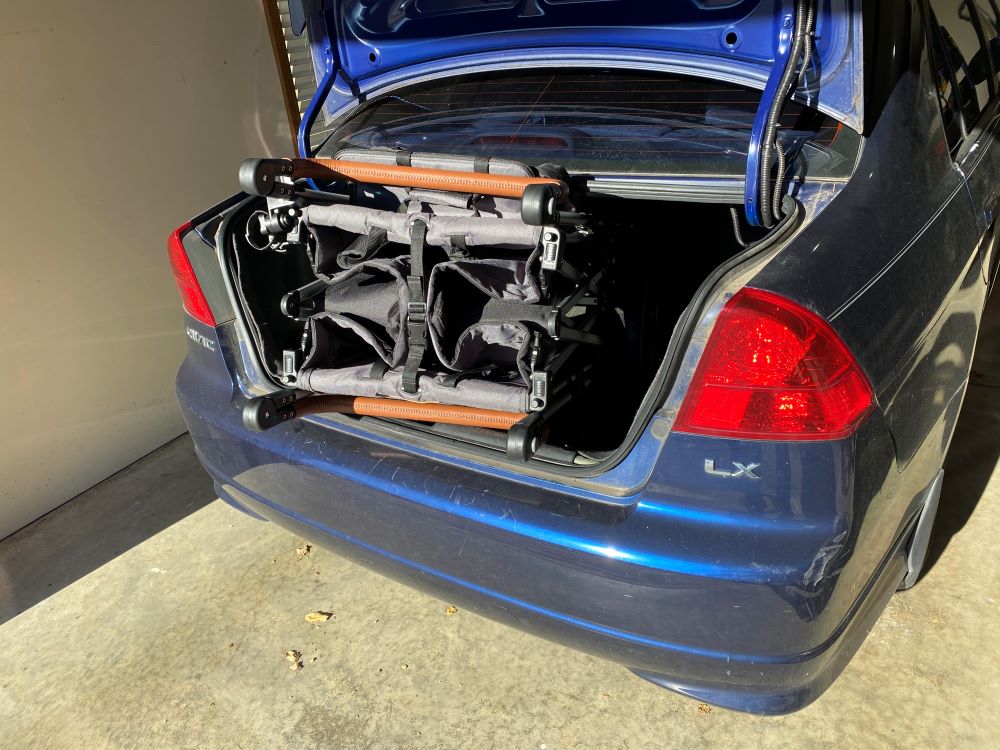 The Veer just barely fit in the Honda.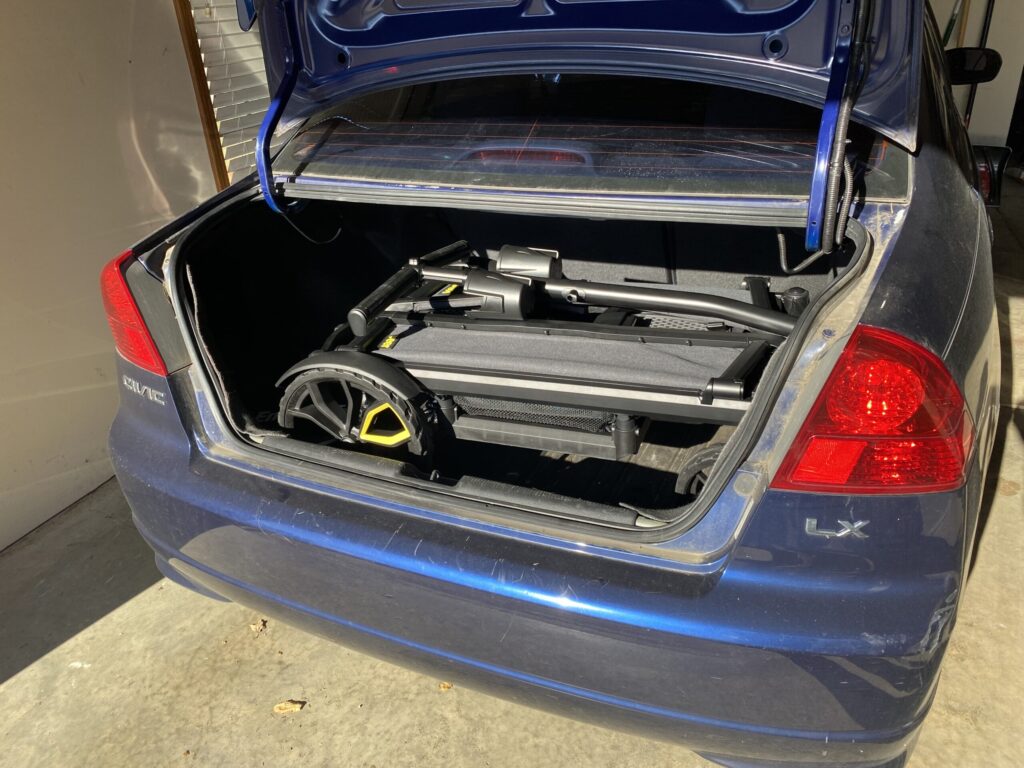 Kid Comfort and Usability
We checked with kids and assessed seat comfort, getting in and out, harness comfort and more. Here are the total scores in Kid comfort and usability:
Seat Comfort
The Cruiser has shaped and ventilated, hard plastic seats with a footwell. As a result, kids can travel in a more or less normal, seated position. The seats are not adjustable or removable.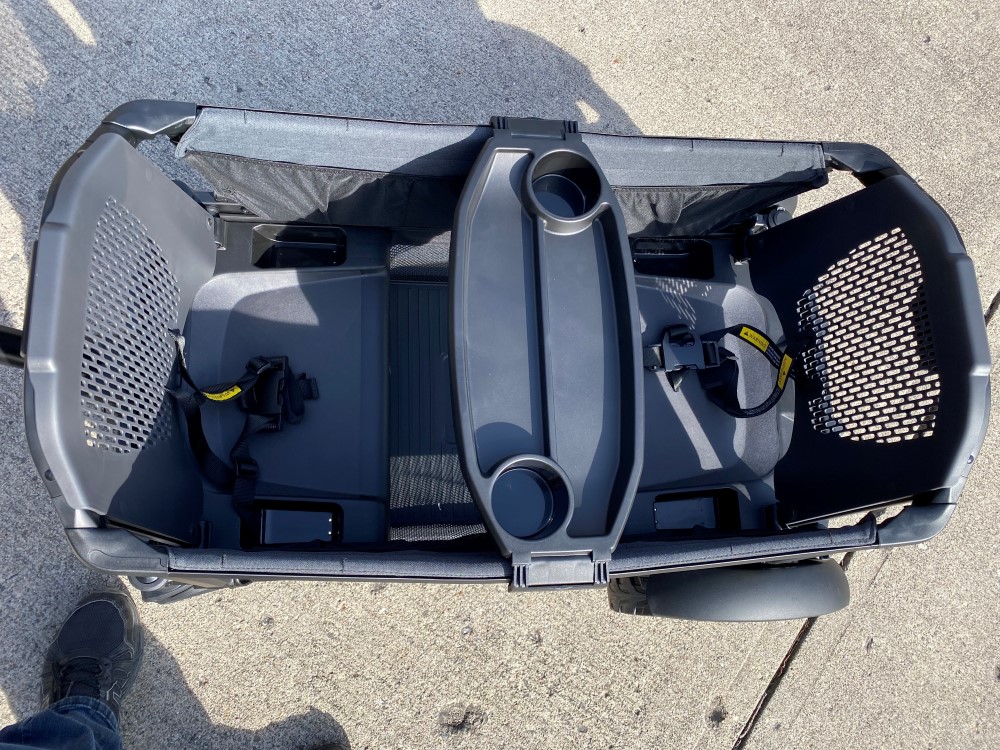 By contrast, the Keenz 7S has no separate seats. They sit on the floor of the wagon with their legs extended, as is typical for many box-shaped wagons.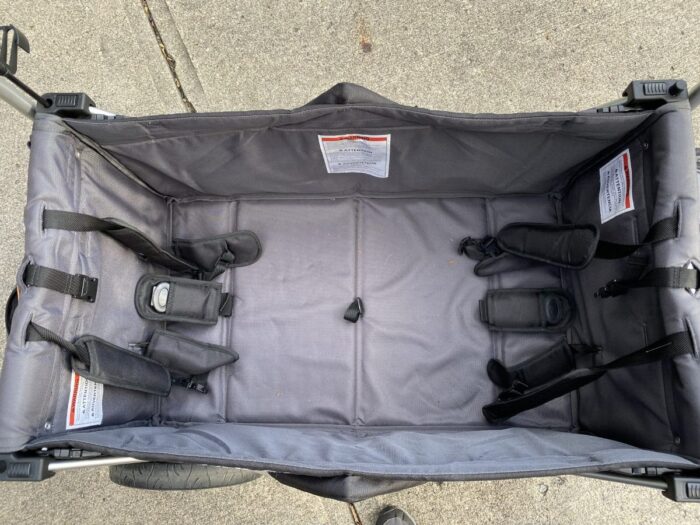 Seat comfort ratings:
Harness Comfort
The Keenz 7S has padded, comfortable 5-point harnesses. The Veer has 3-point harnesses with a typical buckle. Harness comfort ratings:
Snack Tray
The lack of a snack tray with the Keenz 7S is a disappointment. Keenz understood that and has included snack trays with all the newer versions.
Inner Wagon Space
These two wagons have similar inner dimension measurements but the Keenz is much roomier on a practical basis. Kids can easily move around in the Keenz.
The flat inner surface also makes the Keenz useful as a napping station and a pack 'n play on wheels.
This functionality requires the purchase of the Nap System for the Veer.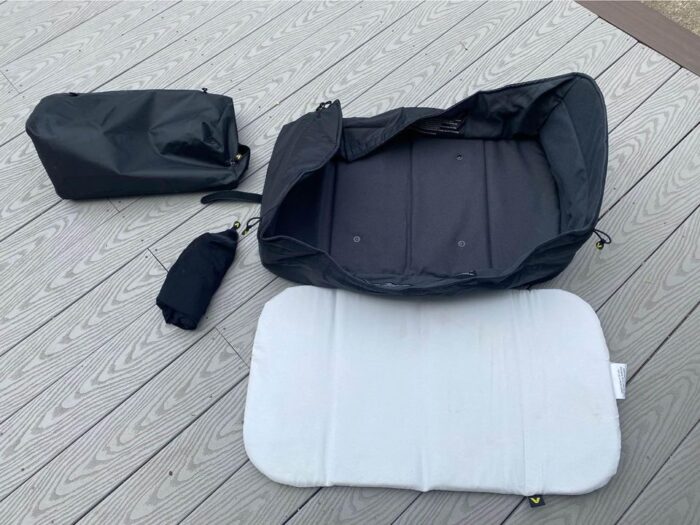 Canopy
The Keenz 7S canopy system includes pull-down sun shades, a mesh top, and pull-down mesh ends. This allows for full sun coverage if required, and customizable airflow.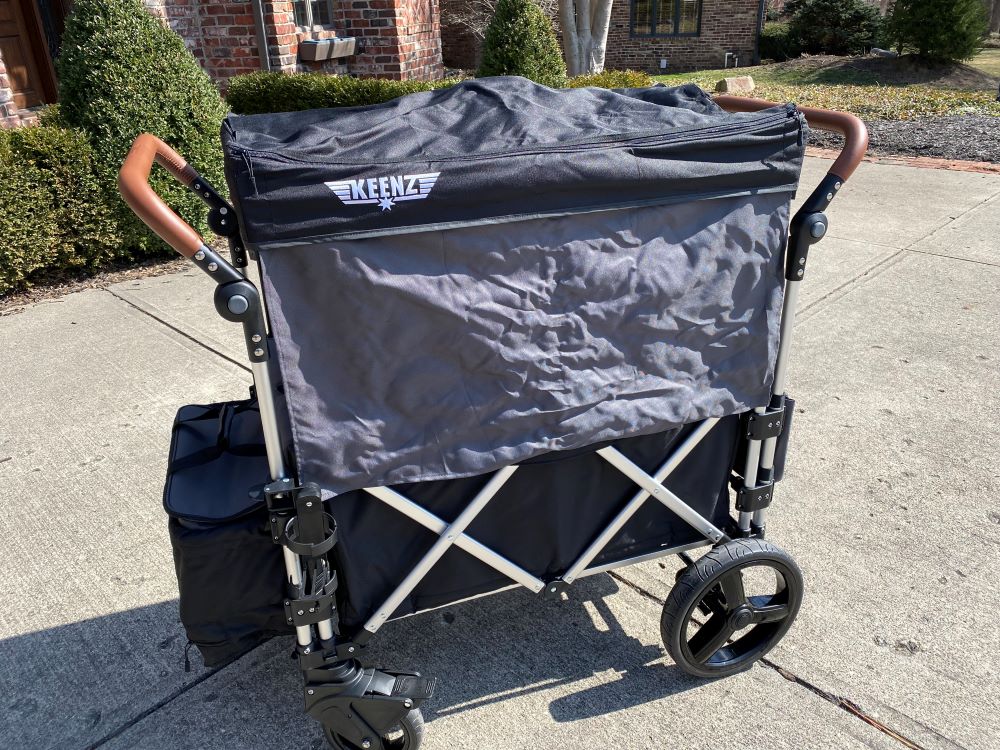 The Veer canopies have mesh sides for airflow and with two canopies installed provides mostly full sun coverage.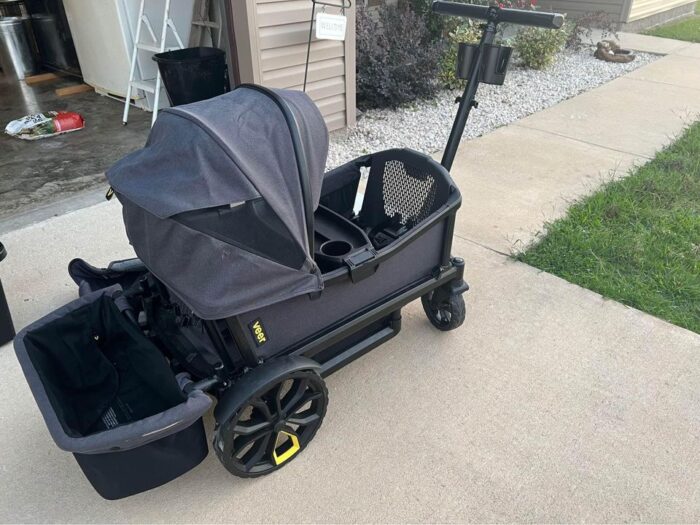 Part and Material Quality
There are few complaints about Veer or Keenz part quality. Part and material quality scores:
Veer Cruiser Part Quality
The Veer frame is made from welded aluminum. The sides lock firmly together and the whole thing feels like it is built to last.
The folding mechanism, handle adjustment and other moving parts work smoothly and consistently.
The fabric seems durable but we don't have that many hours on it yet to see how well it resists puncture and direct sunlight.
Keenz 7S Part Quality
The Keenz has a number of clips, buttons, zippers and some velcro all of which function well and feel well-made.
The main accordion frame folds smoothly. The canopy posts and release buttons function adequately although you sometimes have to pull them solidly to make sure they snap into place.
Overall we don't have any complaints about the part and material quality of the Keenz wagon.