I'm going to give you a few things to think about that will help you decide between a stroller wagon and a double stroller.
We've used many of both, in fact here is our current collection of more than 30 stroller wagons and strollers although no double strollers are in the picture: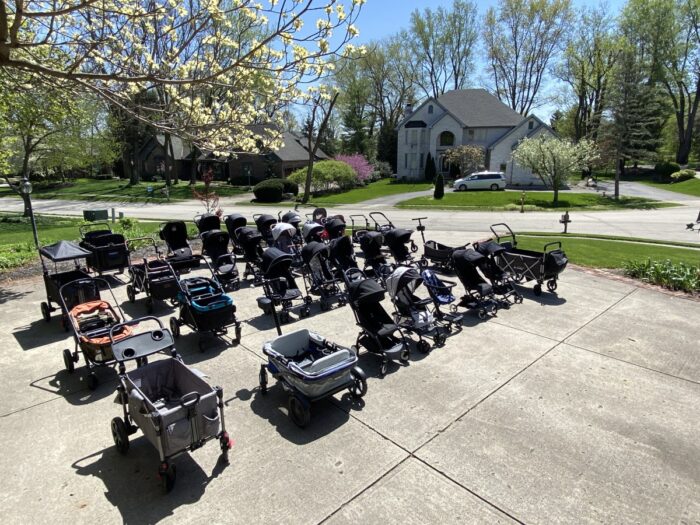 Related Reading: Best Stroller Wagons
Factors to Consider When Choosing Between a Stroller Wagon and Double Stroller
Family Makeup: A double stroller may be the best option for twins or two children close in age, while a stroller wagon may be better for families with three or more children.
Age of Children: The age of your children is another important factor. A double stroller may be best for families with a newborn and a toddler, while a stroller wagon may be more suitable for older children who can sit on their own.
City vs Suburb: A stroller wagon may be more difficult to maneuver in crowded city streets, while a double stroller may be better for families who enjoy walking or jogging together.
Budget: It is easier to find less expensive double strollers than it is to find low-cost stroller wagons.
Versatility: Stroller wagons can be used like wagons to carry things. We load down our double strollers all of the time too, but often it is easier to throw things into a big boxy wagon than try to hang or sit them somewhere in a double stroller.
Push / Pull: We've found that the handles on the front and the back of a wagon are convenient in a couple of different circumstances. When both mom and dad are out together, one person can sometimes pull from the front swapping out with the person in the back. There are some kinds of terrain where it is easier to pull through or over than push.
Events: Both stroller wagons and double strollers are useful at events like parades, ball games or festivals. A big wagon can provide a place for kids to play when you are sitting and watching something. Whereas double strollers don't work to play in, but make comfortable seats if the children want to sit back and watch the event themselves.
Long walks: Although there are many exceptions, stroller wagons are heavier in general than double strollers. If your principal activity is long walks, lighter double strollers may be less tiring over time.
Jogging and running: There are so far no stroller wagons made for running or jogging. There are some double jogging strollers though you can't jog safely in every double stroller.
Infant Car Seats: Some double strollers and some stroller wagons have infant car seat adapters available. If you have an infant, make sure any stroller or wagon you buy is designed so that the infant car seat doesn't encroach on the space of the other seat. Generally, wagons are less likely to have adapters than double strollers.
Folded size: The biggest stroller wagons take more space folded than the biggest double strollers. If your trunk space is limited a double stroller might be more likely to fit. However, there are some very compact stroller wagons such as the Graco Modes Adventure Wagon, Evenflo Pivot Xplore Wagon, and many of the stroller wagons made by Radio Flyer.
Weight: Stroller wagons are heavier on average than double strollers.
4-seaters: Quad wagons are typically more manageable than quad strollers.
Rough terrain: There are a few double strollers made for rough terrain but most need to stay on the sidewalk or grass. Stroller wagons don't do as well off-road as the manufacturers say, but some of them have large enough wheels to suffice on well-maintained trails.
Sand: Stroller wagons with wheels that are 3 inches or wider do well on the sand. Narrower wheels will work on hard or packed sand. Not every stroller wagon or double stroller advertised as "all-terrain" will push well on the beach regardless of the claims on the sales pages.
Comfort: Although some stroller wagons have footwells and shaped seats, they are generally less comfortable seats than those used in double strollers. This means that a double stroller may be more useful if you think your kids will be in it for long periods of time.
Safety Features: Both stroller wagons and double strollers typically come with safety harnesses to keep children secure. However, double strollers often have more advanced safety features, such as hand-operated brakes and adjustable footrests. Stroller wagons, on the other hand, tend to have larger wheels, which can provide more stability on uneven surfaces.
Comfort: Double strollers often offer more comfort features, such as padded seats and the ability to recline for naps. Stroller wagons, however, usually have more space for children to move around, which can be a plus for older kids.
Storage: Stroller wagons often excel in this category, as they typically have a larger storage capacity than double strollers. This makes them a great option for families who need to carry a lot of gear or for outings like picnics or beach trips.
Maintenance and Durability: Both stroller wagons and double strollers are designed to be durable, but the specifics can depend on the brand and model. Stroller wagons often have a more rugged design, which can make them more resistant to wear and tear. However, they can also be heavier and more difficult to maneuver.
Seat Direction Adjustability: Some double strollers have seats that can face either direction or recline to different degrees. This might not be the case for stroller wagons.
Accessories: Check what accessories are included with the stroller or wagon, such as rain covers, sun canopies, or cup holders. Some models might have optional accessories available for purchase separately. Although wagons are catching up, double strollers may have more accessories available.
Frequent Travel: If you travel frequently, a compact, lightweight double stroller might be more convenient. If you enjoy outdoor activities or have older children, a stroller wagon might be a better fit.
Public Transportation: If you frequently use public transportation, a double stroller might be easier to navigate on buses or trains.
Personal Bottom Line
We prefer stroller wagons more for events and double strollers more for walking.
Stroller Wagon: A Versatile and Spacious Option
Stroller wagons are a relatively recent innovation that combines the maneuverability and push of a stroller with the functionality and space of a wagon. They offer a sturdy frame, four wheels, a handlebar for pushing, and a spacious interior for seating children and storing items. Stroller wagons come in various sizes, from compact and lightweight to larger models accommodating up to four children. Some models also feature adjustable canopies, built-in storage compartments, convertible seats, and infant car seat adapters.
Stroller wagons are perfect for families with multiple children, as they provide ample space for kids and their gear. They are also great for outdoor activities like picnics, beach trips, and hiking, as they can easily navigate rough terrain and provide a comfortable ride. Some stroller wagons are a practical choice for long-term use, as they cater to children from infancy through toddlerhood and beyond.
Expect to pay between $250 and $1,000 for a stroller wagon.
Wagons that are Like Strollers
The line is blurring between wagons and strollers. Here are some wagons that look and feel more like strollers: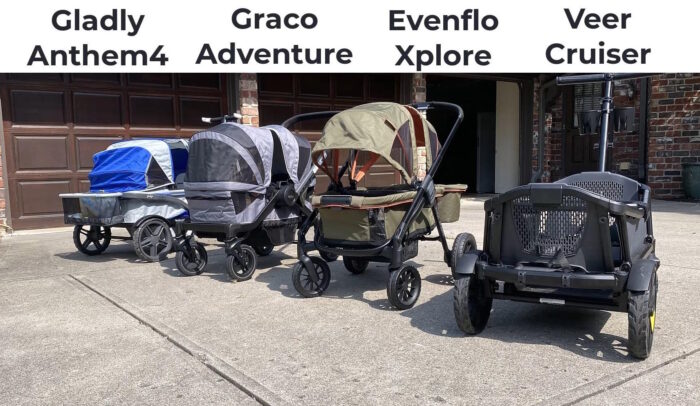 Wagons that are Like Classical Wagons
And here are few wagons of the more classical variety:

Double Stroller: A Classic Choice for Parents with Two Children
A double stroller is designed to accommodate two children, making it a popular option for parents of twins or two children of different ages. Double strollers come in various configurations, such as side-by-side, tandem, or sit-and-stand, with features tailored to different needs.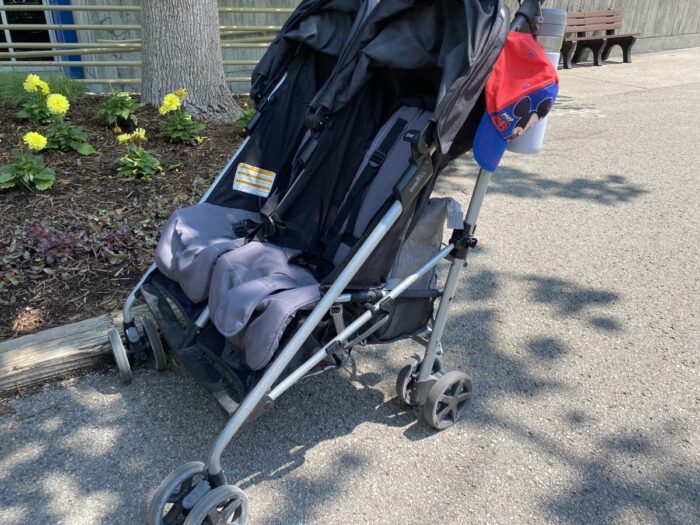 Double strollers are available starting at around $100 with many options in the $150 to $350 range.
There are, of course, high-end models with advanced features at luxury prices.