The Jeep Wrangler Stroller Wagon looks rugged and has great parent-approved features, but it isn't easy to collapse, push, or travel with. The Evenflo Pivot Xplore Stroller Wagon is easy to use, fold, and transport, all while boasting a more reasonable price than the Jeep.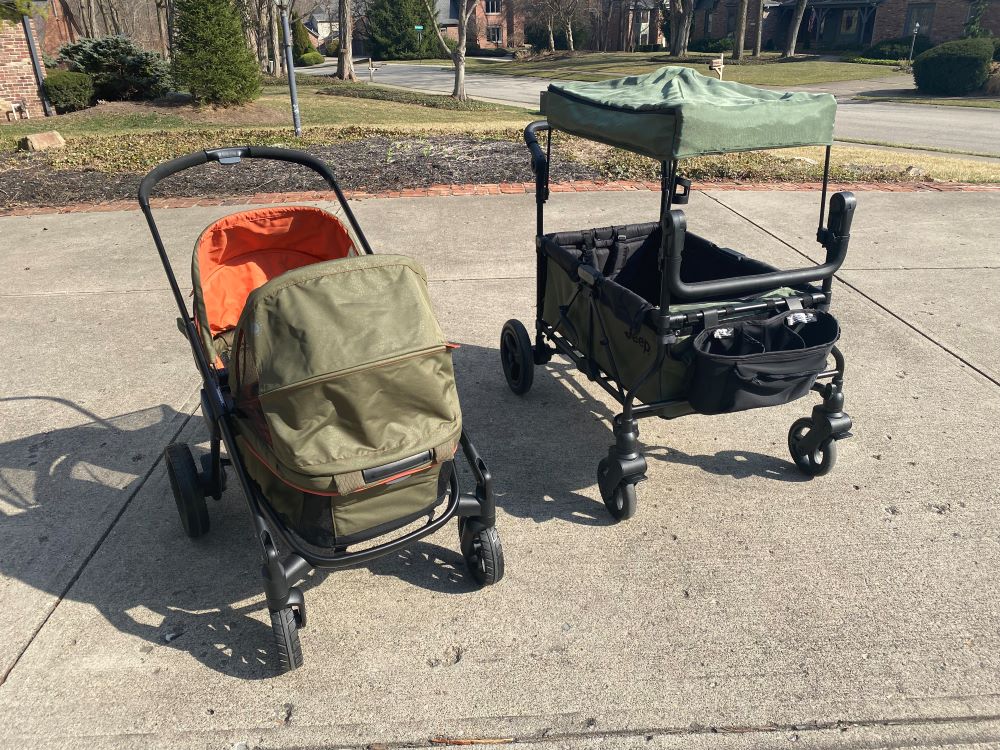 How They Compare
After testing both of these stroller wagons, here is how the Evenflo Pivot Xplore and Jeep Wrangler compare to each other:
Recommended

Evenflo Pivot Xplore
Jeep Wrangler
Amazon
BedBath&Beyond
Evenflo

Amazon
buybuyBaby

Test Lab Score
80
69
Parent Comfort and Usability
Kid Comfort and Usability
Steering, Maneuverability
Folding, Transport
Part and Material Quality
Specifications
Seats
2
2
Weight
34.7 lbs
46.2 lbs
Capacity in Pounds
110 lbs
110 lbs
Minimum Age
6 months
6 months
Goes through standard sized door
Yes
No
Grass Rating
10
7
Time to Assemble
21 min
16 min
Dirt, Crumb Removal Rating
7
9
Handle Height Range
37" to 40"
29" to 41"
Storage Volume Rating
7
10
Car Seat Adapter Included
No
Yes
Car Seat Adapter Compatibility
NA
Chicco,Graco,Britax,Evenflo
Additional Accessories Included
Canopy, Snack Tray
Canopy, Cooler Bag
Folding Time
20 sec
31 sec
Folded Size
9.0 cu ft
10.2 cu ft
Folded Dimensions
40" L 27.5" W 21" H
40.5" L 26.5" W 16.5" H
Fits in Sedan Trunk
Yes
No
Seats Recline
No
No
Kid Cupholders
Yes
No
Harness Type
3-point
5-point
Inner Wagon Dimensions
30" L 15" W 15" H
33" L 18" W 12" H
Front Wheel Diameter
8.00 in
8.00 in
Rear Wheel Diameter
10.5 in
12.0 in
Multi-feature Jeep vs Compact Evenflo
The Jeep Wrangler stroller wagon has a classic Jeep design—a boxy shape and rugged look. For those who are familiar with the Keenz 7S, Radio Flyer Discovery, and Wonderfold stroller, the Jeep is similar in form.
The Xplore has a more subtle rounded look to it and the interior space isn't as wide open as the Jeep.
The Jeep resembles and feels like a true stroller wagon whereas the Evenflo feels more like a stroller.
When it comes to accessories, the Jeep has it all: canopy, mosquito netting, cooler bag, large storage space, and even a car seat adapter. Other than a canopy, you won't find any of these accessories with the Evenflo.
Jeep Wrangler Video Review
Common Complaints vs Our Experience: Jeep Wrangler
We all know that products have weaknesses, even if they're ranked well overall. To hear what customers have to say about the Jeep Wrangler, we looked through negative reviews to compare criticisms about the Jeep to our personal experiences.
View our FULL criticism and experience table here: Jeep Wrangler Stroller Wagon Review.
| Criticism | Our Experience |
| --- | --- |
| Not much legroom | If kids sit with their legs crossed or straight out, there isn't an issue. Tall children will deal with less legroom if not sitting alone since there is not a footwell. |
| Heavy; hard to put in the car and take out | We agree as 46.2 lbs of stroller wagon is not the easiest to lift and unload (the Evenflo is about 11 lbs lighter). |
| Two kids in the wagon make it hard to push | It is more difficult to push the Jeep up hills and over tough terrain with two kids in the wagon. We tested how much force is needed to push the Jeep, keep it moving, and turn it and our results concur that it does not perform well in this category. |
| Can't push it in sand | All-terrain wheels should measure at least 4″ wide to easily move over sand. The Jeep's wheels only measure 1.3″ wide in the front and 2″ wide in the back. |
| A child can release the car seat adapter | Safety alert! There is a possibility that an older child could press the button that releases an infant car seat from the stroller wagon. |
Evenflo Pivot Xplore Video Review
Common Complaints vs Our Experience: Evenflo Pivot Xplore
Like the Jeep Wrangler, we also surveyed negative reviews of the Evenflo Pivot Xplore and compared them to our own experience.
View our ENTIRE criticism and experience table here: Evenflo Pivot Xplore Stroller Wagon Review.
| Criticism | Our Experience |
| --- | --- |
| Handle sits too low | Our testers who are 5'4″ and 5'10" had no issue with the height of the handle, although it could be too short for taller adults. The handle can be adjusted between 37″ and 40″. |
| There's nothing to secure the wagon when folded up | There is no lock on the Evenflo to secure it when folded up. It sometimes doesn't stand and wants to tip over. |
| Too bulky when folded up | Compared to other stroller wagons, we found the Evenflo to be more compact when folded up. Although, it is not the most compact. |
| Canopies tend to detach from the wagon | This is true. The dual canopies can easily detach from the wagon when folded, unfolded, or if a child grabs on to them. |
| Have trouble moving it when folded up | We found the Evenflo to be pretty easy to move and transport when folded compared to other stroller wagons. |
Test and Research Results
Both the Jeep Wrangler and Evenflo Pivot Xplore were put through a series of 65 practical tests over three months. To gather even more insight, we surveyed moms, dads, and the editorial team regarding each stroller wagon. Below are a few of our testing categories and scores for each stroller wagon.
Parent Comfort and Usability
For parent comfort and usability, we tested features like storage capacity, handles, brakes, cupholders, how easy it is to clean, customer service response, and more. Here is how the Jeep and Evenflo scored in parent comfort and usability.
| | |
| --- | --- |
| Jeep Wrangler | |
| Evenflo Pivot Xplore | |
Unboxing and Assembling
| | |
| --- | --- |
| Jeep Wrangler | |
| Evenflo Pivot Xplore | |
It took 16 minutes to unbox and assemble the Jeep Wrangler. The Jeep user manual was easy to read and follow which made the assembly run smoothly. When we contacted customer service via email to test their response time, we heard back in 12 minutes.
Unpacking and assembling the Evenflo was just a bit longer than the Jeep, at 21 minutes. The Evenflo user manual is also easy to understand. It took 57 minutes to hear back from Evenflo's customer service team; not bad, but not as good as the Jeep.
Parent Cupholders
There are two parent cupholders on the Evenflo Xplore but they are in an odd position and not sized very well.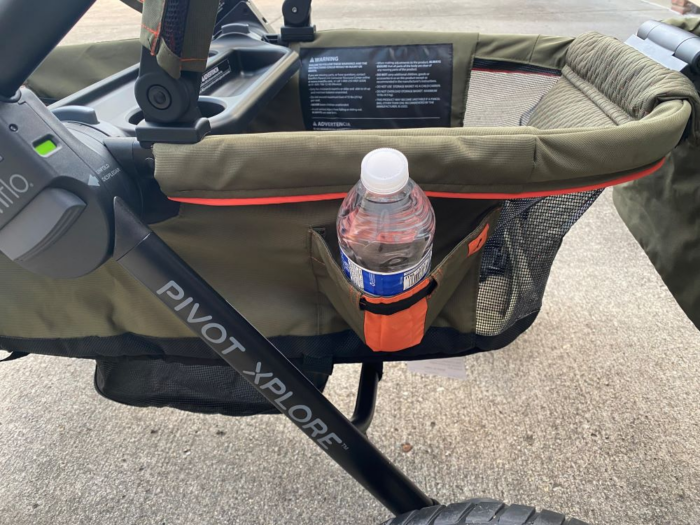 The Jeep includes only one external parent cupholder but it seems more secure and well-shaped.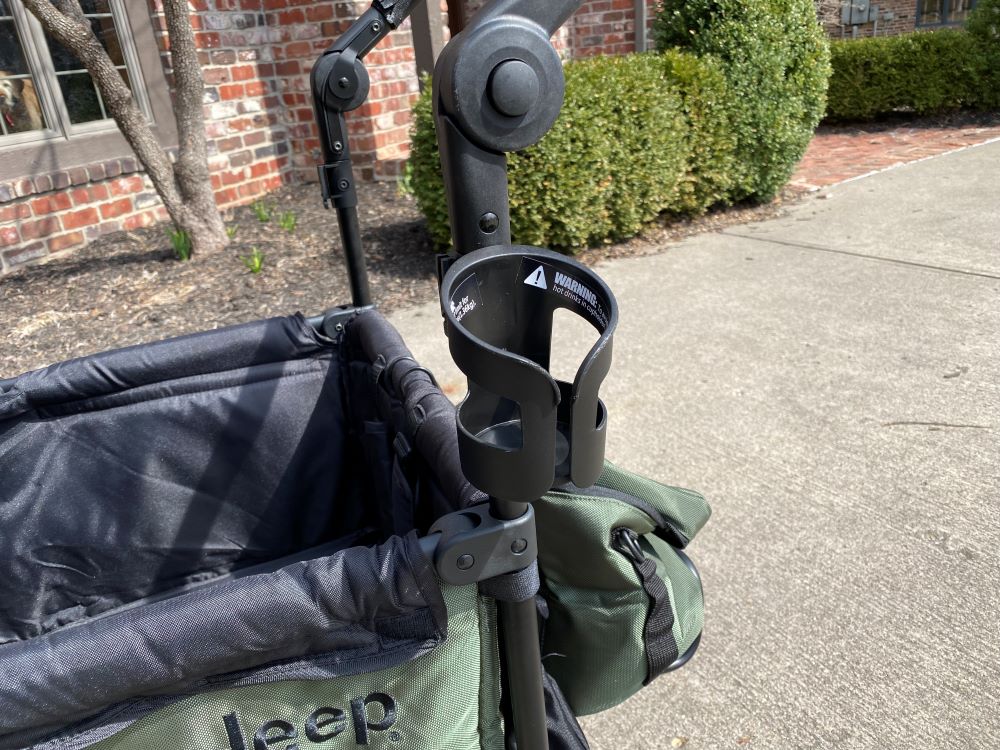 Handles
Handles on the Jeep can be adjusted from 29″ to 41″ to fit most parents' heights. The handles feel comfortable when pushing the wagon and they feature a protective zip cover.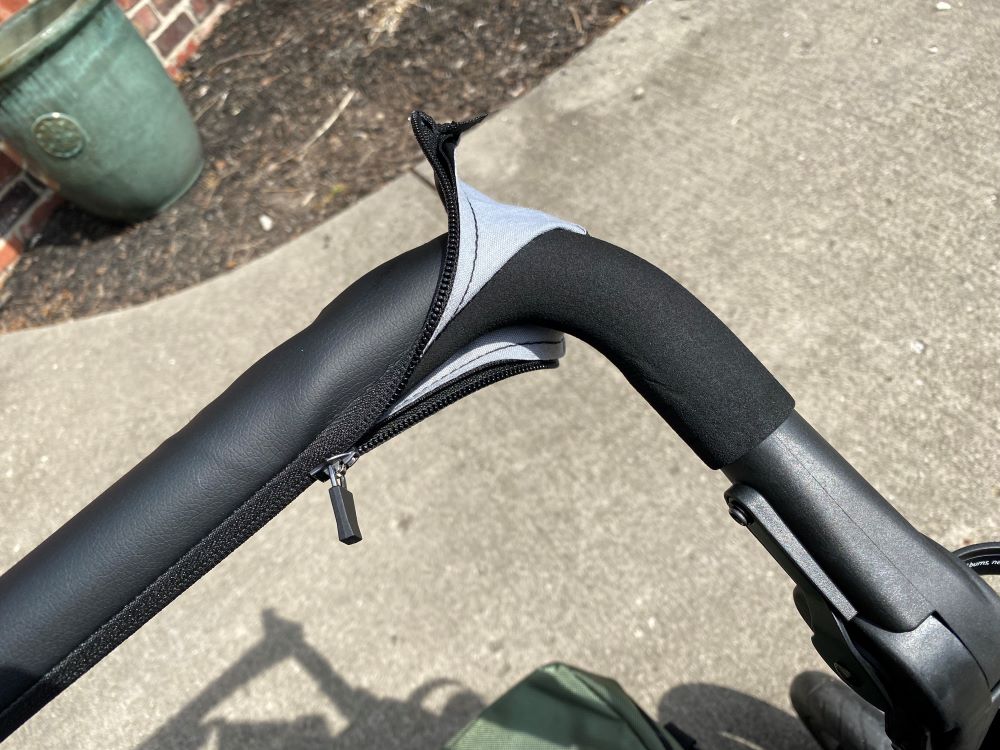 The Evenflo handle can adjust between 37″ and 40″—not as high as the Jeep's handles can raise. While the handle is comfortable, we prefer the feel of the Jeep's handle.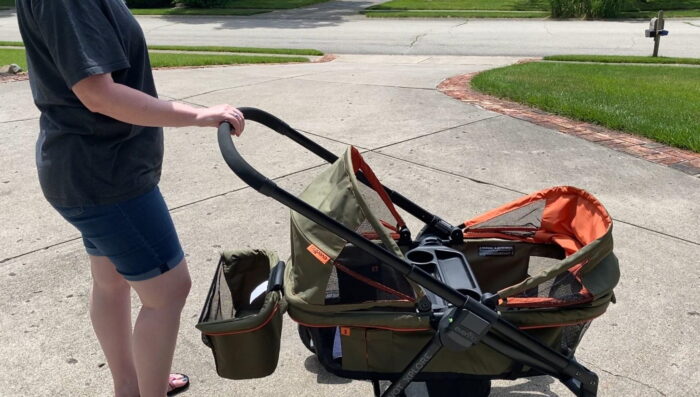 Car Seat Adapter
Unlike the Evenflo, the Jeep came with a car seat adapter that's suitable for Graco, Evenflo, Chicco, and Britax infant car seats. As you can see below, a Chicco Keyfit 30 car seat snaps into the Jeep quite easily.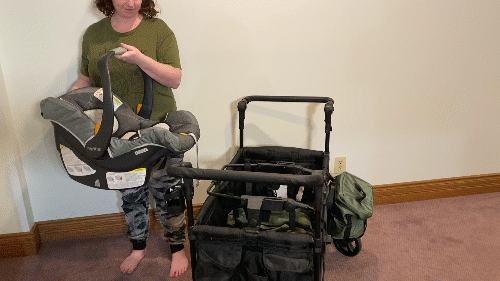 A car seat adapter for the Evenflo Xplore must be purchased separately.
Storage
The Jeep Wrangler has many storage compartments. For example, there is an elastic bag with two big compartments that can be used to store the canopy or for other items like beach towels, toys, etc. Storage ratings:
| | |
| --- | --- |
| Jeep Wrangler | |
| Evenflo Pivot Xplore | |
There's also a hanging storage bag with vertical pockets and a zippered pocket for placing items.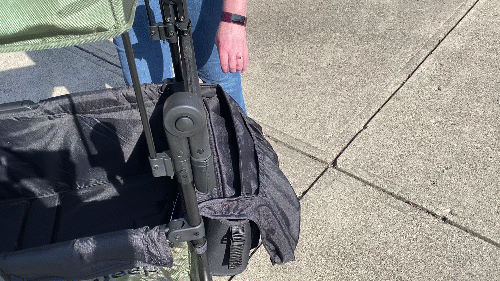 In addition, it comes with an insulated cooler bag that's big enough to hold 16 cans. Parents can hang the cooler bag either on the sides of the wagon or on the end.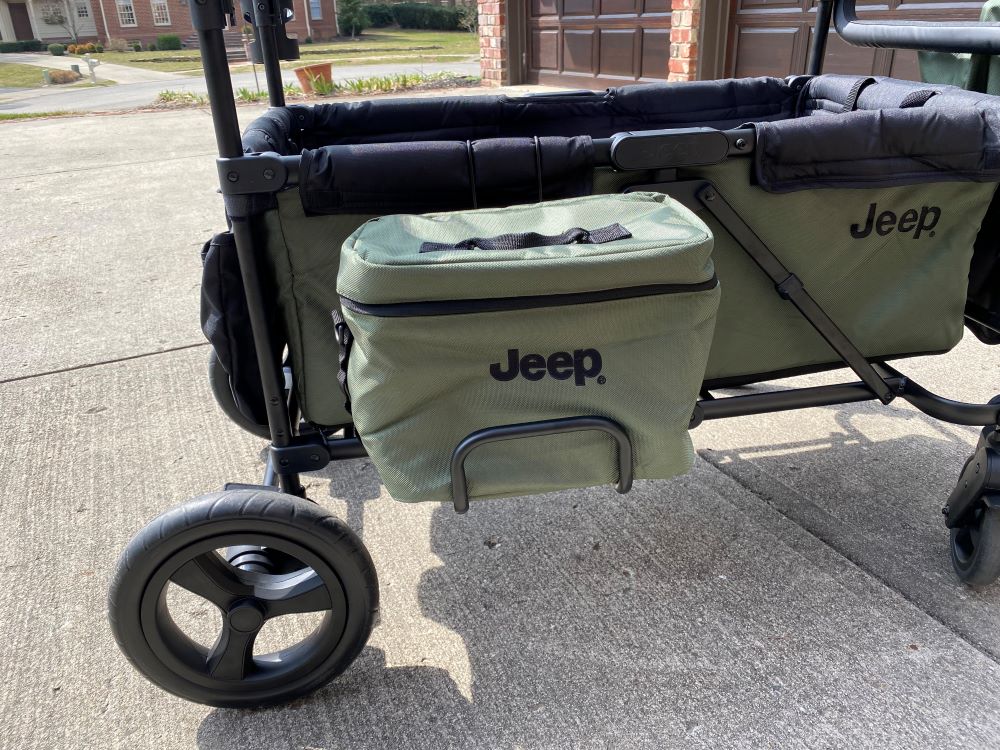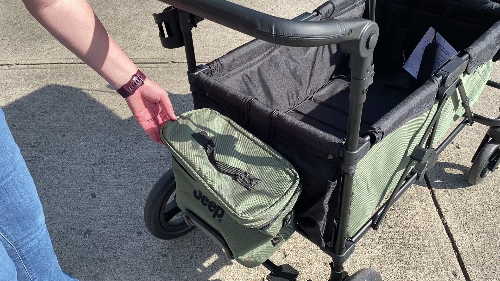 The back of the Jeep features a second storage bag with three compartments—one of the compartments serving as a cup holder.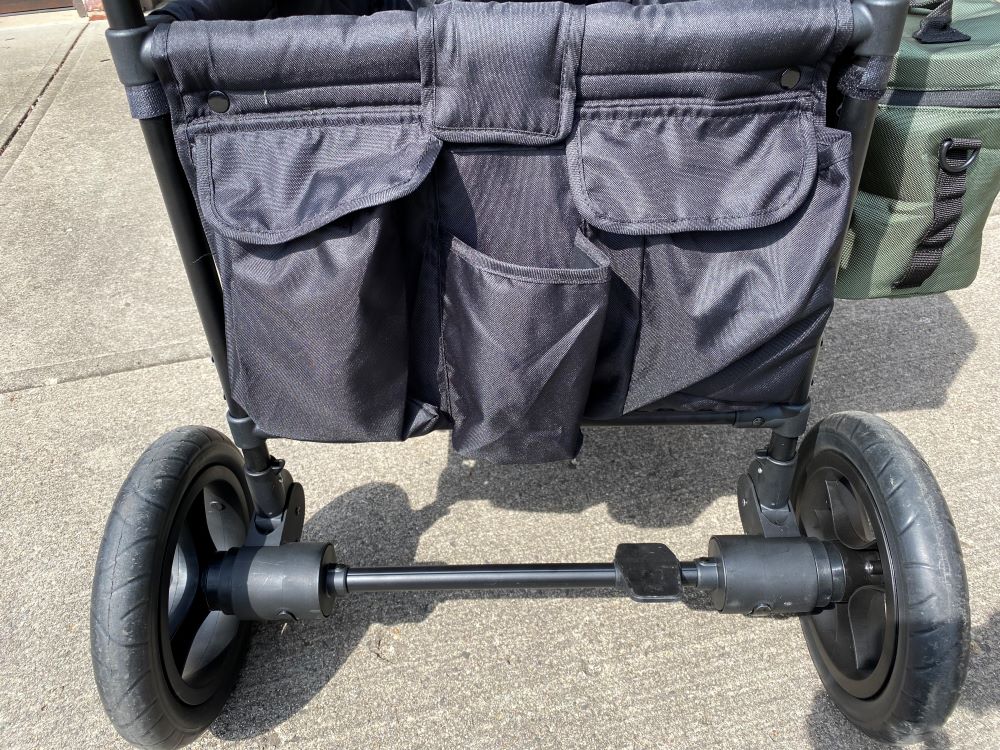 The Evenflo Xplore doesn't have nearly the number of storage options. There is a moderately-sized storage bag under the handlebar. The wagon itself has room to hold items but only if there aren't any kiddos already sitting in it.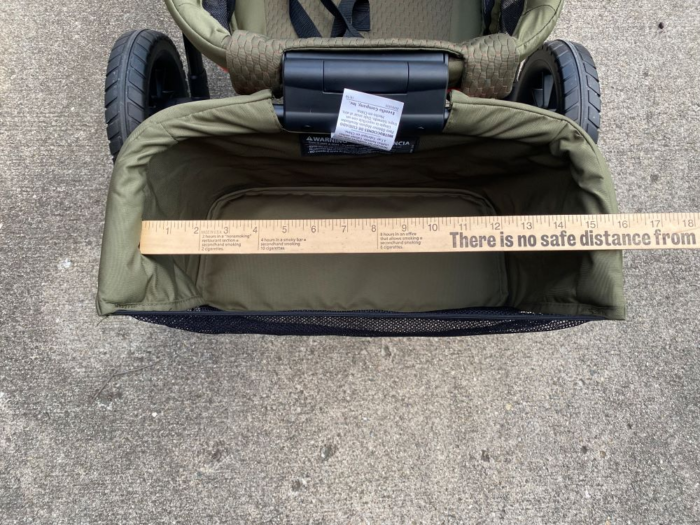 Cleaning Rating
| | |
| --- | --- |
| Jeep Wrangler | |
| Evenflo Pivot Xplore | |
The Jeep scores better than the Evenflo in ease of cleaning. The fabric can be removed and cleaned if needed. The bottom of the wagon is flat with zero-to-few places for crumbs to hide or get caught.
The Evenflo is, in general, also easy to clean. The fabric can be spot-cleaned. The biggest reason why the Evenflo scored lower than the Jeep is because of its footwell. A footwell will generally catch crumbs and dirt, making it a little bit more difficult to clean.
With that being said, a footwell also helps dirt from getting on the seats since feet are in the footwell. This should prevent the seats from getting as dirty as the seats in the Jeep.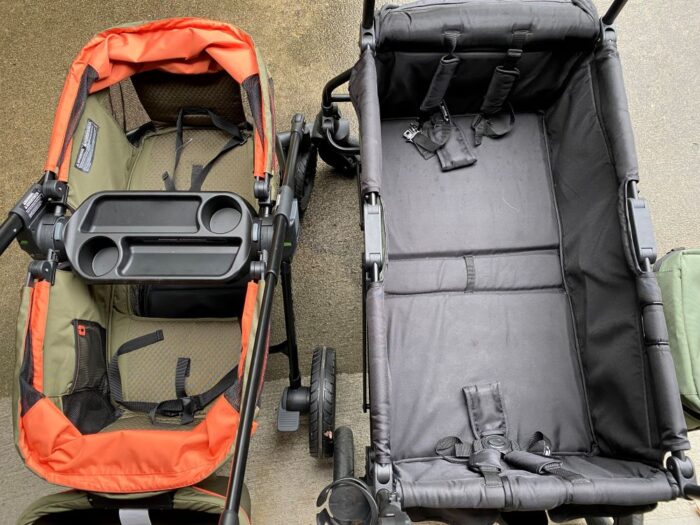 Brake Effectiveness
Both strollers were tested for brake effectiveness and how well the brakes activate and release. Brake effectiveness ratings:
| | |
| --- | --- |
| Jeep Wrangler | |
| Evenflo Pivot Xplore | |
Unlike the Evenflo, the Jeep conveniently has a single brake pedal that operates both of the rear wheels when pushed. It is not difficult to engage the break and the breaks work well. Releasing the brake with only sandals or bare feet is not comfortable, so we recommend doing so with thicker shoes or by hand.
There are also brake locks on the front wheels which is a nice option if you need the wagon to be completely still.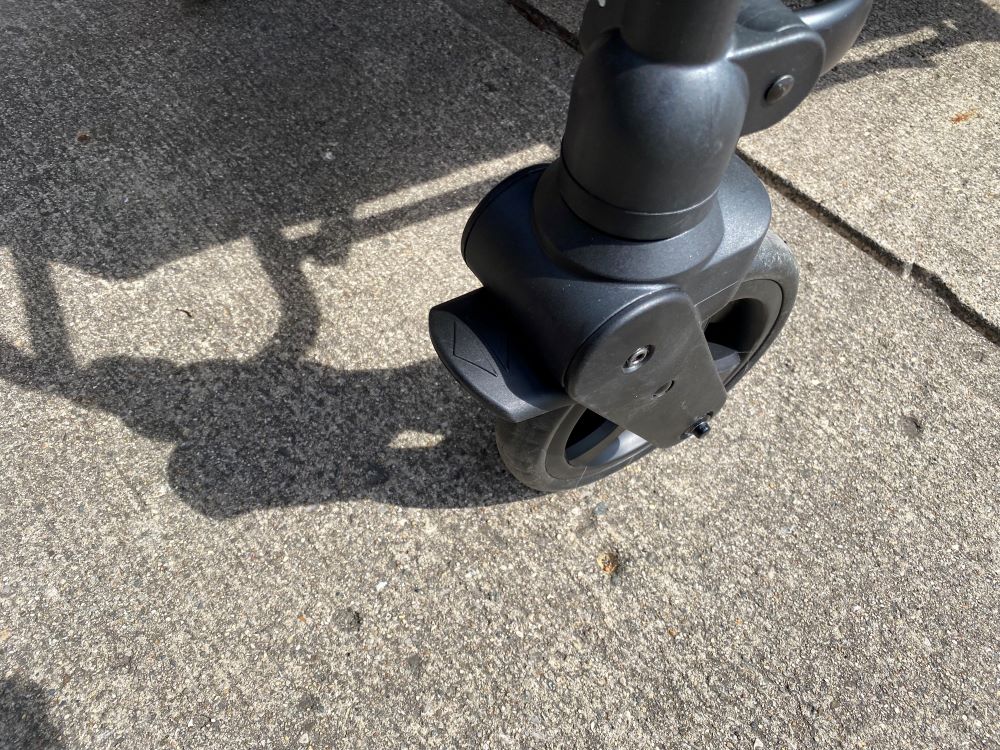 Instead of having one brake pedal that operates both rear wheels, the Evenflo has a brake pedal on each of its rear wheels that must be operated individually.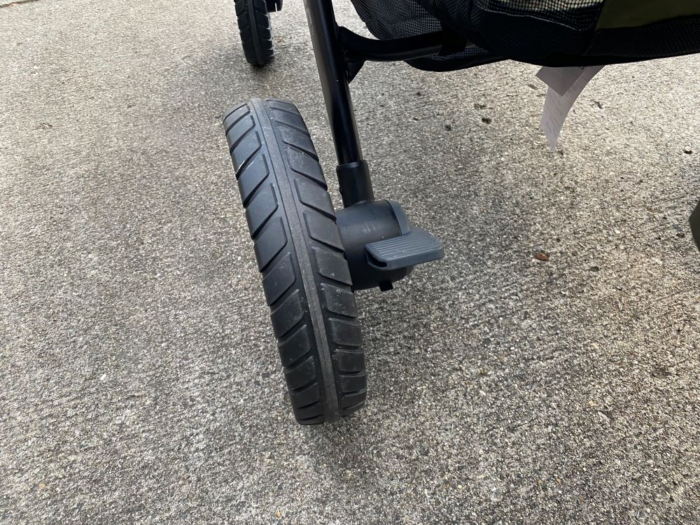 We also recommend wearing thicker shoes to release the Evenflo brakes as it hurt to do so wearing anything less (e.g. sandals).
As for performance, the Evenflo brake was not as reliable braking the first time it was pushed as the Jeep brakes. It also took the wagon a bit longer to stop (with weight inside) compared to the Jeep.
Steering and Maneuverability
For these tests, 40 lbs of weight were placed in the front and back of each stroller wagon, for a total of 80 lbs. We then put them through a series of terrain, steering, and maneuverability tests to compare how they perform.
| | |
| --- | --- |
| Evenflo Pivot Xplore | |
| Jeep Wrangler | |
Pushing and Turning
We measured the force required to get each stroller wagon moving. At 15.4 lbs of force, it took much more force to move the Jeep than the Evenflo.
| | |
| --- | --- |
| Evenflo Pivot Xplore | |
| Jeep Wrangler | |
We also tested the force required to make a 90-degree turn from a dead stop:
| | |
| --- | --- |
| Evenflo Pivot Xplore | |
| Jeep Wrangler | |
The Jeep performed much worse than the Evenflo. Because of the Jeep's design, with wide-set wheels and a longer body, it was more difficult for this stroller wagon to make a 90-degree turn.
Terrain Performance
We wanted to test how well the Jeep and Evenflo performed over a variety of terrains such as grass, hills, and bumpy terrains (rocks, roots, etc.) all while having weight inside. Bump ratings:
| | |
| --- | --- |
| Jeep Wrangler | |
| Evenflo Pivot Xplore | |
Grass: Both stroller wagons did well being pushed over a flat landscape of grass. The only issue was with turning the Jeep; it did not turn easily even on grass.
Hills: It was much easier to push the Evenflo up a hill than it was to push the Jeep. It was also challenging to push the Jeep across a hill horizontally while leaning slightly to the side.
Bumps: Again, the Jeep struggled with being pushed over bumps, roots, and other types of terrain. The Evenflo was much easier to push. For both stroller wagons, we recommend pulling them over tough terrains rather than pushing because it's easier to lift the wheels up.
Wheel Width
| | |
| --- | --- |
| Jeep Wrangler | |
| Evenflo Pivot Xplore | |
Regarding the front wheels, the Jeep and Evenflo wheels are both 8″ in diameter. For width, the Evenflo wheels are 1.9″ wide whereas the Jeep wheels are exceptionally thin at only 1.3″ in width.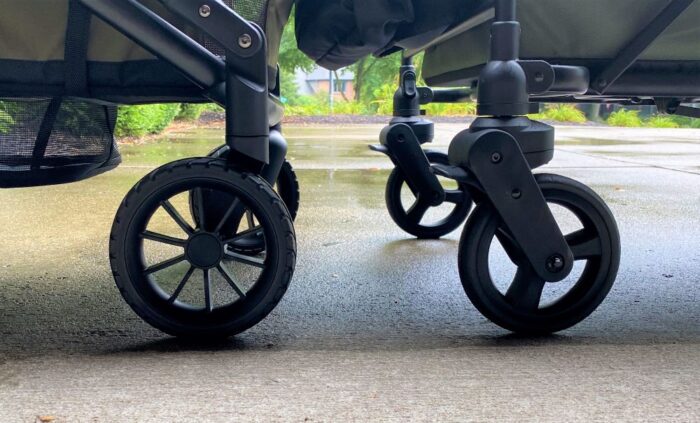 | | |
| --- | --- |
| Jeep Wrangler | |
| Evenflo Pivot Xplore | |
The rear wheels of the Jeep are larger in diameter (12″) than the Evenflo (10.5″) but thinner in width (2″) compared to the Evenflo (2.25″).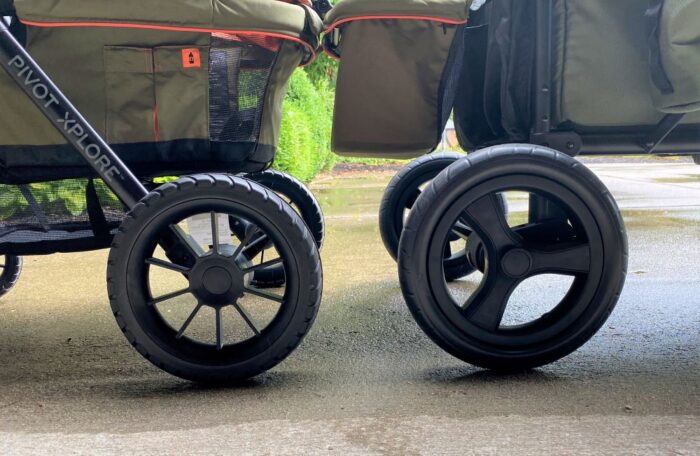 Wheels with large diameters are better suited for going over bumps whereas wide wheels are best for riding over multiple terrains like sand and mud. With this in mind, the Evenflo Xplore is better suited for both bumps and terrains but is not an ideal "all-terrain stroller wagon."
Neither the Jeep nor the Evenflo is considered to be all-terrain because the wheels are not wide or flexible enough to ride over sand or mud without getting stuck. True all-terrain wheels are much wider, around 4″ wide or more.
As for the Jeep stroller wagon, you can purchase all-terrain wheels separately. Evenflo does not currently have this option.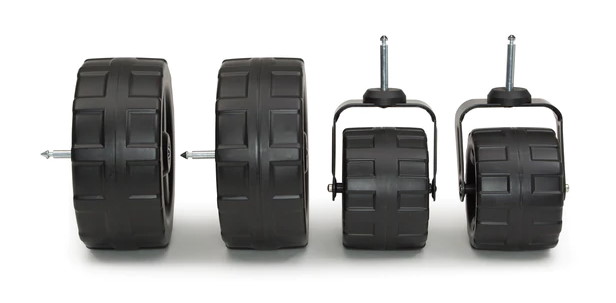 Staying Straight
We tested each stroller wagon's tendency to veer when pushed. While the Jeep pulled to the side easily, the Evenflo remained straight when pushed much better.
| | |
| --- | --- |
| Evenflo Pivot Xplore | |
| Jeep Wrangler | |
Steering
When it came to our maneuverability tests, the Jeep did not perform well at all whereas the Evenflo Xplore maneuvered pleasantly well:
| | |
| --- | --- |
| Evenflo Pivot Xplore | |
| Jeep Wrangler | |
Folding and Transport
While testing each stroller wagon to see how easy it is to fold down and transport, we found that the Jeep struggles because of its large size and heavy weight. The Evenflo is more compact and light, making it easier to fold and transport:
| | |
| --- | --- |
| Evenflo Pivot Xplore | |
| Jeep Wrangler | |
The Evenflo's design allows it to be more easily folded and transported.
Folding Time
| | |
| --- | --- |
| Jeep Wrangler | |
| Evenflo Pivot Xplore | |
For the Jeep, the canopy must be removed first before it can be folded down so we included canopy removal in the fold time numbers. If the canopy is not attached, the Jeep can be folded down in 17 seconds.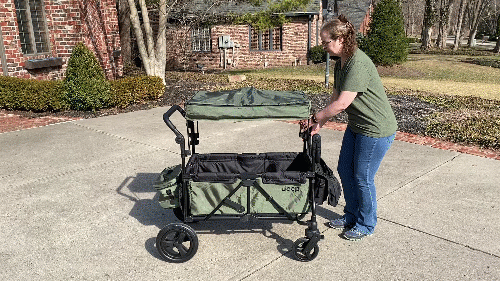 After the canopy is removed, pulling up on the strap in the center is all it takes to fold completely. There is a latch that usually operates on its own to secure the folded stroller wagon.
There's no need to remove a canopy (or any other accessories) on the Evenflo so it can be folded down as is. This took 20 seconds to do.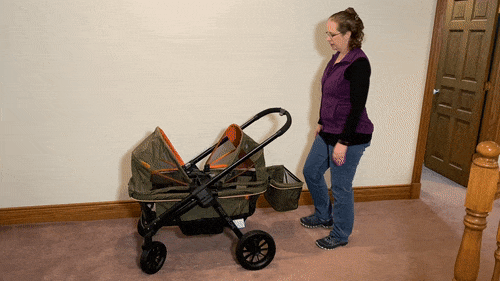 Folded Size in Cubic Feet
| | |
| --- | --- |
| Evenflo Pivot Xplore | |
| Jeep Wrangler | |
As you can see, the folded size in cubic feet for each of the stroller wagons isn't too far off from each other.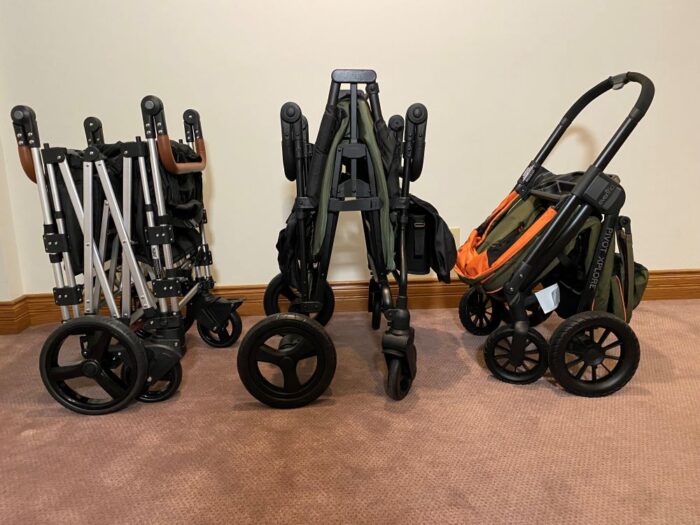 When folded, the Jeep stands firmly and can be rolled easily. The Evenflo wagon isn't as reliable in standing up without moving or falling.
How They Fit in a Trunk
As you can see, the Jeep's large size prevents it from fitting inside the trunk of a sedan.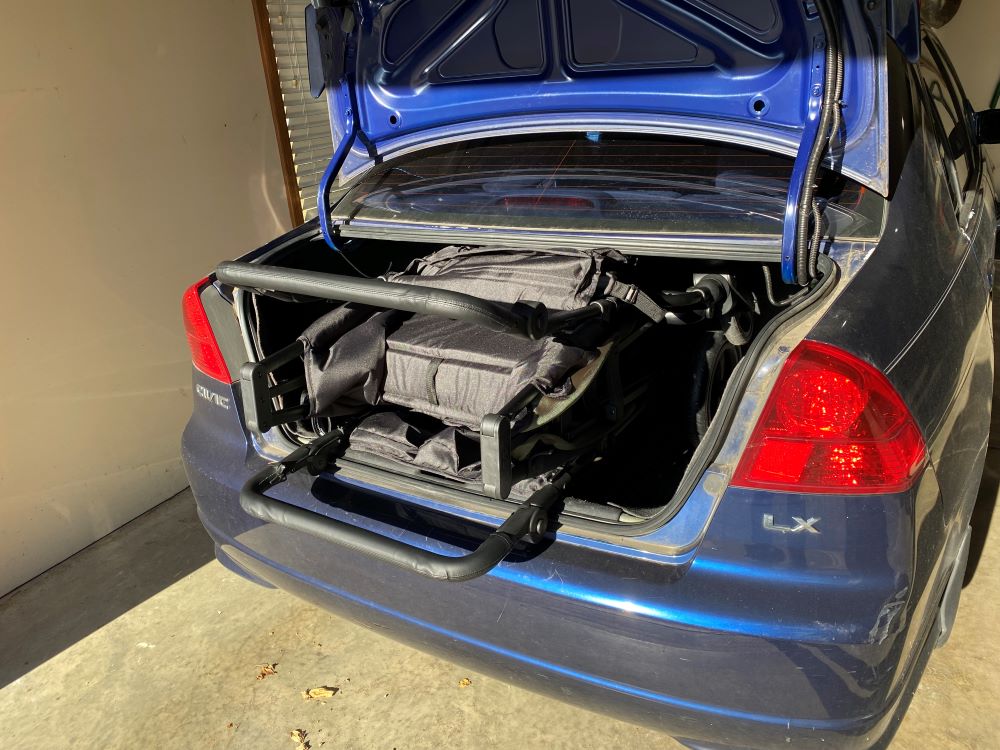 The Evenflo, on the other hand, fit pretty well and left some space for more items to be loaded up.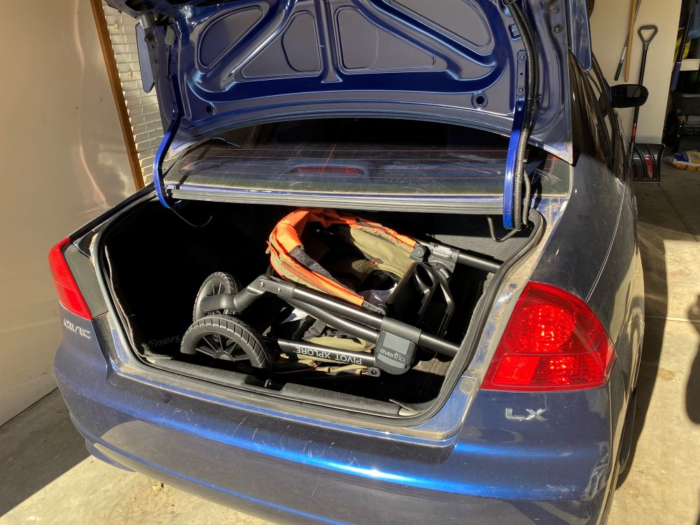 When placed in the back of a minivan, the Jeep fit but its 46.2-pound weight didn't make it easy to pick up and load.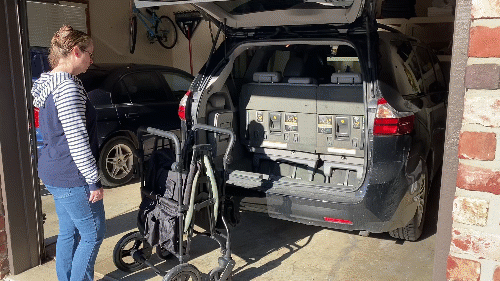 As for the Evenflo, it fits well in a minivan and was much easier to pick up and load.
Kid Comfort and Usability
Kid comfort and usability are huge factors when it comes to stroller wagons. To test this category, we looked at seat comfort, accessories, harness comfort, and more:
| | |
| --- | --- |
| Evenflo Pivot Xplore | |
| Jeep Wrangler | |
Seat Comfort
Because of the Jeep's boxy shape, seats aren't as comfortable and there's no way to recline them. A footwell is not in the design, so legs must be crossed or space must be shared if more than 1 child is in the wagon. Seat comfort ratings:
| | |
| --- | --- |
| Evenflo Pivot Xplore | |
| Jeep Wrangler | |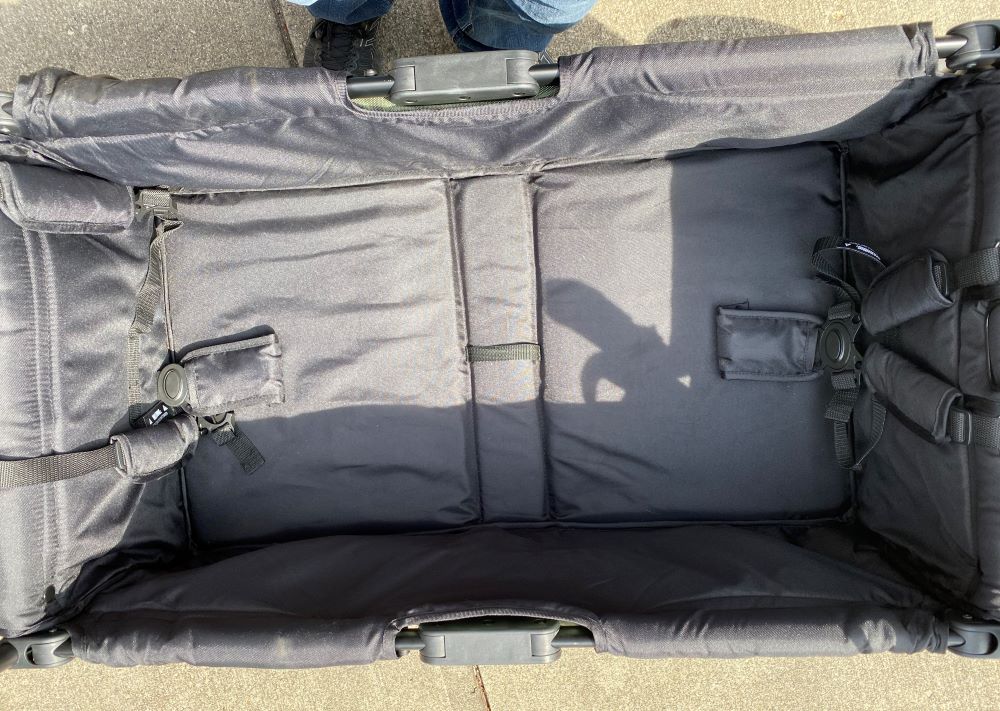 Behind each seat is a bar that children may find uncomfortable if leaned against.
Not only can leg space be an issue with the lack of a footwell, but children are more likely to step in with dirty shoes and therefore have to sit in dirt or mud.
On hot days, the Jeep may feel even hotter since it lacks ventilated sides and the interior is a dark sun-attracting color.
As for the Evenflo Xplore, you can see that the seats look more comfortable because of the padding. Like the Jeep, they also do not recline and there is no ventilation.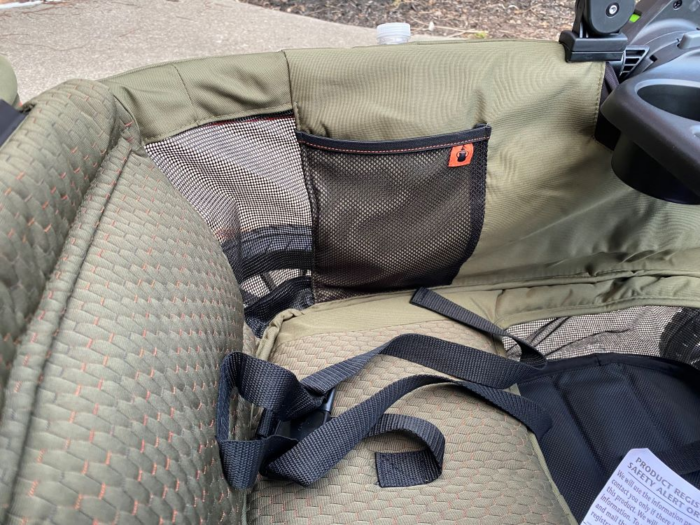 What the Jeep lacks in foot space, the Evenflo offers with its 11″ x 12″ x 3.5″ footwell. There's not a ton of foot space, but the mere presence of a footwell can be helpful when two kiddos are sitting in this stroller wagon.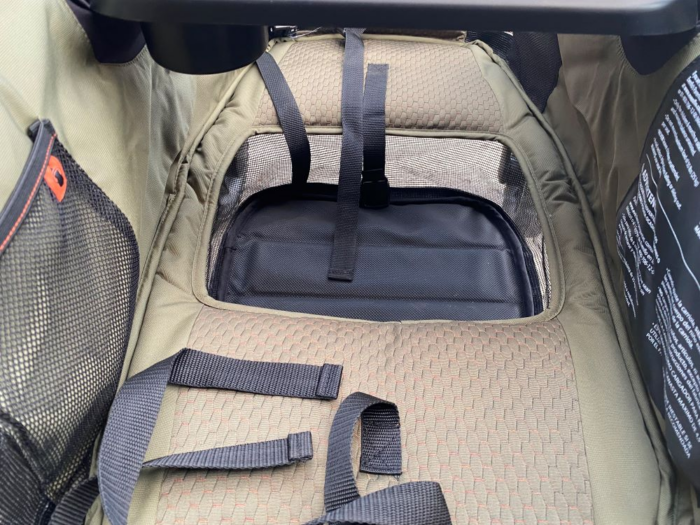 Harness Comfort
The harness in the Jeep is padded to keep kids comfortable and works easily enough. The Evenflo harness is not padded but still easy to use. Harness comfort ratings:
| | |
| --- | --- |
| Jeep Wrangler | |
| Evenflo Pivot Xplore | |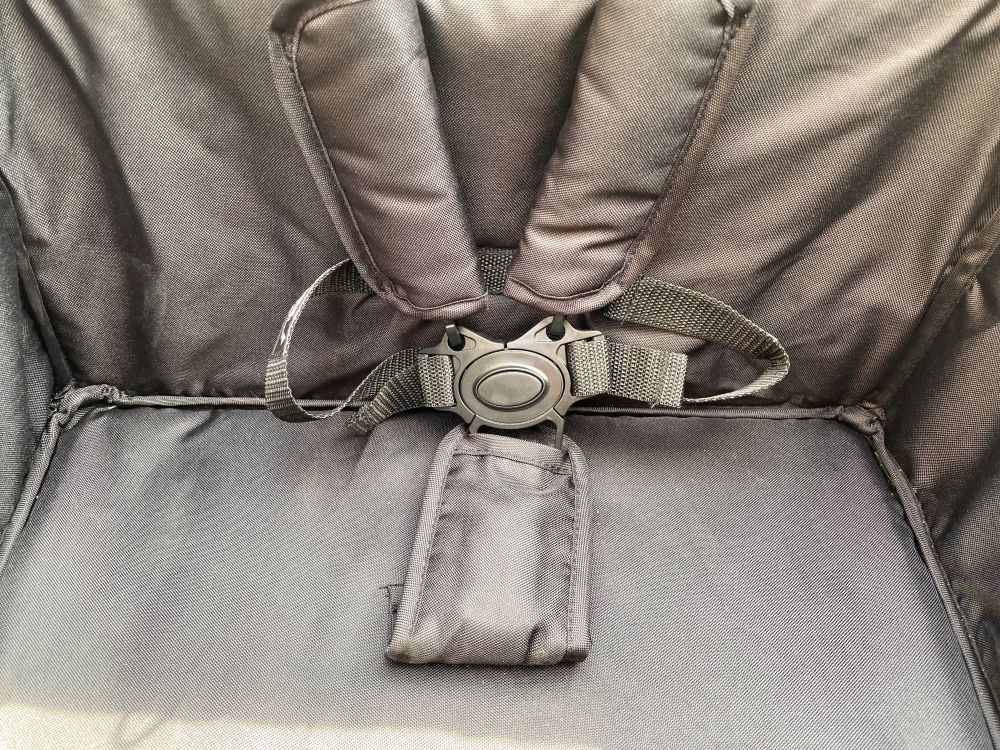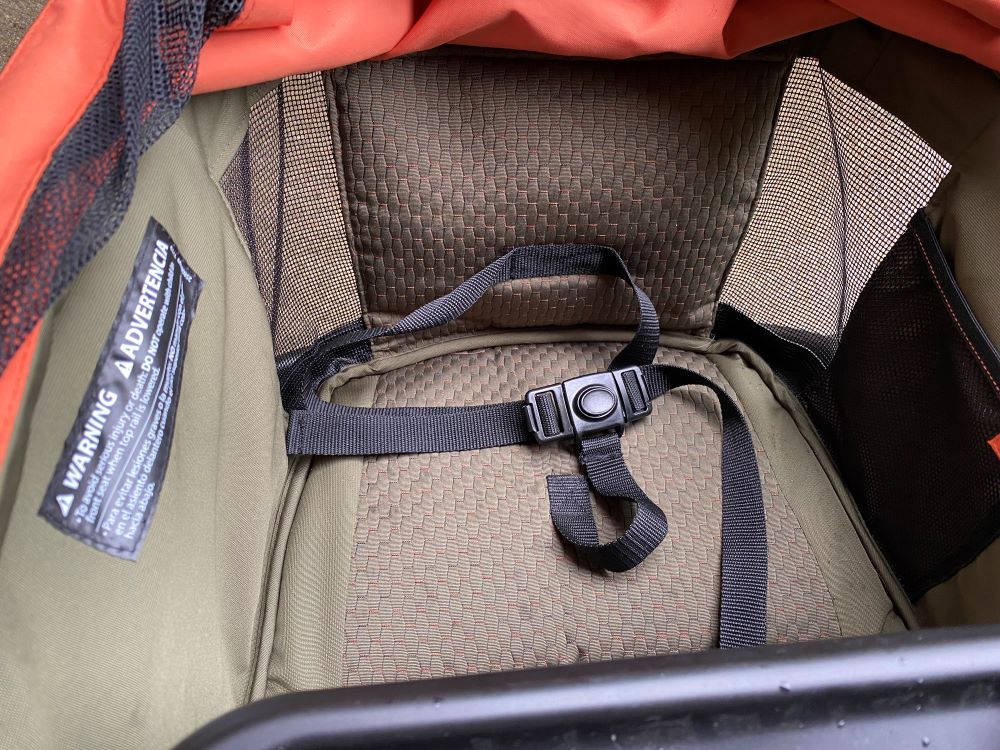 Snack Tray
There's much storage on the outside of the Jeep but internally, it lacks accessories such as a snack tray, kid cupholder, or pockets.
The Evenflo Xplore includes a removable snack tray with kid cupholders. Both the snack tray and cupholders are deep which helps keep cups and snacks in place when on the move.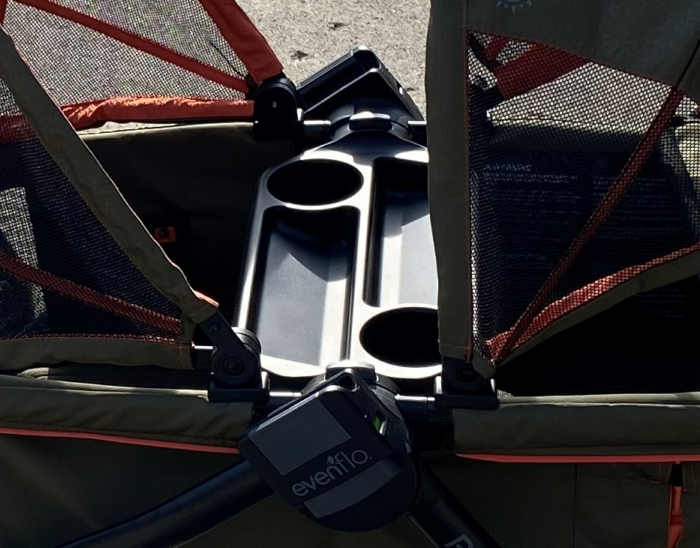 There are also mesh side pockets inside the wagon on each side where items can be placed in.
Inner Wagon Space
| | |
| --- | --- |
| Jeep Wrangler | |
| Evenflo Pivot Xplore | |
The Jeep Wrangler has more inner wagon space inside than the Evenflo Pivot Xplore. It measures 33″ x 18″ x 12″ on the inside whereas the Evenflo measures 30″ x 15″ x 15″.
The sides of the Jeep are shorter in length which is convenient for kids to see out and climb in on their own.
Because the Evenflo isn't as long or wide as the Jeep, there's not as much room for kids to play. The front of the wagon does fold down if younger kids want to climb in themselves. Otherwise, older kids should be able to step in from the outside of the wagon.
Canopy
A nice feature of the Jeep canopy is its ability to pull down over the sides of the wagon as sunshades. Velcro holds them in place to prevent rain and wind exposure.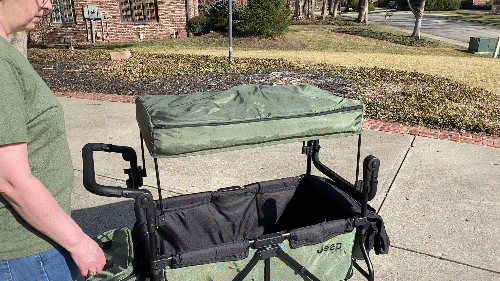 As for the Evenflo Xplore, its dual canopies are easy to open and close. The downfall of these canopies is how easily they can be detached from the wagon, either by kids or when the wagon is being folded and unfolded.
Since the canopies simply slide onto the stroller wagon, there's no worry about velcro, buttons, or zippers breaking.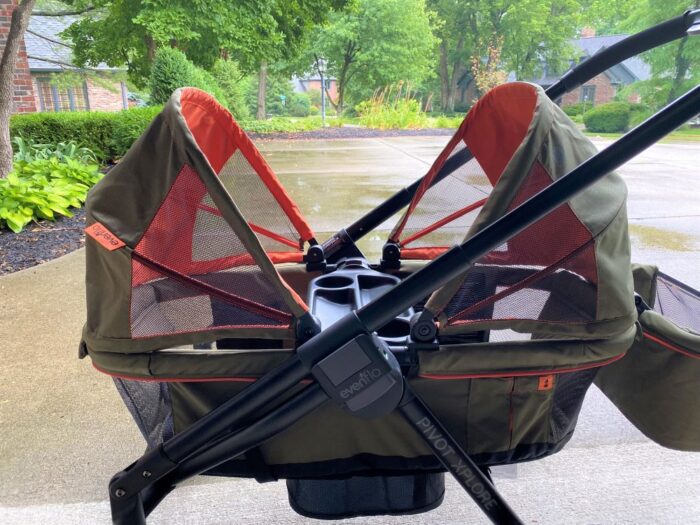 Mosquito Net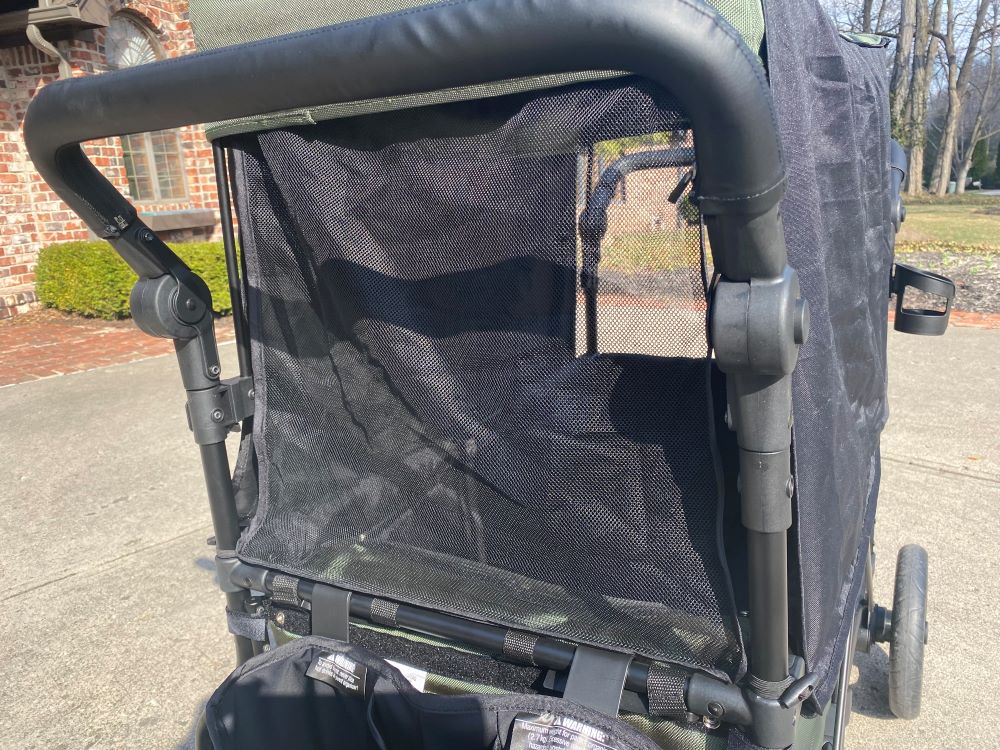 To help prevent mosquitos, the Jeep features netting on each end of the wagon that can be rolled down just like the canopy. There are some openings along the sides of the netting and canopy so it does not block out mosquitos completely.
The Evenflo's design does not include mosquito netting.
Part and Material Quality
The Jeep Wrangler and Evenflo Xplore scored well in part and material quality:
| | |
| --- | --- |
| Evenflo Pivot Xplore | |
| Jeep Wrangler | |
Jeep Wrangler Part Quality
The Jeep arrived well packaged and with all its parts.
The axel assemblies are as expected. The Jeep has spring suspension which helps with the ride, but the Evenflo has none.
There were no issues with any zippers, velcro, and other connectors when we tested them.
Like the Evenflo Pivot Xplore, the Jeeps wheels are made of plastic and rubber. Soft rubber treads seem nice for a comfortable ride, but we noticed after some use the tread became chipped and scarred.
Evenflo Pivot Xplore Part Quality
The Evenflo also arrived with all its parts including tools and spare parts just in case.
Everything was packaged securely and it was easy to follow the manual as it included helpful and clear photos and text.
The body of the Evenflo feels durable and its folding mechanism worked fine for the amount of time we used it.
We noticed the wheels do not have springs or shocks but the axel, wheel, and bearing assembly seem well-made.
As we mentioned before, there is no issue opening and closing the dual canopies. The only problem is keeping the canopies attached to the wagon when it is being folded or unfolded. Children can also easily pull them off the stroller wagon.