We researched and purchased fifteen of the highest rated travel potty seats on the market. We tested them extensively based on their design quality, cleanability, portability, and usability to see which one was the best.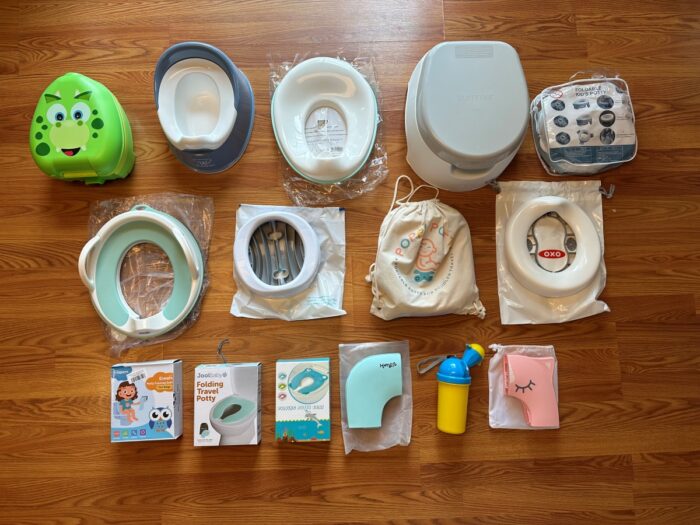 Tested Potties
Editor's Chair Choice

Editor's Seat Choice

Recommended

Recommended

OXO Tot
Homsis Travel Potty Seat
Logie & Gray Poppy Potty
ONEDONE Urinal
Jool Baby Potty Seat
Maliton Green Frog
Hippypotamus Travel Potty
Jool Baby Seat Plus Hook
My Carry Potty
Jool Baby Folding Seat
Summer Infant Play
Kalencom Potette Plus
Gimars Travel Potty Seat
MCGMITT Portable
BabyBjörn
Amazon
buybuyBaby

Amazon

Amazon

Amazon

Amazon

Amazon

Amazon
Walmart

Amazon
Walmart

Amazon

Amazon

Amazon

Amazon
Walmart

Amazon

Amazon

Amazon

Test Lab Score
Bottom Line
Great Product, Top Choice
Handy and great for public restrooms
Great concept, great product
Good product for boys only
Comfortable seat but doesn't fit all toilets
Cute and fun product
Good, budget friendly seat
Handy and easy to store
Great for discreet travel
Good seat for travel
Average product that does its job
Good concept but doesn't hold a lot
Good product with some flaws
Good product with some technical flaws
Travel friendly but small
Advantages
Easy to use and keep clean
Sturdy and comes with pry bar
Portable and easy to clean
Very portable
Easy to clean and includes hanging hook
Cute and easy to use
Cute and budget friendly
Includes handles and hanging hook
Portable and cute
Travel friendly and easy to store
No frills, easy to clean
Easy to keep clean
Very portable, cute design
Great concept, several bags included
Easy to clean
Disdvantages
Only comes with three bag inserts
Seams can pinch
No storage bag
Not usable for girls
Not a perfect fit on all toilets
Fingers can get pinched
Some gapping
Slides around toilet
Very small
Seams can pinch legs
Flimsy plastic
Very small
Not very stable
Legs not very stable
Flimsy and less travel friendly
Potty Chairs vs. Potty Seat Covers
When researching the various portable toilet options on the market, the main types we encountered were freestanding potty chairs and potty seat covers that rest over the top of an adult-size potty. Some of the products we tested were a combination of both.
We tested all of the products using the same scale, with the knowledge that potty chairs would have a scoring advantage in some categories (such as stability), while potty seat covers would have a scoring advantage in other categories (such as portability).
We did like that potty chairs did not have to be used strictly in a bathroom like a seat cover did. However, we also liked that the potty seat covers came with sanitary storage or travel bags and were easy to travel with.
There are pros and cons to both options. When choosing the right style of potty seat for your child, you'll want to take into account where you plan to use the seat, how portable you need it to be, and what you think your child will be the most comfortable with.
| Potty Chair Pros | Potty Seat Cover Pros |
| --- | --- |
| More stable | More portable |
| Toddler can use independently | Doesn't need to be dumped out |
| Lower to the ground | Easier to keep clean |
| Kid-size design | Easier to transition to adult toilet |
| Can use anywhere | Can use in public restrooms |
| | |
Because of the differences in these toilet styles, we picked an editor's choice for both potty chairs and potty seat covers.
Recommended Potty Chair
---
OXO Tot
---
| | |
| --- | --- |
| Design Quality | |
| Cleanability | |
| Usability | |
| Portability | |
---
Our Editor's Choice award and top pick for the best potty chair go to the OXO Tot 2-in-1. It scored the highest in our testing process.
The OXO Tot is a combination of a travel potty chair and potty seat cover. We liked it as both styles, but especially as a freestanding potty chair. It is set up by pulling the legs outward until they snap into place in a standing position. You then slide one of their disposable bags into the opening, pulling the top over the seat and securing the flaps into small inserts on the side.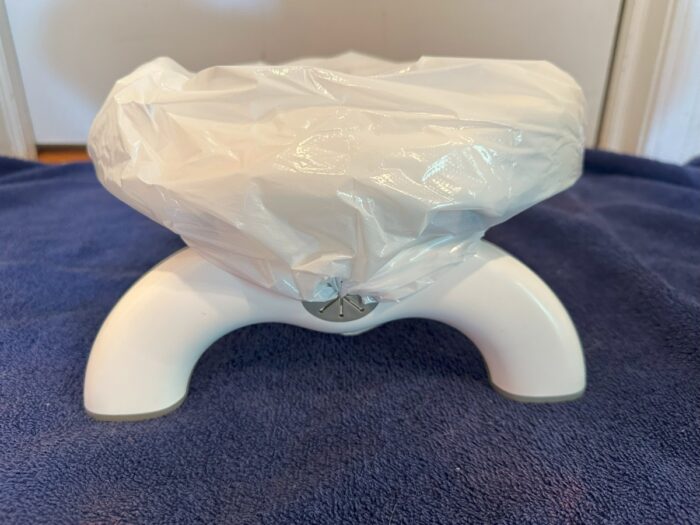 Something we loved about this seat is that the included disposable bags have absorbent pads attached to the inside. This helps catch and absorb urine and makes cleanup easier and much less messy. Once a child is done going potty, the bag can be removed from the seat and disposed of. This helps prevent messes if you have to temporarily keep the bag with you in the car or you aren't somewhere that you can dump it out.
The only issue we had with this potty chair is that it only came with three disposable liners. You would either need to order more or use an alternative bag if you plan to use the chair frequently.
When using the OXO Tot as a potty seat cover, the legs simply extend further outward until they are parallel with the seat. The seat rests on an adult toilet seat, providing a smaller, more secure place for a smaller bottom to sit.
When resting on an adult toilet, the seat is smaller than an average potty chair seat, but the extended legs provide great security against it slipping off the toilet.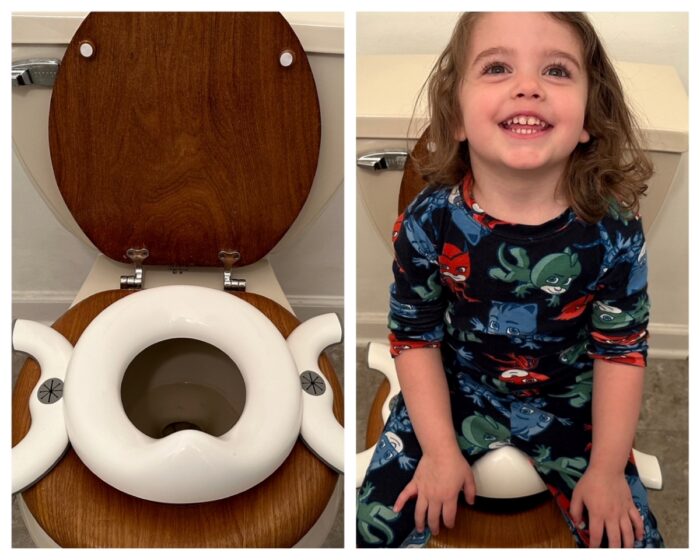 The OXO Tot is very portable and comes with a plastic drawstring bag for easy and sanitary storage at home or on the go. Once you're done with the seat, the legs fold back into the underside and the whole thing slides into the bag. The OXO Tot is only about ten inches wide and less than eleven inches long, so it can easily slide into a backpack, cabinet, or diaper bag.
Our best travel potty chair pick, the OXO Tot, is a great choice for on-the-go families with potty training children. It provides an independent potty chair experience while also allowing kids to use the same, familiar seat when using a standard toilet or public toilet. This can be beneficial, especially when a child is first potty training. Experts say that disruptions to routine (such as travel) can hinder the potty-training process. Having a familiar potty to take on the go can help ease any anxiety a child may feel when out of their typical environment.
Related Reading: Best Portable Highchairs
Recommended Potty Seat Cover
---
Homsis Travel Potty Seat
---
| | |
| --- | --- |
| Design Quality | |
| Cleanability | |
| Usability | |
| Portability | |
---
Our Editor's Choice award for the best potty seat cover belongs to the Homsis Travel Potty Seat.
Seat covers like these are great for kids who are toilet training but need a seat more comfortable to their size.
Though we tested multiple seat covers, the Homsis scored the best in our testing and was by far the most stable.
The Homsis comes in a plastic bag for storage, and folds by quarters to a perfect travel size. Suction cups on the bottom of the seat help stabilize it to the toilet to avoid unwanted slipping. Note that we tested this seat on a wooden and porcelain standard toilet, and the suction cups stuck much better to the porcelain.
There are two seams for folding on each side of the seat, as well as one in the back, which could pose a risk for pinching while a child is seated. However, we felt that because of less movement from the seat due to the suction cups, there was much less risk of the seams opening and closing enough to pinch while in use.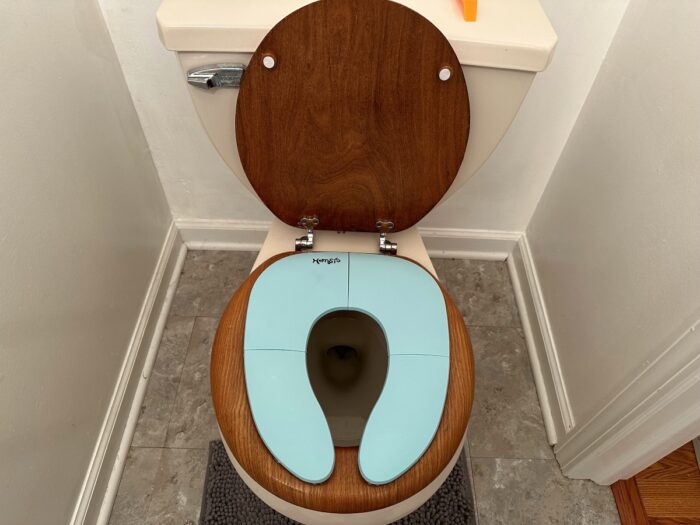 Another benefit to this particular seat is that it includes a pry bar. This plastic bar is used to remove the suction cups from the surface of the toilet seat, making for a much easier and more sanitary removal process. This is especially beneficial if you plan to use the seat when traveling and using a public toilet if you don't want to touch the adult toilet.
When testing this seat's cleanability, we liked that the plastic material was very easy to clean. Some seats seemed to hold drops of liquid, but on this seat's surface, liquid beaded up and rolled easily into the toilet.
Once folded, the Homsis measures to about 7″ tall and 6″ wide, making it very easy to store at home in a cabinet or toss into a suitcase, diaper bag, or backpack for travel.
The Homsis is a great option for families on the go or for parents wanting a stable but easily removable potty seat for their little one who is potty training or newly potty trained.
More Recommendations
---
Logie & Gray Poppy Potty
---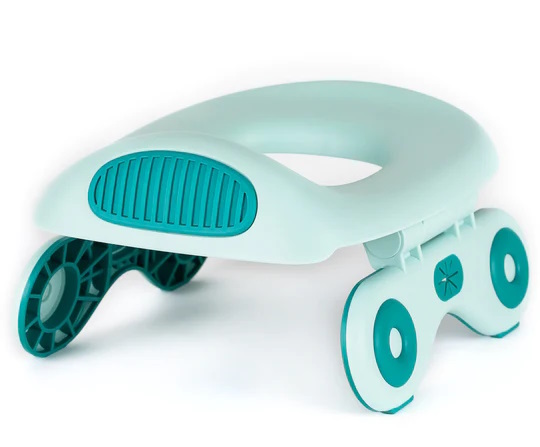 | | |
| --- | --- |
| Design Quality | |
| Cleanability | |
| Usability | |
| Portability | |
---
Another potty seat cover we highly recommend is the Logie and Gray Poppy Potty.
This seat is similar in style to the OXO Tot, being a freestanding potty that uses a disposable bag to catch urine for clean and easy disposal.
This seat does not include absorbent pads in the bags, so you have to be careful of splashing, but the bags are biodegradable and overall very easy to install. The bags also slip over the top of the seat and tuck into openings on the sides of the legs. We thought the bags on the OXO Tot were a little easier to install, but these were still very effective and more came in a package.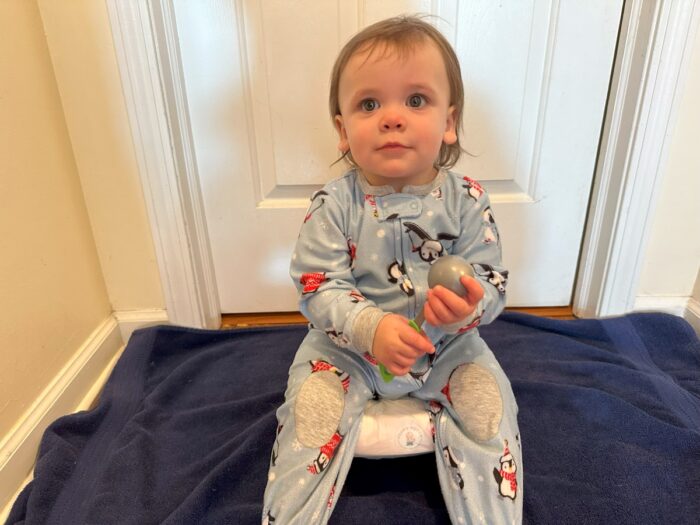 Though the seat is only about 4 1/2″ off the ground, both our one-year-old and three-year-old test subjects seemed to be comfortable sitting on it. Once a child is done going potty, the disposable bag can be disposed of and the Poppy Potty's legs fold inward for it to slip into a canvas storage bag.
---
My Carry Potty
---
| | |
| --- | --- |
| Design Quality | |
| Cleanability | |
| Usability | |
| Portability | |
---
A cute and fun travel option that we tested is the My Carry Potty.
The My Carry Potty can be ordered in a variety of cute, kid-friendly styles and looks like a small suitcase. The seat opens up to have a small potty opening that allows kids to use the restroom from anywhere. This is very helpful during potty training when your little one may not have much control and needs to go quickly.
We liked that this potty chair is cute and very discreet. When traveling with the My Carry Potty, it looks so much like a kid's suitcase that nobody would think twice when seeing it. It's very small when folded at about 10 1/4″ tall, 9 1/4″ wide, and 5 1/4″ deep. It can easily slide into the trunk of a car or even be used as a personal item on an airplane.
Because it sits directly on the ground, we felt that the chair was very stable. However, it is very low to the ground. The seat itself is only about 4 inches off the ground once opened up, so taller kids may have to adjust the way they are sitting to ensure they don't make a mess when going to the bathroom.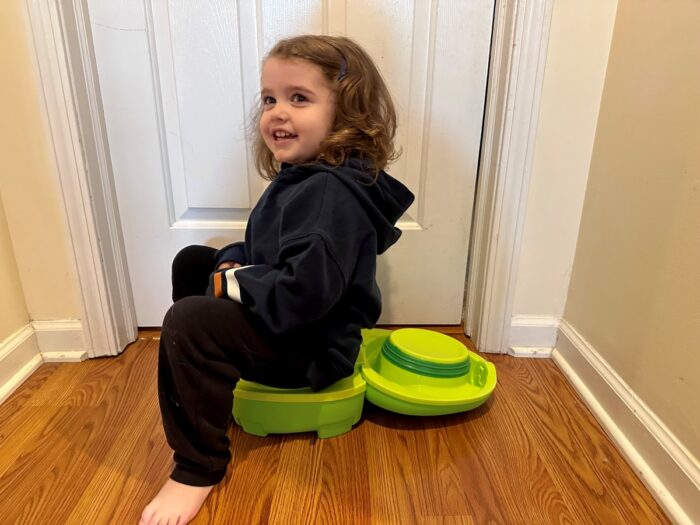 The My Carry Potty includes a locking mechanism and a leakproof seal to keep contents trapped inside. When we tested the chair, we poured juice inside, closed it and shook the folded container around without any leaking. We wouldn't necessarily recommend keeping the liquids inside if you do have the capability to dump it, though.
This is a seat that kids will love to pick out and use. Besides the dinosaur theme that we tested, the seat can be ordered in other animal designs like a ladybug, fox, or penguin, or also in solid colors like pink or blue.
This was the highest price option we tested a little over $30, so you will want to make sure it fits your needs and lifestyle before purchasing.
Value
Potty seat covers and travel potty chairs, in general, are not very expensive products. The prices of the potties we tested ranged from around $10 to the mid $30 range, with an average of around $15-$20.
Standalone potty chairs tended to price a little higher than the seat covers, with the most expensive option being the My Carry Potty. We did not really think that the price point affected the quality of the products, as there were many great choices in a range of prices, giving you lots of options when it's time to potty train.
A potty seat can make a great, budget-friendly gift option for a baby registry or baby shower.
Product Price Performance
Why You Can Trust Us
Our team of professionals has researched hundreds of children's products over the past seven years. We have used much of the baby gear ourselves as parents and grandparents.
Our team extensively researched the most popular travel potty seats on the market. After purchasing the products, we read multiple buyer's guides to find out exactly what people are looking for when shopping for a travel potty.
In addition, we read hundreds of critical customer reviews of the highchairs to learn common complaints. We based our extensive testing criteria on all of these findings.
We purchased all the products in this review at retail prices and did not receive any incentive or compensation from manufacturers. All recommendations and opinions are strictly our own.
How We Tested
Some of the most common complaints we noted when researching these potty seats are that they are unstable, difficult to clean, and too big or small.
Other common complaints were that they trapped a lot of urine or that they pinched kids' legs when seated.
Based on this information, we geared our testing criteria toward four different categories:
Design Quality (30%)
Cleanability (30%)
Portability (20%)
Usability (20%)
We set up each individual seat and performed a myriad of tests on them to determine the best overall chairs and seat covers.
Product Ratings, Tests and Specs
Editor's Chair Choice

Editor's Seat Choice

Recommended

Recommended

OXO Tot
Homsis Travel Potty Seat
Logie & Gray Poppy Potty
ONEDONE Urinal
Jool Baby Potty Seat
Maliton Green Frog
Hippypotamus Travel Potty
Jool Baby Seat Plus Hook
My Carry Potty
Jool Baby Folding Seat
Summer Infant Play
Kalencom Potette Plus
Gimars Travel Potty Seat
MCGMITT Portable
BabyBjörn
Amazon
buybuyBaby

Amazon

Amazon

Amazon

Amazon

Amazon

Amazon
Walmart

Amazon
Walmart

Amazon

Amazon

Amazon

Amazon
Walmart

Amazon

Amazon

Amazon

Test Lab Score
93
90
90
88
86
86
82
82
82
79
78
77
73
73
69
Design Quality
Cleanability
Usability
Portability
Specifications
Stability Rating
10
9
9
9
7
8
8
7
9
7
7
6
6
6
5
Juice Test Rating
9
9
9
9
9
8
7
8
8
8
8
7
8
7
8
Cracks and Crevices Rating
9
8
9
8
9
8
7
8
7
7
8
8
7
6
7
Cleanliness Rating
9
9
9
8
9
9
7
9
7
7
9
9
8
7
8
Set Up Rating
9
10
9
10
10
10
9
10
9
8
10
8
8
8
10
Child Comfort Rating
9
7
8
9
9
8
9
9
6
7
8
7
0
8
6
Travel Friendly Rating
10
10
10
10
8
10
10
8
10
10
7
9
10
9
6
Storage Rating
9
10
9
10
10
10
10
10
9
10
6
9
10
9
6
Testing Categories
Design Quality
In this category, we tested the design aspects of each potty. We set up each one and had a child sit on it to test its stability. We took into account if it had any stabilizing elements, such as grip pads or suction cups. A child should feel secure when using the restroom, and many critical reviews complained that kids felt like they were going to fall when using a potty seat.
We also tested the practicality of the design in this category, noting if it was too bulky to really be considered "portable," if it had seams on the seat that could pinch a child's legs, or if a child could easily slip their fingers under the seat and pinch them.
For example, we liked the Maliton Green Frog potty seat a lot, but the front ends could easily be pulled up and one of our test subjects did slip her fingers underneath and get pinched.
Here are the overall scores in the Design Quality category:
| | |
| --- | --- |
| OXO Tot | |
| Logie & Gray Poppy Potty | |
| Homsis Travel Potty Seat | |
| ONEDONE Urinal | |
| My Carry Potty | |
| Hippypotamus Travel Potty | |
| Jool Baby Potty Seat | |
| Maliton Green Frog | |
| Summer Infant Play | |
| Jool Baby Seat Plus Hook | |
| Jool Baby Folding Seat | |
| Kalencom Potette Plus | |
| MCGMITT Portable | |
| Gimars Travel Potty Seat | |
| BabyBjörn | |
We were pleased with the features of many of the seat covers. Some, like the Jool Baby Foldable and the Homsis came with suction cups to secure the cover to the toilet seat. Others, like the Gimars and the Maliton came with rubber pads to help stop sliding.
The Hippypotamus included bands that slid over the seams of the seat to protect a child's legs and bottom from getting pinched. This was a feature we wish was included on more of the seat covers.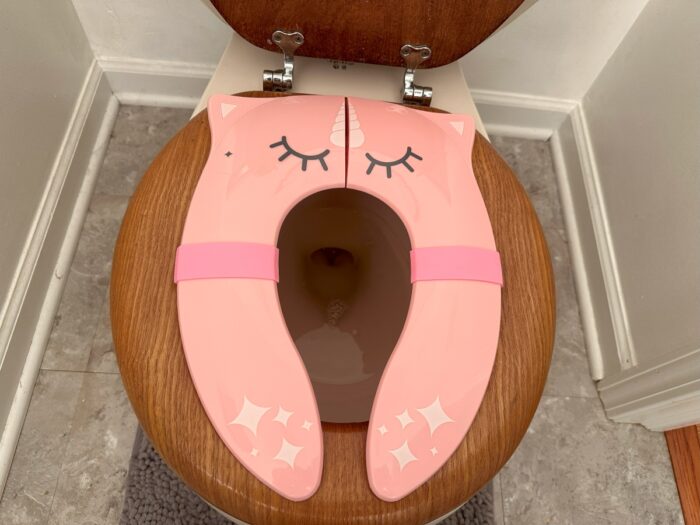 Generally speaking, the freestanding potty chairs were more stable than the seat covers since they sit directly on the floor and are low to the ground. We did notice, though, that the chairs tended to be very low to the ground and were not always as comfortable.
We also noted whether or not potties that may hold liquid would leak. One such style of potty is the OneDone Urinal. This cute, boys-only cup includes a funnel that slows down any potential leakage. When we filled the urinal with liquid, closed it, and shook it up, a few drops leaked out, so we would recommend dumping it as soon as possible, but it does well at keeping liquid contained under normal conditions.
Cleanability
In this category, we tested each potty to see how easily it could clean when taking on inevitable messes. To keep things sanitary, we used a squirt bottle of apple juice and sprayed it on and in the seats. We tested if the chair potties were easy to empty or dispose of messes. Potties that have cracks or crevices that trap urine are more difficult to clean.
A couple of seats, like the OXO Tot, included absorbent pads in their disposable bags. We liked these better than potties with just plain bags because the absorbent pads prevented splashing and made clean-up much easier. All of the seats with any kind of bag, though, were very easy to keep clean.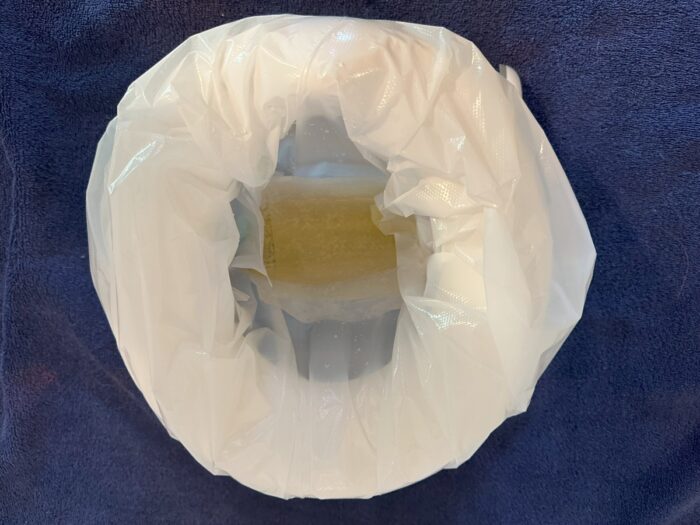 Seats like the BabyBjorn Smart Potty and the Summer Infant Play had removable bowls that could be easily dumped into a toilet after use. We did find, though, that seats like these tended to have crevices where the bowl met the seat that could catch liquid and either drip or be harder to clean up.
Standard potty seat covers that simply rest on the top of an adult toilet seat were overall the easiest to keep clean since they are not collecting any waste themselves. There was also less splashing with these kinds of seats, since there was more distance between the seat and bowl than with a shorter potty chair.
Something else we took note of was whether or not a potty included a splash guard. Many critical reviews complained that they didn't feel like their boy could easily use certain seats because of the lack of a splash guard. Many of the portable toilet seats did not include a splash guard since several of them folded into quarters and were open at the front. All of the non-folding seats did include splash guards.
We were pleased that most of the potties did wipe clean pretty easily with a damp cloth.
Portability
In this category, we tested to see if the potties could easily be used in travel.
Most of the seat covers came with some kind of storage bag. These not only helped keep them contained but also helped keep things sanitary by keeping the seat folded into a clean, confined space.
The folding potty seat covers were by far the most portable option we tested. Those particular seats fold to a quarter of their unfolded size and can easily slip into a diaper bag, backpack, or even the seat pocket of a car.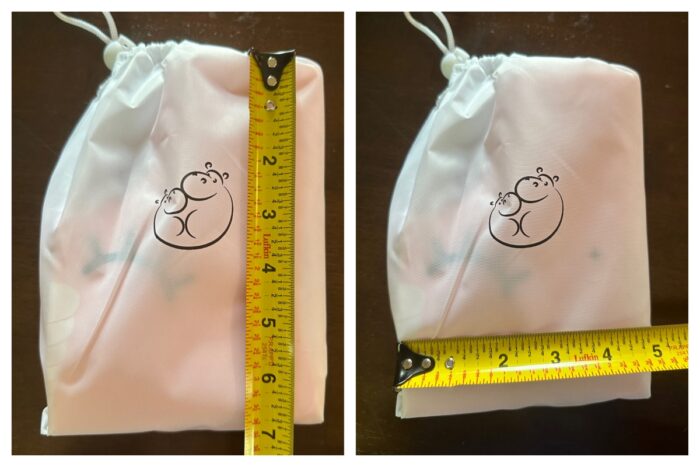 Though a portable toilet seat is certainly more travel-friendly than a freestanding chair, the chair-style potties did have decent portability. They could all easily fit in the trunk of a car for use on the go.
Even some of the non-foldable options came with carry bags for easy transport. The Logie and Gray Poppy Potty, though a freestanding potty chair, folds into a compact circle that slides into a canvas drawstring bag for travel and storage.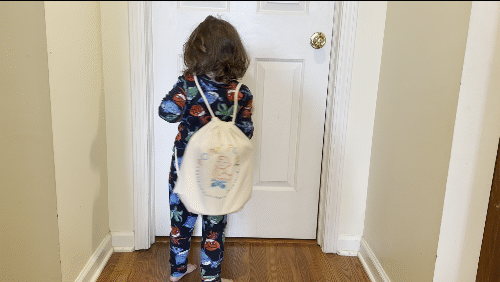 Usability
In the usability section, we tested how user-friendly each of the potties was. We set them all up, had children sit on them, took them down for storage, and determined their universality.
Most of the potties were pretty easy to set up and did not have very many components. The only ones that required much assembly were those that included disposable urine bags, and that setup process is generally very simple.
Here are the usability rankings for each seat:
| | |
| --- | --- |
| Jool Baby Potty Seat | |
| Jool Baby Seat Plus Hook | |
| Summer Infant Play | |
| OXO Tot | |
| Maliton Green Frog | |
| Homsis Travel Potty Seat | |
| ONEDONE Urinal | |
| Hippypotamus Travel Potty | |
| BabyBjörn | |
| Logie & Gray Poppy Potty | |
| Jool Baby Folding Seat | |
| MCGMITT Portable | |
| My Carry Potty | |
| Kalencom Potette Plus | |
| Gimars Travel Potty Seat | |
We had child test subjects sit on each of the seats to see if they were size appropriate and comfortable. A lot of the potty chairs, like the BabyBjorn and the My Carry Potty were very low to the ground, and the test subjects, especially the three-year-old, seemed a little uncomfortable.
The seat covers did not have the issue of being too low to the ground, but if they slid around at all on the regular toilet, the children did not seem as comfortable sitting on them. We felt that the Gimars and the Kalencom when folded out slid around on the toilet the most.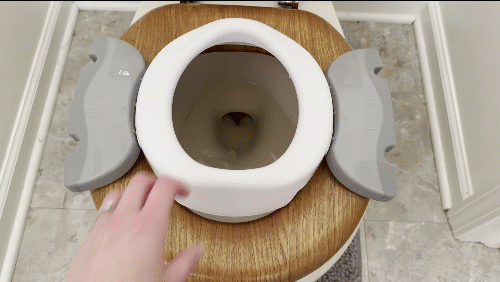 We tested the disassembly of each potty, especially the seat covers, to see the process. If you had to touch the actual toilet to remove the seat cover, we docked a few points. This was a common complaint among critical reviews, as people wanted to avoid touching the toilet, especially in public restrooms. Seats like the Homsis with its pry bar scored higher in this area.
Finally, we tested the universality of each potty, both in gender usability as well as how seats fit on various types of toilets. Certain ones, like the OneDone Urinal, scored lower in this area because it cannot be used by both boys and girls. However, the OneDone can be ordered in styles suitable for girls. Our preference is potties with features like splash guards or that can easily be used on toilets of different shapes.
Travel Potty Seat Safety
We are not aware of any credible research on the safety of travel potty seats, nor are we aware of any statistics directly related to accidents or injuries while using one. We did find one seat that was recalled because of lead paint many years ago.
When testing these products, though some slipped around a bit, we did not feel that the designs of any of the potties were unsafe. All of the potty chairs were low enough to the ground to prevent danger, and even the seat covers that slipped some never felt like they would fall into or off the adult toilet.
For any seats that have included instructions, is it important that parents follow the directions when setting up the travel potties. Additionally, regardless of the safety measures taken by manufacturers, an adult should remain nearby for safety while a child is using a travel potty.