We purchased the LILLEbaby Complete All Seasons baby carrier to test it against thirteen other top ranked baby carriers on the market. The LILLEbaby is a solid baby carrier with a few drawbacks, but overall fared well in our extensive testing process, with high scores the versatility, design quality, and comfort categories, but a lower score in the usability category.
---
LILLEbaby Complete All Seasons
---
| | |
| --- | --- |
| Comfort | |
| Versatility | |
| Design Quality | |
| Usability | |
---
How it Compares
The LILLEbaby Complete All Seasons is a standard backpack style, soft structured carrier. It has a variety of carry options and a very versatile size range of children it can carry.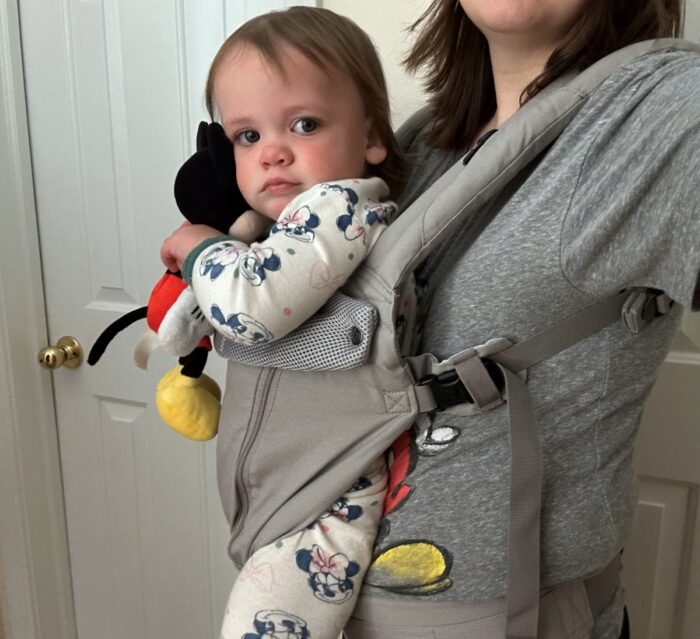 Most Common Complaints
When testing the LILLEbaby carrier, we read through the online critical reviews of the carrier to find the most common complaints. Three complaints in particular we agreed with:
| Review Criticism | Our Experience |
| --- | --- |
| Hard to set up | We had trouble getting the carrier set up the first time. We ended up having to look up a video online to get help setting it up. The instructions are not very clear |
| Straps are bulky | We did feel that the straps were bulky and tended to bunch in the back due to their size |
| Uncomfortable material | We agree that the material was not very soft |
These criticisms were not dealbreakers for us in any way. Once we were able to figure out the carrier's set up, it was much easier to navigate. The initial set up was the greatest challenge, particularly figuring out how to adjust the seat.
The bulky straps, though a bit cumbersome, were well padded. We did not like that they bunched up some in the back, and though we prefer a thinner shoulder strap, these were soft and comfortable to wear.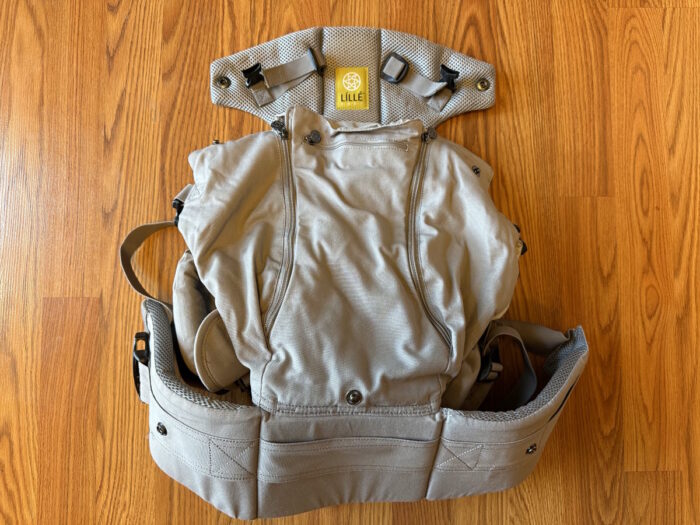 The material is made up of cotton and polyester. The inner portion of the carrier is mesh and the outer portion is a somewhat rougher cotton. Though the material was not as soft as some of the other carriers we tested, we didn't specifically find it uncomfortable.
Testing and Research
We researched the highest-ranked baby carriers and purchased the top fourteen to test and compare. We read several buyer guides and critical reviews to determine the best criteria to test the carriers. From testing the comfort to comparing the versatility of each carrier, we put each of them through several tests to determine which would come out as the best baby carrier.
| | |
| --- | --- |
| | |
| | |
| | LILLEbaby Complete All Seasons |
| | Amazon |
| Test Lab Score | 82 |
| Comfort | |
| Versatility | |
| Design Quality | |
| Usability | |
| Specifications | This Product |
| Adult Comfort Rating | 8 |
| Child Comfort Rating | 8 |
| Wearability Styles Rating | 10 |
| Child Size Rating | 9 |
| Security Rating | 9 |
| Support Rating | 9 |
| User Friendly Rating | 7 |
| Minutes to Set Up | 11 Minutes |
| Instructions Rating | 6 |
| Min/Max Weight | 7lbs to 45lbs |
| Carry Positions | Front Fetal, Infant Inward, Ergonomic Outward, Toddler Inward, Hip Carry, Back Carry |
| Material | Polyester/Cotton |
| Included Accessories | Removable sun hood |
| Notable Features | Temperature control panel |
| Care Instructions | Machine washable |
Related Reading: Baby Carrier Reviews
Usability
Usability was the lowest scoring category for the LILLEbaby in our testing process. It took us around eleven minutes to get it set up the first time and we had to look up a video online to walk us through it. Adjusting the seat width was the main thing that we struggled with.
Though the instruction manual is fairly extensive, the illustrations that they use are a little unclear, particularly for more detailed actions like seat adjustments. Some written instruction along with the illustrations would have helped a lot in making the manual easier to understand.
Another complication with the seat adjustment is the need to remove the lumbar support piece when adjusting the seat, as the strap slides through the adjuster. This is not a major issue as you should only have to adjust it a couple of times total, but it is a minor inconvenience.
Once you get used to using the LILLEbaby, the adjustment features become easier and more second-nature. There is a bit of a learning curve, however, so make sure you are taking the appropriate time to familiarize yourself with the process to ensure you and baby stay safe while using the carrier.
Versatility
With six carrying options, the LILLEbaby was one of our highest scorers in wearability styles:
| | |
| --- | --- |
| LILLEbaby Complete All Seasons | |
| Ergobaby Omni 360 | |
| Ergobaby Omni Breeze | |
| Graco Cradle Me 4 in 1 | |
| Baby Tula Coast Explore | |
| YOU+ME Baby Carrier | |
| Infantino Flip Advanced | |
| Tushbaby Hip Seat | |
| BabyBjörn Harmony | |
| BABYBJÖRN One Air | |
| MOMTORY Baby Carrier | |
| BabyBjörn Mini | |
| Boba Baby Carrier Classic | |
| TBG Men's Tactical | |
The carrier offers a variety of different carrying positions: three inward facing carries (fetal, newborn, and toddler), as well as an outward facing carry, a back carry, and a hip carry.
The fetal carry and infant carry position are fairly similar, with the main difference being the seat position. However, do note that in order to use the fetal position carry, you must separately purchase an infant pillow seat that inserts into the carrier. We did find this requirement a little frustrating, however, the infant carry and fetal position carry can both be used starting at 7lb, so there is still an option for a newborn baby without making a separate purchase.
The LILLEbaby also offers a good range of child sizes for carrying. A newborn baby as small as 7lbs can use the carrier, all the way up to kids weighing 45lbs.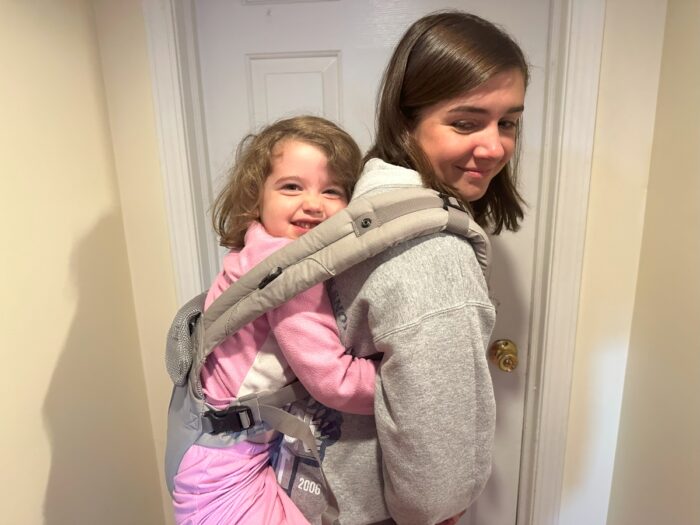 The waistband does adjust to wearers of different sizes, extending up to 52 inches. This by itself was one of the higher extension options that we tested, but LILLEbaby does also sell a waist belt extender that can extend the fit up to 61.5 inches.
Additionally, the carrier offers adjustment options for wearers of different heights and options to wear the shoulder straps in a crossed "X" or straight "H" pattern.
Design Quality
The LILLEbaby scored pretty well in overall design quality. We felt that it had solid security and support features for babywearing.
When it comes to stability for the wearer, the LILLEbaby includes a large lumbar support piece on the waist belt. This provided great support that many other carriers did not have.
Two adjustable straps on the head support piece offer excellent stability to babies who can not yet hold up their heads, or who fall asleep while in the carrier and need additional support. The straps can be tightened or loosened based on the size of the baby and the amount of neck support needed.
We felt that the carrier offered good security, never giving the feeling that baby was not safe. This is partially due to the larger size of the carrier compared to some others.
Here is how the LILLEbaby ranked in Design Quality:
| | |
| --- | --- |
| MOMTORY Baby Carrier | |
| Graco Cradle Me 4 in 1 | |
| LILLEbaby Complete All Seasons | |
| Ergobaby Omni 360 | |
| Ergobaby Omni Breeze | |
| BabyBjörn Mini | |
| Tushbaby Hip Seat | |
| YOU+ME Baby Carrier | |
| BabyBjörn Harmony | |
| Baby Tula Coast Explore | |
| Boba Baby Carrier Classic | |
| Infantino Flip Advanced | |
| BABYBJÖRN One Air | |
| TBG Men's Tactical | |
One complaint we noted when researching this carrier is that it is very bulky. Though there are components of this carrier that do feel a little bulky, we feel that, overall, the carrier is not too large. We did note the bulkiness of the shoulder straps, which we did not really like. The waistband is wide, but we felt that it gave good support rather than seeming too bulky. This larger waistband did help ensure we could only bend at the knees when carrying a baby. This was helpful since you should not bend at the waist when babywearing.
The material is not particularly soft, though we did not feel it was too rough to provide comfort. The mesh on the inner portion of the carrier gives airflow, and the front portion can be unzipped to a mesh underside, offering even more breathability.
Comfort
The LILLEbaby is a pretty comfortable carrier. The lumbar support piece and padded shoulder straps give good comfort to the parent or adult wearer. Though again, we were not a big fan of how bulky the straps felt.
This carrier did better than many others in weight distribution. We didn't notice any undue pressure on the hips or waist. Many carriers tend to pull the shoulders forward with the child's weight, but we did not feel this was an issue with the carrier. The material is thick and well padded, which is good for softness, but could get a little bit warm if worn outside or for long periods of time. The breathable mesh on the inside does help some with this.
Here is the LILLEbaby's Comfort Rating:
| | |
| --- | --- |
| Ergobaby Omni 360 | |
| Graco Cradle Me 4 in 1 | |
| Tushbaby Hip Seat | |
| MOMTORY Baby Carrier | |
| BabyBjörn Harmony | |
| LILLEbaby Complete All Seasons | |
| Ergobaby Omni Breeze | |
| Baby Tula Coast Explore | |
| Boba Baby Carrier Classic | |
| BABYBJÖRN One Air | |
| YOU+ME Baby Carrier | |
| Infantino Flip Advanced | |
| BabyBjörn Mini | |
| TBG Men's Tactical | |
The LILLEbaby did a good job of keeping baby's legs in the ergonomic "M" position that carriers strive for. Our test subjects never seemed to be uncomfortable and we did not notice and undue pressure on their legs. This carrier did not have the child's arms go under the shoulder straps, which was different from many other carriers we tested. Though this could cut down a bit on security if you are not careful, our one-year-old test subject did seem to enjoy having more freedom for her arms.
Our four-year-old test subject was happy and comfortable in the back carry. We did note that, when wearing the LILLEbaby in a back carry, the weight of the child in the back tends to push downwards on the waist so much that it pushes down on your pants. We also noted that the weight would pull the front buckle from the adult's chest towards the neck.
What Makes the LILLEbaby Unique
The LILLEbaby carrier comes with a variety of features, some similar to other carriers, some more unique.
Similar to some other carriers, the LILLEbaby provides a storable head covering for privacy or sun protection. The hood can roll up and store under the head support when not in use.
A small pocket on the front of the carrier can hold small items like pacifiers or a cell phone, but is long and narrow enough to hold a thin bottle.
We enjoy the added bonus that the front portion of the carrier can zip open to a mesh underside for more breathability and airflow. This is a nice bonus feature that most carriers do not offer.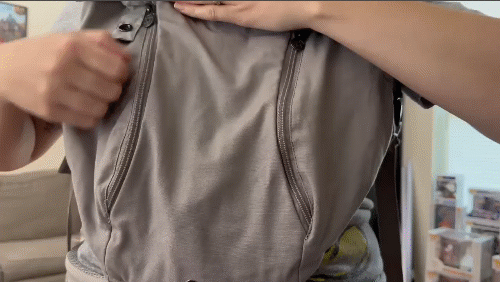 Additional accessories that can be purchased for the LILLEbaby include a waistband extender and fetal seat insert.
The LILLEbaby Complete All Seasons costs around $100. We felt that this was a fair price for what the carrier offers. From its wide range of child-size wearability to its extra features and flexibility of wearer size, we think it is worth the investment. There are a few things, like the bulky straps and complicated setup, that we would change if we could. However, this is a solid piece of baby gear that continues to work as your little one grows.