We purchased the BabyBjorn Mini baby carrier and compared it with thirteen other baby carriers, including two other BabyBjorn baby products. The Mini was not our highest scoring carrier, scoring lower in our comfort and versatility categories but better in usability in design quality. Overall, it is a solid carrier if you are looking for something for your smaller infant.
---
BabyBjörn Mini
---
| | |
| --- | --- |
| Comfort | |
| Versatility | |
| Design Quality | |
| Usability | |
---
The BabyBjorn Mini Carrier is a standard style carrier designed for infants and younger, smaller babies.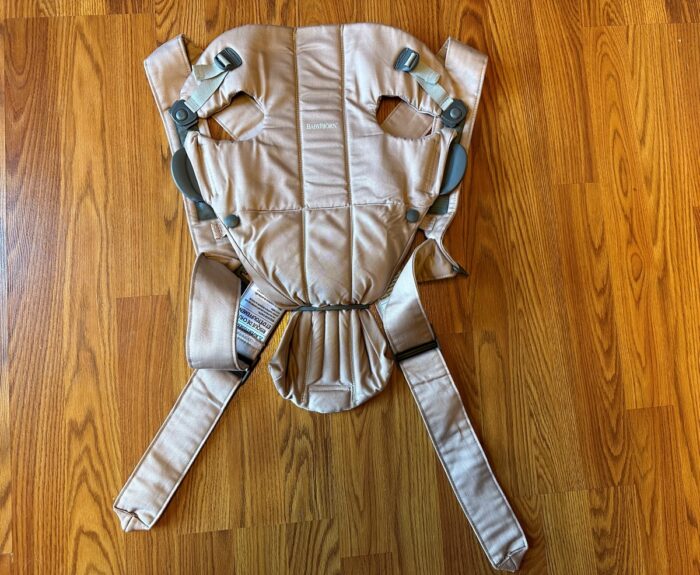 How it Compares:
Pros and Cons of the BabyBjorn Mini
The Mini 3D is unique in that it is designed for smaller babies. It is only recommended for little ones up to a year old or around 24lbs. It only has a few carry styles compared to carriers designed for long term use. Its structure and design have some pros and cons:
| Feature | Pros and Cons |
| --- | --- |
| Designed for smaller children | This is a good carrier for smaller children. It provides comfort and security for young babies who like to be held close. However, since it does not allow for much child growth, kids will grow out of it quickly |
| Product itself is small | The carrier itself is small in size. This makes for more convenient storage, as well as comfort while wearing. However, this does contribute to babies quickly outgrowing it |
| Two simple carrying options | Great for keeping things straight forward and simple, but cuts down on versatility and options |
When purchasing the Mini, you need to be aware of the limitations of the baby carrier to decide if it is worth the cost to you. Some buyers may be looking specifically for a carrier designed to carry their small babies, while some buyers would rather invest in something that can grow with their little one and can be used with an older baby. Understanding the features of the carrier and your child's needs will help you determine if this is the best fit for you and your little one.
Related Reading: Best Baby Carriers Tested
Our Video Review
Testing and Research
The BabyBjorn Mini is one of fourteen top-rated baby carriers we purchased to test and compare. We tested each of the carriers on their usability, versatility, design quality, and comfort to determine which was the best baby carrier. The Mini did fairly well in the testing process, with a few drawbacks that we'll break down below.
| | |
| --- | --- |
| | |
| | |
| | BabyBjörn Mini |
| | Amazon |
| Test Lab Score | 76 |
| Comfort | |
| Versatility | |
| Design Quality | |
| Usability | |
| Specifications | This Product |
| Adult Comfort Rating | 7 |
| Child Comfort Rating | 7 |
| Wearability Styles Rating | 7 |
| Child Size Rating | 6 |
| Security Rating | 8 |
| Support Rating | 8 |
| User Friendly Rating | 9 |
| Minutes to Set Up | 6 Minutes |
| Instructions Rating | 7 |
| Min/Max Weight | 7lbs to 24lbs |
| Carry Positions | Inward or outward facing |
| Material | Cotton |
| Included Accessories | N/A |
| Notable Features | N/A |
| Care Instructions | Machine washable on warm, air dry |
Usability
There were some complaints that the BabyBjorn Mini is difficult to set up. We feel that it is a fairly straightforward design overall. However, the straps and buckles are a little different than many standard carriers, so there is a bit of a learning curve in the initial setup.
It took us about six minutes to get the carrier set up the first time. Something we did note was that the length adjuster at the bottom was pretty hard to adjust by hand.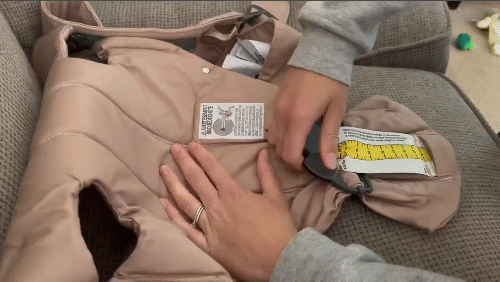 The shoulder straps cross at the back behind the shoulder blades. There is a piece to adjust the straps at the back, but that was a little tricky to do while wearing the carrier. The side straps used to adjust the tightness of the waist belt were very easy to adjust, which we did like.
Once you get used to the layout of the straps and buckles, the Mini is pretty straight forward and easy to use.
Versatility
Because of its limited sizing options, the Mini was one of our lowest scorers in the versatility category:
| | |
| --- | --- |
| Ergobaby Omni 360 | |
| Ergobaby Omni Breeze | |
| LILLEbaby Complete All Seasons | |
| Baby Tula Coast Explore | |
| Graco Cradle Me 4 in 1 | |
| YOU+ME Baby Carrier | |
| Tushbaby Hip Seat | |
| Infantino Flip Advanced | |
| BABYBJÖRN One Air | |
| BabyBjörn Harmony | |
| Boba Baby Carrier Classic | |
| MOMTORY Baby Carrier | |
| BabyBjörn Mini | |
| TBG Men's Tactical | |
The Mini only offers two carry options: an inward facing hold and an outward facing hold. Though these are the most standard holds that all carriers offer, many others offer other styles of carrying options as well. Since the Mini is designed for smaller babies, it does make sense that these would be the two holds it offers.
The carrier advertises being able to hold babies as small as 7lbs, allowing for a newborn to be able to use the carrier right away. The recommended carrying capacity is 24lbs, or a maximum age of around one year. This carrier is specifically designed for a newborn or smaller baby and is not usable into toddlerhood.
The waistband is fairly expansive, allowing for some room for larger wearers. However, we do feel that this overall is a fairly small product and may not offer as much space as some other carrier options.
Design Quality
Provided that a smaller carrier is what you are looking for, we feel that the Mini has a good design quality.
Though we aren't a big fan of how high on the waist the belt sits, we do like the shoulder straps that cross in the back, which seems to help distribute the weight. The head support piece can be fastened with small straps on either side to ensure baby's neck is well supported.
There is no lumbar support piece on this carrier as many others have. However, the waistband does sit higher with this baby carrier than many others, so we didn't notice much pressure on the back. The shoulder straps aren't especially padded, but the soft material is still pretty comfortable on the shoulders.
Here's how the Mini ranked in the Design Quality Category:
| | |
| --- | --- |
| MOMTORY Baby Carrier | |
| Graco Cradle Me 4 in 1 | |
| LILLEbaby Complete All Seasons | |
| Ergobaby Omni 360 | |
| Ergobaby Omni Breeze | |
| BabyBjörn Mini | |
| Tushbaby Hip Seat | |
| YOU+ME Baby Carrier | |
| BabyBjörn Harmony | |
| Baby Tula Coast Explore | |
| Boba Baby Carrier Classic | |
| Infantino Flip Advanced | |
| BABYBJÖRN One Air | |
| TBG Men's Tactical | |
The Mini is a small baby carrier, but the front piece of the carrier is both tall and wide enough to offer closeness and cozy protection for your little one while they are snuggled into the carrier, great for a sleeping baby. We felt that the Mini offered good head support for little ones.
The soft fabric is machine washable. Do note that if you purchase the mesh version, the company advises to not to use fabric softener as it could potentially damage the material. Some reviews complained that the carrier is very bulky, which we did not agree with at all. The design is very compact and the carrier itself only weighs about 2 lbs.
Design Quality Rating:
Comfort
The Mini had a fairly average comfort rating. One thing that we did not love was the positioning of the waistband. Many carrier waistbands are worn lower over the hips, while the Mini's length only allowed for use above the hips. This could become uncomfortable or problematic for a taller wearer.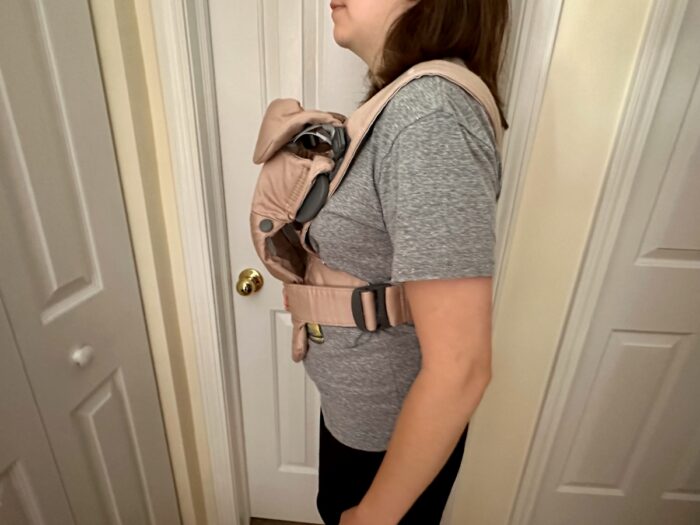 The weight distribution was pretty good with this carrier. There was a bit of pulling on the shoulders, but we didn't notice it being uncomfortable. Overall, the carrier is pretty comfortable for the parent or other adult wearer.
Our biggest complaint about child comfort was that there is nothing to cover the seat of the carrier. The waistband snaps directly into the seat, leaving baby to sit on the hard plastic clips. The hard plastic also has no give, so cannot comform directly to baby's shape, potentially causing further discomfort.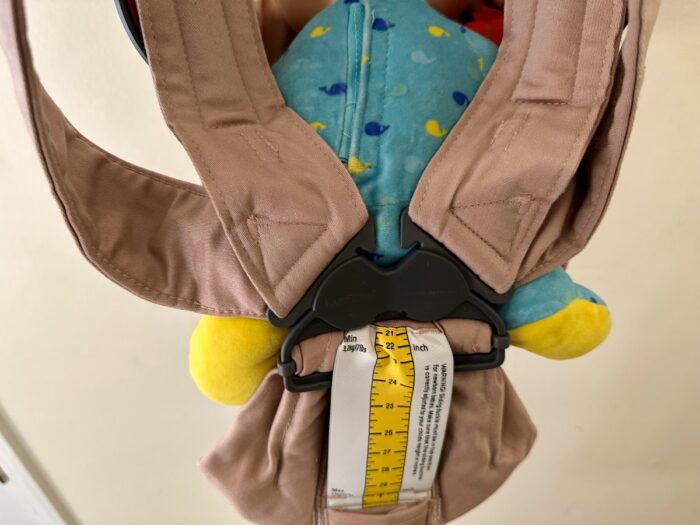 There are cotton and mesh fabric options when purchasing the Mini. We tested the cotton option and found the fabric to be pretty soft and comfortable. Though it does not have the breathability of mesh, it is open and small enough that it does not seem to get too hot while wearing.
Is the BabyBjorn Mini Worth It?
For a new parent, choosing the right baby carrier can offer a challenge. You must determine whether the product offers enough benefit and comfort to be worth the cost.
Babywearing is growing increasingly popular, and studies show that frequently holding your young baby in their early months helps them feel safe.
The BabyBjorn Mini 3D is a very popular baby carrier, but it does have limitations. Unlike many other carriers and baby products, it is not designed to take your baby into their toddler years. While some carriers start at infancy and carry up to 45 or more pounds, the Mini 3D will only hold your child up to 24lbs.
The carrier costs around $100, which is not the most expensive of the carriers we tested, but it is still a fairly high price for something with a more limited timespan of use.
The BabyBjorn Mini 3D did not score the highest in our rankings, largely because of its limited versatility. However, if a parent plans to do a lot of babywearing in their child's first year, this may be a good product to consider. Its soft material, cozy wearability, and lightweight design make it a good product for smaller babies.